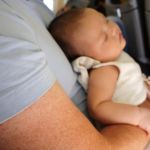 Travelling with infants
Part one, before part two……
Things change. Before being a parent I wasn't too happy ending up next to a screaming child on the plane. And I remember far too many incidents with parents having tired children yelling their heads off at airports. I figured it probably had to do with the stresses of travelling and being in packed airports. So, I was a bit hesitant bringing my daughter on her first trip to this particular Latin country. Even though the first two months of her life has been a breeze, I was prepared for a slightly cumbersome time, since flying time was long enough. But it has been a breeze. Well, that I say sitting at the airport waiting for the plane back home. There's no doubt that we have been extremely privileged with having the most fantastic and stoic daughter one earth. She very seldom cries, only when tired or hungry. But just in bursts, not in agony. We bring her everywhere; she is with us basically 24 hours a day and after having brought her with us to many a lectures, exhibitions and cocktail partie sduring this weekend, a gregarious bloke came up to us in awe and said:
"You are faking it, that isn't a real child!"
To prove him wrong, Eva gave him one of her patented smiles in return. She seems to be a crowd pleaser already. Just like her mum…;-)….And, even though we still have a burdensome trip back home, I have to say, it is easier travelling with children than not!
I suspect, a major part is due to travelling in a Latin country, because latinos really love children. We are stopped in the streets, people take photos of us when we carry her in a Baby Björn chestpack, they come with opinions that she is poorly dressed (for Christ sake, she is half Siberian, this girl just doesn't seem to freeze!!!), and, even young male teenagers take their time to stop and play with her! This is impressive! Especially if you come from Sweden, a country which is properly the best place on earth when it comes to having children, since the government has understood that both parents should spend time with their children and, therefore, give couples a year paid leave off, BUT, very few seems to love giving children attention, if they are not your own. There's no doubt that the family as a unit is far more important in Latin countries, with their catholic base, than the privileged north. Woow, I wish Swedes could understand how privileged they are! Oddly enough, looking back at my 25 years of travelling, it seems to be a case of rich and poor again. When you have enough money to survive by yourself, it seems like you stop caring for others. You pay your taxes, pretend to be for immigration, a tight family structure, but you don't really want anything to do with others. In the lesser fortunate countries, you have to be generous, warm and welcoming to survive. If not, you will die. As simple as that. However, it should be said, I am a child of my own country, and I am very much Swedish when at home. Paying taxes, minding my own business, my own life and my own family life. But I like the Latin way of life better! They don´t seem to watch TV either, and fill the streets after dark, socializing at cafés and bars, with the children, endlessly strolling up and down historical streets and stopping chatting with you if you have a child.
Anyway, after a whole little trip I have figured out a few things which might help travelling with children. Though, when having a friend like David Grant, one feels extremely humbled and even a bit stupid, when it comes to having an opinion about the subject of travelling with children. You just have to read his book!
Planning. Be at the airport at least three hours before, to sort out all small details, as for example figuring out how to get the expensive collapsible stroller to fold up.
Have the milk ready!
Buy a Baby Björn! If you have covered the food issue, and carry the infant on the chest, not only is she happy, but you, especially a dad, you will stun the latinos by carrying the daughter on your chest. More than 21 people stopped to take a photo of me and my daughter! Almost all of them ladies…..
Get yourself a Eva! There´s no doubt that Eva likes travelling as much as her parents! As quick as I bring out Baby Björn, or dress her by the way, she is very happy!
I hope these tips can help. Please, do comment and come with your own ideas!
PART 2!
As our plane was leaving, my great partner of life decided to try a pair of high heeled Latin styled shoes, so we missed the plane back home. I wasn't very happy, I have to say, but as my partner pointed out, why don't you try to live as you preach? So after paying over 500 dollars of our meagre accounts, for fines, a luxury hotel in the centre of this 5 million inhabited city (problem is we are socializing a lot with well to do people and they think, since I belong to a few prestigious clubs, by merit, not by cash, we end up in fancy places, which we really cant afford….but what to do? Just have to work harder!), an Ecuadorian meal, I became Siberian and went to sleep.
So we are still sitting at the airport, on standby, so if things go wrong, I will loose lectures tomorrow and my partner will dent her studies. Gee…..By the way, she didn´t buy the shoes. But hold on! Where is she now?
Our daughter? She has just breezed through it all with a great smile. She is the coolest of the cool.  So the points above really works!
Where have we been and what have we done? Read first report soon!!!!