This is the first article in a series of five regarding a week´s visit by car exploring Northern Ireland. It was a family trip. During the trip I blogged and uploaded photos here! However, the difference is that I now have the full information and can compare.
Exploring Northern Ireland; Belfast
by
Mikael Strandberg
"Do you know what the wee difference is between summer and winter in Northern Ireland?" a guy who looked like he had been cut out of a rock asked me when we arrived to Northern Ireland and a heavy wind made the rain go sidewise; "The rain is warmer in the summer."
Rain was one thing I expected from our visit to Northern Ireland. But what else did I really know about this almost mysterious country? Well, as everybody else I have carried memories from what is called the Troubles in this tiny country located in the northern part of the very green and lush island of Ireland. The war, the fight, as far as I knew, between protestants and Catholics in what had come across as a kind of a political/religious internal war, were the Catholics wanted to be united with Ireland and the Protestants wanted to be part of the UK, was pretty much over. Even though there had been unrest just before we were to leave for this extra ordinary country, it didn´t worry us. It was easy to see between the lines of news reporting that it was merely para military groups trying to find their place in the New World Order. But I didn´t really know why it had all started. And I knew that my hero as a kid, George Best, was born in Belfast North. But was it really a place for tourism after all these years of unrest? My spouse had been there four years earlier on a literature scholarship at Queens University and loved it. And she said immediately;
"I know you will love the murals!"
After driving up from Dublin in rain, we ended up in Hotel Europe, which was known from the days of the troubles. It had been bombed and this is where a lot of the global media stayed to cover the events and when I looked through the window from our room I saw my first mural. It said:
"You are now entering Loyalist Sandy Row, Heartland of South Belfast Ulster Freedom Fighters."
We went to Sandy Row immediately and the murals were impressive. They would get even better when we the following day when we went to Shankill Road and that followed by the Catholic part of the biggest outdoor gallery in the world. I have to say, it is one of the most interesting, if not the best, galleries I have ever seen. Only the murals is more than worth a visit to Belfast and Northern Ireland. They´re not only very good, but profoundly moving in many ways and gives a good perspective on the fear, the anguish and the stupidity of believing one religion or country is any better than any others.
My first feeling regarding Belfast was that it was a wee bit smaller than I had expected, but it moved me back in memory lane to when I spent a lot of time in Essex with my sister back in the early seventies. The streets looked the same, houses, the smell of coal and rain, the Indian shop in the corner, the pub, quaint bookshops, the fish and chips, the red telephone booths and post offices, double deckers, black taxis, the locals and to be a city, it was really laid back. And everywhere, people smiled welcoming and inquired immediately when we stopped, if we needed help. Even the food seemed ok, we had fish and chips the first night. Otherwise, cooking at this part of the world has never impressed me. Next day, I was shown that I was wrong, when we joined The Belfast Bread Tour, just outside Sawyers on College Street.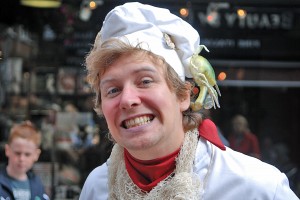 Now, I already know from my previous visit to Ireland that the Irish are great story tellers and grand characters, but Barney, dressed as one of the chefs on Titanic, showed that acting is also on a high level. The Belfast Bread Tour took us through the most interesting parts of the center of Belfast ending at St Georges Market and it gives you not only a full stomach, but a good introduction to Belfast. I highly recommend using guides initially to orientate yourself and get a good background of the place. Barney made all of us laugh, learn and enjoy the best parts of Belfast. A very British center, where the elegant Opera House were setting up a theater regards to the life of George Best. I was sad it wasn´t on at the time of our visit.
Billy took us on a grand tour in his Black Cab and we toured the murals, the wall which separated the two groups and he filled us in with his own experiences from the Troubles. As all other locals he immediately said that Northern Ireland is so much more than the troubles and that he himself had just gone on with his job and life, just trying to survive those difficult times. He grew up in the northern part of Belfast, so Shankill Road was close to were he used to live.
"Do you feel uncomfortable revisiting this area almost every day as you do during the tourist season?" I asked him whilst watching an Ulster mural depicting the cruel Oliver Cromwell, a historical hero for the pro-British scene.
"Well" , he answered; "Not really. I see my work to some extent as information tourists about the Troubles plus underlining the need for continuous talks. As long as you disucss and talk, peace will remain. But, of course there are some who don´t like tourists in this area, but I guess, they wouldn´t have done these murals if they didn´t want people to see."
Billy said the almost 60% in Shankill were unemployed. That sounds very dangerous in my book of thought. Or is it a case that the fortunes are reversed? During most of the country´s history it has been the Catholics who have been out of work, mainly due to an amazing apartheid politic by the protestants and backed by the British.
Before I continue, let me tell you that I personally have always been interested in areas of conflict. Especially regards to religious differences. And, when it comes to the still on-going problems of Northern Ireland, I think id it works out well, it will be a model for another areas of trouble globally. It does look goo right now, but, there´s no doubt, considering the apartness still remaining between the two groups, that one still has a feeling of being in a war zone, whilst visiting and area like Shankill Road. These areas are really interesting not only for the great murals, but also to put one´s mind in to serious thinking mode regards to why people do these awful things to each other and why in earth kind we live with each others differences? Beats me! (To fully understand the Troubles, which originate many centuries back, and it is really important to fully understand all walks of life in Northern Ireland, the book Making Sense of The Troubles by David McKittrick and David McVea is essential reading)
We pretty much ended the tour by visiting the dockside where a Titanic quarter is being built. I think Billy took us there by pure mechanics, because it had no interest at all on us. So far, there´s absolutely nothing to see. On the way back, we passed Ian Paisley´s house, one of the protestant fire brands during the last 30 years. It was a well to do neighborhood, so different to Shankill Road. One the time was up, Billy wanted me to get a good photo overlooking the city so we traveled up west, but rain made it impossible to get a decent shot. Than we went to his favorite fish and chip shop. Billy was an excellent guide and he had these great Irish traits of good story telling, genuine honesty and openness and who really enjoys being with people.
Eva was tired from all the traveling, so we went to bed early that night. We all had deep dreams. me about the Causeway Coastal Route. Eva´s already a great traveler. She loves meeting new people, hardly ever complains and prefer to be outdoors all the time.
We all agreed on one thing; Northern Ireland, what a hit!
For more photos of the murals, see my portfolio!