This is the first article in a series of three about an autumn trek through what is called the last real wilderness of Europe, Sarek National Park. It was, once again, initiated by the the independent thinking London business man and my great friend with the name Sundip Chaterrjee.
"Mikael!" let us go back to Sarek, the text message said: "I am ready now!"
There´s no doubt that Sundip fell in love with this exclusive part of the world, when we trekked a part of it back in June. It differs to most areas in Europe in the way, that there´s very few trails, no lodging, great drinking water, very little people and lots of freedom. Well, that reality had been back in June before the commercial bus traffic started, so I was curious to see the impact when coming back at the end of the tourist season. Basically meaning before the buses stop taking tourists into the starting points ahead of the long winter break.
Sundip flew into Gällivare from London and I took the long train ride from Malmö. A whole day on the train. The same price, believe it or not. If flying from London….something wrong with the internal costs for travelling within Sweden. A joyous Sundip met me at the station, where we immediately boarded the bus for Sourva, our starting point, which I had chosen from the aspects that there´s no mountain stations there, people are lazy, so nobody will get off there. Because the bus had 12 other hikers, one with the biggest walking stick I have ever seen! He was really prepared for crossing the rivers! And, since the rain was pouring down, we might well need it!
Nobody except us got off at the ugly dam in Sourva. Clouds where dark, low and beautiful. It slowly drizzled. I just felt immediately, this will be a great cloud trek, dominated by a spectacular cloud scenery. After passing the ugly area of the dam, I can imagine how beautiful it was here before they, e.g the Swedish government, dammed the lakes, and we directly came into this beautiful autumn forest of birch, willow and pine. The ground was covered of colors in yellow, red and green, the redness of the lingon berry plants were just out of this world. It was like trekking through one of Vincent Van Gogh´s best, most complicated periods, it was that good!
"I hope it isn´t going to be a lot of river crossings" , Sundip suddenly said, when his Romanian boots where already showing signs of wetness whilst sneaking through the forest. He had of course not brought any back up trainers as I requested, however he did bring his slippers! I was worried since on the first trip I saw weaknesses in his choice of boots. But Sundip is Sundip. He trusts the employees at London outdoor stories more than me and he likes to take his own decisions. An attitude which I in many ways like a lot! Independent thinking! However, we immediately had to do a small crossing, but managed to keep the socks in the boots quite dry, than we started climbing south-west up through the forest, with the birch getting shorter, more stunted and personal by the meter. We knew by reputation and map, that we had a complicated crossing up ahead, and since rain was pouring down, clouds getting darker and lower and I knew Sundip had bought a new tent, we stopped after three hours of hiking. Sundip had bought a Tad Pole from TNF, a good 3 season tent I myself had used earlier in life. I had brought my Nebula from the same brand. A bit heavier and spacier. We were not sleeping in the same tent, due to Sundip´s snoring…..anyway, I saw this second part of visiting Sarek as the next level of development regards to Sundips mountain skills. Everything would be more demanding than the previous walk in June. So, I said stop and let us pitch the tents, before it will get darker out there. So, in a small hollow, next to a stream, we set up camp.
"I haven´t slept a thing!" Sundip said the following morning.
It had drizzled all night and if you are not used to rain on canvas, it sounds worse than it is. I like Sundip as a partner on these trips. Except his good mood, his joy of exploring new things, there´s no boring moments, because there´s something happening all the time. So we set off after breakfast, me coughing like mad, after having brought some nasty bugs from my daughter, who in her way had picked them up from her nursery school, this haven of germs, knowing according to the reputation, that we had a difficult crossing of the river Njabbetjåkkå. And when we arrived at the river and the crossing, Sundip said immediately:
"I don´t want to be wet throughout this trip!"
The crossing looked quite simple, but we would be wet up to our underwear no doubt and boots full of water if we crossed exactly at this point. But, I wanted Sundip to stay happy, so we headed east following the river to its source. I figured it would be easier further up and I saw a stretch of the river on the map, which seemed wider, a good thing regards to crossing rivers. The walk was well worth it, trekking next to this beautiful river. By doing this you feel the strength of the river, its beauty and the higher up we got, we left the forest behind us and entered the mountain. Our goal was the central valley of Sarek and I wanted us to climb Voujnestjåkkhå to get a view of a life time over this extremely beautiful region. It continued to drizzle on and off, wind was north easterly and the views great. After a couple of hours of slow climb, we reached a lake at the end of the river and we crossed easily there even if we got out boots filled with cold water. We also came across a heard of reindeer, with the to biggest bulls I have ever seen in charge. They weren´t afraid of us at all, just stared at us with curiosity.
"I think we have done the hard part there, Sundip!" I said, but an hour later, we had the toughest part of the journey!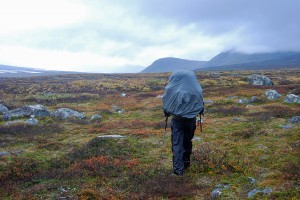 Part two will follow on Monday the 19th. For more photos from this trip, go to here! For a more professional viewing of a few of them, go to here!