1. The Sahara – A Cultural History by Eamonn Gearon (Signal, 2011) Read here! Reviewed 15/8/2011 (Eamonn also wrote an article here!)
2. A Labyrinth of Kingdoms -10 000 miles through Islamic Africa- by Steve Kemper (Norton 2012) Read here! Reviewed 14/8/2012 (Steve also wrote this article!)
3. How To Get To The North Pole…and other iconic adventures -by Tim Moss (HowToBooks) Read here!  Reviewed 24/8/2012 (Tim also wrote this article!)
4. The Yakut Horse by Jegor Makarov (Muushaia) Read here! Reviewed 7/9/2012
5. The Right Stuff -Interviews with Icons of The 1960´s By James M. Clash (Ask men Ebook) Read here! Reviewed 8/10/2012 (Jim also wrote this article!)
6. The Right Stuff – Interviews with Icons of The 1970´s&1980´s By James M.Clash (Askmen) Read here! Reviewed 25/4/2013.
7. Desert Snow; One Girl´s Take on Africa By Helen Lloyd (Take On creative) Read here! Reviewed 30/6/2013
8. Maybe; An Insight Into The Epic Struggles And Triumphs Which Are Modern Polar Exploration By Alex Hibbert (Tricorn Books) Read here! Reviewed 11/7/2013
9. The Modern Explorers; Edited By Robin Hanbury-Tenison&Robert Twigger (Thames&Hudson) Read here! Reviewed 19/9/2013
10. Janapar; the Love Of The Bike By Tom Allen (Janapar Media Ltd) Read here! Reviewed 25/11/13
11. The Nomad´s Path – Travels In The Sahel By Alistair Carr (I.B. Tauris) Read here! Reviewed 5/12/2013
12.  The Seed Buried Deep – The Expedition By Jason Lewis (Billy Fish Books) Read here! Reviewed 23/3/2014 (Excerpt here!)
13. The Road headed West: A Cycling Adventure In North America By Leon McCarron (Summersdale) Read here! Reviewed 11/9/2014 (Excerpt here!)
14. Bicycling Around the World By Paul Jeurissen (Bicycle traveler Publication NL) Read here!  Reviewed 13/3/2015 (Excerpt here!)
15. The Blue Zones Solution By Dan Buettner (National geographic) Read here! 13/9/2015
16. Expeditionen, En Kärlekshistoria Av Bea Uusma (Nordstedts) Read here! 10/4/2016
17. Värld Av Is, Ett Hotat Arktis Av Mireille De La Lez And Fredrik Granath (Albert Bonniers Förlag) Read here! 24/4/2016
18. The Land beyond – A Thusand Miles On Foot Through The Heart Of The Middle East By Leon McCarron (I.B Tauriz). Read here 02/06/2018
19. Life With The Yukagihr By Cecilia Odé (Uitgeverijlias.nl). Read here 01/12/2018
20. Ändå inte Försvunnen – Om Sorg, Tröst Och Om Att Vara Människa av Lasse Berg (Ordfront) Läs här 17/04/2020!
21. Löparglädje och Löparäventyret På Småvägar Genom Europa av Rune Larsson. Läs här 11/5/2020
22. Two Rotors, One World by Peter Wilson. (TJR Publishing) Read review here!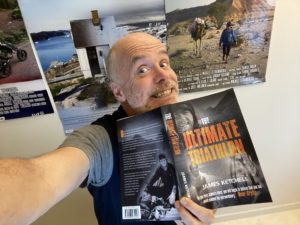 23. The Ultimate Triathlon By James Ketchell (Ketchell Publishing) Read here!
24. Polar Exploration – A Practical handbook for the North and South Pole By Dixe Dancergoer (Cicerone) Read here!
25. Life On Ice. 25 years of Arctic Exploration by Lonnie Dupre (Keen Editions) Read here!