Back in Oman, right now in the Indian enclave of Wattaya. There´s a smell of curry over the area, but it is calm and sparsely populated. We are staying with two friends, Bainu and his wife Sharol.
"We are worried. We have left everything behind in India and we have given our hearts to Oman" , Bainu Tomas said whilst we were eating breakfast together in his flat in Wattaya, "But this omanization just puts us in a limbo, not knowing what to do or expect. We accept it, but it is still kind of a shock that it will be implemented so fast. That is why my my wife is still working as a teacher, even though with a newly born child, we would need her at home here."
Bainu came 6 years ago from the state of Kerala, like many other Indian immigrants working in Oman, on an invitation from the government. Oman needed foreign workers to be able to construct a foundation of a country. Just like their neighbors in Saudi-Arabia, Abu Dhabi and Dubai. In Dubai two-thirds of its population is made up by immigrants who are there to keep the country alive. In Oman they´re less, but the country still needs them. But Sultan Qaboos, the beloved ruler, wants Omanis in every position of the society, something I can understand, since I often wonder, what will happen if the poorly treated immigrants in Dubai would revolt against their masters? There is no doubt, that Oman is understanding the issue of keeping its Arab soul better than some of its neighbors. But, the question is, are they ready to run the country by themselves?
Since being involved myself in the tourist industry I have seen there´s still a lot of work and acclimatization before Oman can be run by its own people, because the service level amongst them is still low and prices heavily over flated. They still need their ex-pats and immigrants from all over the world. And being a traveller, one always feels like an immigrant, an outsider, so I do well understand them and nothing upsets me like the stories that come out from for example Dubai how badly treated some of the immigrants from Pakistan, Bangladesh and India are. But Bainu has been happy during his time here.
"Well, I belong to the educated immigrants who come here, not the laborers, and for this reason life has been good" , he said and smiled as always.
Bainu is religious and spends a fair amount of time in his local church all made up of Indians from Kerala, and he is therefore very easy going and gentle, and doesn´t judge anyone unfairly or complain about his own situation. But he does says he worries. He isn´t ready to return to India yet. Wages are not on the same level there. And he says that when they first came here, they could even save money and send back, but nowadays, even they almost work 6 days a week, long hours, both of them, they just about make it. But they´re doing well, the Tomas Family, there are other immigrants who are suffering. Please read this article about the situation in Dubai. Oman is different. And it feels good being back!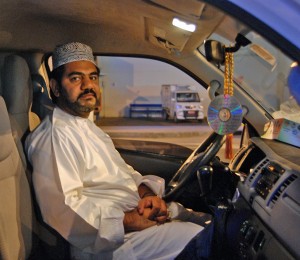 Since we stayed outside the more well to do parts of the time, we decided to take the small minibuses to travel around Muscat, when our friends didn´t come and pick us up, and this is really the way to see another, much more interesting part of Muscat and Oman. It is lively, demanding and you get a perspective how things are if you are not well to do in Oman. Everything takes more time and is more demanding. But you meet a lot of great people. One of them was Abdullah, who owns his own mini-taxi and when we met him and said we loved his country, who quit is job and instead took us on a tour of the city. We arrived back at our flat at 2 a.m. People are extraordinary friendly here.
But the reason we have come here this time is two very important lectures which will define the direction of the Expedition. Hold on, you will know in a few days…..this is the most important of all visits i have done to Oman. Judgement day.