Adventure and science? Are those two genres possible to integrate? Not long ago I wrote this article called Academics versus explorers on how difficult it seems to integrate the both. Associate Harvard professor Michael Robinson wrote a specific piece on the subject. Suddenly I receive an email from a friend, Roz Savage, which said a great vision of these two combined where on the way up! So I got into contact with Gregg Treinish and I realized she was right. I personally think this is something very much needed and I hope all of you gals and guys out there doing Expeditions, jump on board and take the chance to make a difference to the bigger picture of the globe, not just personal recognition.
Adventure and science
by
Gregg Treinish
2008 National Geographic Adventurer of the Year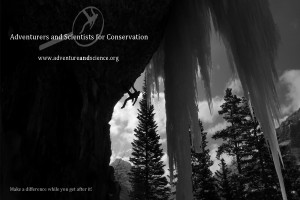 Throughout the expeditions I have been part of, I have often felt a sense of selfishness, like I could be doing so much more for the world with my time.  At some junctures it has almost led to the end of my adventures.
Currently, there exists a great void in our scientific understanding of our impact on the natural environment.   In order to protect the areas we love so much, it is essential that we understand the relationships, impacts, and condition of these places.
Continuously, corporations lobby government and throw millions of dollars towards minimizing restrictions that will impede their ability to make money.  Without us standing up and fighting back, the areas we love so much stand no chance.
We, as the ambassadors of the outdoors, the ones who are living in, moving through, and sharing the value of the wilderness with the rest of the world have a responsibility to do all that is in our power to protect our natural places.
Adventurers and Scientists for Conservation is a new non-profit that will give you the knowledge, tools, and skills to make your future expeditions have a tangible and lasting impact on conservation.
We ask that you consider collecting scientific data while you experience the outdoors. We will link you up with a scientist who is interested in similar interests to your own, and help you design a project that will do more than just inspire.  You need no science background, only the desire to make a difference.
Please join our effort at www.adventureandscience.org or on
Facebook : Adventurers and Scientists for Conservation
Thank You,
Gregg Treinish
Executive Director
Adventurers and Scientists for Conservation