Report 2 from Yemen
I just got back to Sanaa from probably one of the most important excursions I have ever made!
I am bitten all over the body by bedbugs, I may have malaria, I am really, really tired and nobody in the city really believes that I was able to get the permit to leave the city, travel to Taizz which is the other serious flashpoint of the war in Yemen, as the locals call the battle between the Ali Abdullah Saleh and his opponents, and spend Eid al Adha in a village two hours south of the countries most populous city. And spend a week there as the first foreign visitor they had at least for the last 96 years and return without any problems to the city again. And get back with one kilo of smoked camel cheese from the covered bazaar of Taizz!
"There´s no way you will get a permission to leave the city as things are right now!" , I was told by pretty much everybody, when I tried to get a permit to go and visit my very good friend Rashad in his home village located in between two big mountains south of the country´s biggest city Taizz.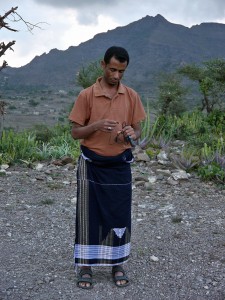 Rashad was my teacher last time I was in Yemen two years ago, preparing for my first major Expedition since Siberia, and I have been in touch with him since. He is, as most Yemenis today, going through some really, really hard times. He is working half time at the Iranian Embassy, since he speaks Persian and is a shia, but on his wage, about 300 euro a month, he supports 17 people. And the war forced him to send his wife, his studying brothers, and his 15 months old son back to the village. Because he lives on the border between an area dominated by the government and one of the main opponents, general Ali Mohsen. His neighbourhood have been badly shelled and he therefore sleeps in the hall of his apartment, to have as many walls in between himself and the outside world if hit by a rocket. A month ago it was so bad he had to run zigzag on the streets outside his house to catch a bus to work. He is an intellectual, 31 years of age, politically aware and one of the Yemenis around which a future middle class will, or should, be built. Once you get a big and influential middle class, in any country, than you have something of a safe base to build a country on. And he speaks fluent English, and as usual, when it comes to pretty much all analysis as regards to the situation in the country, it is based on people located in one of the three big cities, who never seems to venture outside these, because, if it is one thing I have learned from travelling, the heart of a country is NOT in the cities, it is in the villages. So, this would be a very important visit for anyone making political analysis! That is if I did get the permit to leave Sanaa. Which I did get after 4 days of hard work. The solution was me going personally to the so called tourist police myself and what happened is so much Yemen!
"No way, it is impossible!" the person in charge told me directly, "The Minister of Interior have personally told us not to give out any permits. The risk is to big."
However, as always, you can discuss virtually any issue with the Yemenis. They're amongst the most conversational people on earth. They love to talk and discuss pretty much any subject. So I just told him truthfully about my love to the country and its people and asked:
"What would the danger be if I travelled together with Rashad to his village? I know there was people killed in Taizz yesterday I said, but we would just pass through. And how can it be safe for Rashad but unsafe for me? It doesn´t make sense!"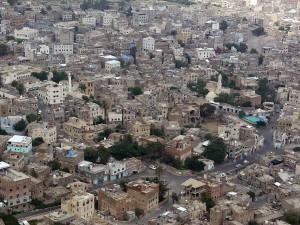 He agreed and made a few phone calls and said, ok, if I fly there, I could go to Taizz. But I said, I want to see the scenery, which I have heard is amongst the best on earth on the road to Taizz. Plus that I wanted to see if it all was as dangerous as everybody seems to think. I have already realised after arriving in Sanaa, after all those incredibly overwhelming warning stories of the danger, that people tend to overdo things, especially if you are in media or in security professionally as many of our friends. Sanaa has been dead safe so far. And, I also wanted to see Yarim, the place where the Swede Peter Forsskål died on the first known Expedition exploring Yemen at the end of the 18th Century, to so called Carsten Neighbur Expedition.
"Sorry, it is impossible than" , the person in charge said with a smile.
Me and my new teacher, Abdul Aziz, who was my translator, we left the office with a negative answer, but laughing, since everyone was so kind, funny and helpful. When we passed the gate, the young and heavily armed guard, asked what had happened and where we wanted to go, so we told him and he exclaimed:
"But Taizz isn´t dangerous at all. I am from there!"
So he took us upstairs to the real boss, a great old man, who smiled, joked and laughed and he said he understood I wanted to see his beautiful country close up, so he called the guy who had said no, who in an instant came running up and asked which village we wanted to do to and when Abdual Aziz told him, he said:
"I come from the next village!"
So that is how I got the permit!
Next morning I ran through Tahrir Square, which is occupied by Saleh supporters and their big tents, and ran next to the great walls of the walled city to Bab Al Yemen, where I met Rashad and boarded a bus to Taizz. The supposed 5 hours took almost 8 hours. All those vicious check points I had been warned about, by Rashad as well, who a month earlier had been stopped at one, been kicked out of the bus by the Republican Guards, a hardcore unit run by Salehs son Ahmed, and forced to walk all the night to get help. Just because he was a single man and these loners were thought to be amongst the protesters against the regime. Well, we weren't stopped once. Once in Taizz we grabbed a taxi, passed through the area were 7 people had been killed two days earlier by shelling, avoided a heard of beggars who showed their children covered by serious wounds when first seen, but when checked more clear, they were all fakes, however, this specific area looked like a bombed out Beirut, and we there after passed through the city and headed out for the village. It took another two hours and we arrived on a really, really bad dirt road late at night in the darkness, but it was such a relief stepping out into the silence of the village and the fresh mountain air. Country life!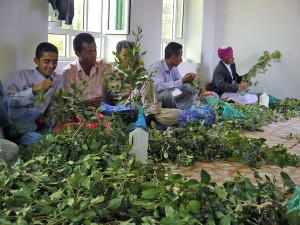 Now, Rashad had told me that as far as he had heard, based on the word of the oldest man in the village, a 96 year old, they have never had a foreign visitor. So there were some pressures on Rashad that I didn´t know beforehand. I was kind of the Ambassador for All Foreigners and my behaviour would be important. So, my visit could well determine whether more foreigners could visit the village in the future. And, for Rashad, it was important that I personally got a good opinion of the village and its inhabitants since he knew why I was there.
Rashad lived in a simple house built by stones, I think six rooms hosting 17 people, and built in stone on the outside but by clay on the inside. Easy to keep clean, low ceilings to keep cool and just a few windows to let through the wind. They did get electricity two years back and had running water and as the rest of Yemen, electricity a couple of hours a day. So the house was beautifully lit up by kerosene lamps. Simple but very comfortable. The family was extra ordinary hospitable and treated me like a King. We were served a great meal of mashed beans and giant pieces of home made bread plus uncounted cups of sweet tea. I fell a sleep immediately inside the meeting room, or mafrag as it is called in Yemen, on the floor. The beans made me release unknown amounts of air and when I woke up next morning I realised some of his 5 brothers had slept in the same room. Not a sound from them when I woke a few times in the complete darkness.
Rashad had returned to the village for Eid Al Adha, as most other men we met during my time there and he had brought loads of clothes and presents, which was expected, but which of course strained his economy badly. His elder brother had opted not to leave Sanaa, he didn´t have the money to buy presents. Or not even a ticket. He worked for a government agency, but hadn´t been payed a wage for seven months!
For me the visit in the village was not only a great time, but very important since I needed to know if my thoughts on the country was right or wrong! As I said earlier, the problem with the media today, is that all journalists and analytics base themselves in the cities and base their opinions on what goes around there. But the cities have never, and never will be, the heart of a community or country. What I learned during these four lovely days in the village gave me a very important perspective of the situation and its people.
Most discussions in the country are done by meeting in a mafrag, a meeting room, and chewing khat. And since this was Eid and the wedding season we pretty much immediately ending up in a mafrag belonging to a neighbour who was getting married. Now a wedding is really straining the economy for families of the groom. The dowry is at least 800 000 Yemeni rials, which is like 3000 US dollars. For this reason, today, most men can´t get married until say they´ve reached at least 35 years of age. Half of the dowry goes directly to the father of the bride. The rest is spent on gifts and food and, most of all, khat for all the guests. Rashad got married to his wife two years back and still is in debt. Most of the partners are picked by the mothers, sisters and the women of the groom's family. So Rashad´s wife is his uncles daughter.
"What do you think about the issue of dowry?" I asked at one khat chew and they all said more or less the same: "It wouldn´t be a problem if we had work and good wages."
There's no doubt the khat is extremely important to most Yemenis. Due to a bad harvest season and the war, there was little khat around and most of the days of the village was kind of dominated by the urge to get more khat. I, of course, as a visitor, to be accepted, one has to eat and live like the locals, so I did of course chew khat. I have to admit, just as the last time I was here, it hardly affects me. It is more like the effects of a few cups of strong coffee, nothing else. But what I like though with the issue of khat chews is the meeting of all people in the mafrag and the discussions that take place. I literally spent a whole working day all together chewing khat and learned an enormous amount of things of great value. Everything from sufism to how the village buries there dead. We talked a lot about politics and there's no doubt that the sitting, legally elected president of Abdullah Ali still has supporters. People who thinks he has done a lot of good to the country. Like building a functioning infrastructure, schools and so on, because this just didn´t exist properly before he came to power 30 years back. However, what I like the most with the kat chews is that it shows that Yemen really have a base for democracy, because in a kat chew, no matter what your opinions, you have a say without getting attacked to badly. Now of course, most kat chews I attended and took part in, is all male. Women have their own, as political as the men's.
As regards to the women in the village; Most of the time in the village I just saw them running away in fear of the nasrani, the Christian, as was also the case initially in Rashad´s home. But after a few days the women of the house moved around freely as normal. It was just a case of the worries of the unknown. The older women of the village were dressed in very colourful clothes and were uncovered. And I saw them working hard throughout the visit. Very few of them had work outside the village and lived their traditional roles.
Everybody in the village was very happy, even honoured; that I was there and the dignity I was shown lacks most experiences I have gone through as a traveller…..
(I wrote this section between 5 and 7 in the morning and than the power cut arrived and it is now 6 p.m, and since it is Eid, Sanaa is dead. No people, no sounds of the war and nothing gets done, so I still need a few hours to reload all batteries. So the only written work I can do is a few hours every day. But Eva is in such a brilliant mood every day, so there´s not a dead second!)
…power is back….the village just to belong to the Jewish community which had been present in the country a long time before the arrival of the prophet and Islam, but most of them left the country when Israel was proclaimed 1949. An operation called the Magic Carpet. The village has a Jewish name and when they left, the land was shared between the inhabitants who'd lived their for a long time. Rashad´s father, a builder, moved in afterwards, which means they can't own any land except where they're house stands. They are also too poor to be able to vie any power. The area is still under the rule of a local sheikh, which I met and who was dressed as a sanaani, with the belt and jambiyya (see attached photo) and really nice, but it is an inherited power on which a lot of Abdullah Ali Saleh has built his governance.
The wedding started very early one morning with professional drummers showing up banging incessantly throughout the day and since the groom were a neighbour to Rashad we went over there first as guests and than Rashad was their to meet the other guests coming from the villages. Lots of kisses and dancing started and around lunch we were all invited to a big meal of meat, rice and sweets in the mafrag and than we all started a long session of khat chewing, 6 hours, and it was so interesting so we missed joining the other men who set of in a long caravan to the home village of the bride accompanied by the drummers! In dark they returned with the bride and when she reached the house of the man she had never met, his sister, mother and their female friends were there to make her feel welcome. Loads of fireworks exploded when she arrived.
The Eid Al Adha celebrations followed the next day with the family slaughtering a sheep as a sign that God intervened when Abraham felt forced to sacrifice his son Ismail. A big lunch followed where we all, like hungry vultures, ate from a big plate of all what the sheep could offer, rice, sweets and other delicious plates. Another khat session followed after a long walk through the village together with one of Rashads best friends, who showed us his khat farm, a real money maker, and he told me that the school had one teacher on 120 pupils and that was a serious problem they were facing. The village survived on people like Rashad, who was working outside the village, sending money back. Even though it was beautifully tucked in by two mountain rages, the farmed land wasn´t offering enough to the fast growing population. The growing number of people had also virtually taken all burnable trees in the niegbourhood and a bad erosion didn´t look to far away. Before I left I asked Rashad if he would like to live forever in the village he loved, gained weight every time he returned and he knew inside out:
"The future lies in Sanaa" , he answered; "And I am used to what the city has to offer in intellectual challenges and they just doesn´t exist in the village, if you have big ambitions as I have!"
I returned the long arduous way next day, met a really dirty, polluted and run down Taizz, ran into an armoured vehicle pointing its barrel on me, very nasty indeed and took the bus back to Sanaa and only got stopped at the last check point before entering the city by a very improper soldier from the Republican Guard, but my permit was enough to cool him down that I wasn´t carrying any cameras…
Summary: Great trip! I did learn a lot, got some of the best footage I have ever filmed and 5 minutes of the documentary done, BUT, I also did get a major tip where to get good camels for a reasonable fee, Bait Al Faqih! And being a country boy myself of a meagre background with a dad being a builder, is very helpful. Most people thought I was a scientist or a doctor and when learning that my background was simple, teared down some unnecessary walls of communication.
Back in Sanaa. It is very silent, no movement, according to local media, there might be some major developments soon on the political scene, like Saleh signing the GCC agreement. And Eva?
We don´t regret a second bringing her! She has acclimatized quickly, put on fat, met and sees the most extra ordinary things every day and she is in a better mood than I have ever seen before. We move around pretty much everywhere and it all feels very safe. I have seen the Lion King quite few times though…only way to put her to sleep….Pamelas research is moving forward according to plan.
By the way, the other week I took the best shot I ever have, see http://500px.com/photo/2985344
For more images, go to this photo gallery!