This is the second article in a series of three about a great contender to become the new adventure hub of the world, Killarney, located in the south western part of this immensely green island. The second one regards Killarney as a possible adventure hub in the future. The third one will be about the definition of what is exploration and who has the right to call him or herself an explorer. And the issue, what is an unsupported journey.
"We have had tourism for over 200 years in this region", Declan Murphy from the local Tourist Office told us, when he took as around in his private car, to show us the area around Killarney; "Like for example Queen Victoria who came and stayed at Muckross Home for a few days."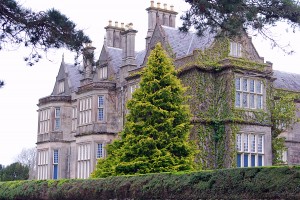 There´s no doubt that Killarney is THE tourist spot to visit in Ireland. There´s plenty of hotels and restaurants catering to the needs of Irish and foreign visitors. The surroundings is majestic. But, even though there´s such an influx of tourists, it is still a quaint, laid back and extremely service minded and friendly place. The Irish are a great lot of people. Even if they´re having some really hard times again. The country is suffering from a serious economic crises, with a profound recession, high unemployment figures and the Irish are once again emigrating.
"I think the worst is that we are in the hands of other countries, like Germany and France, who are dictating for us how to deal with these issues and people are loosing their self confidence through this" , the ever pleasant Declan told us whilst taking us to the tourists spots of the area.
Ireland really is the green island. Really green. And leaving the modern, straight roads, heading up winding roads up in the hills, passing through picturesque villages, is very rewarding. This is also farm country. Sheep, kettle and horses almost everywhere. Our first stop was an overview over Muckross Lake, the dramatic mountain range MacGillicuddy´s Reeks and Killarney town. Whilst travelling around I really saw a lot of similarities with another island I visited in January, Iceland. Another island with economic problems, but the Icelanders seems tougher than the Irish to some degree, they don´t let other countries dictate how to run their own country. Both are as beautiful and offer the outdoor freak an amazing amount of possibilities. Everything from short treks to paragliding. However, the Irish are warmer generally and Ireland is easier and cheaper to reach. This is after all the homeland of Ryanair. And the old Antarctic explorer Tom Crean.
"We even teach our school kids about him and his life", Declan told us whilst we passed through one of the  local Golf courses; "His public house The South Pole Inn is still active in Annascaul, which is down the road."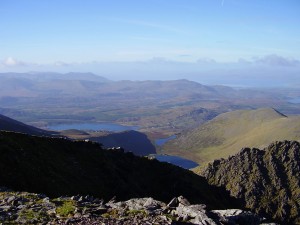 Could Killarney become an adventure hub what Scotland is  to the Brits or Queenstown in New Zealand to pretty much the rest of the world? I have been to all three of them now and I think Queenstown is in a league by itself, but in Europe, yes, definitely. It is easy to reach,the infra structure is there, they have had Tom Crean setting the pace and the most famous Irish adventurer for the locals today on the island who lives here, Pat Falvey. And of course,  Tim Lavery and their Explore Foundation.
"8 million visitors make their way to Ireland every year, many of them to the area around Killarney", Declan informed us whilst we passed the 19th centure Muckross manor, ate a lunch consisting of Shepard's Pie and with full bellies we carried on to the Torc waterfall; "Well, it is Brits and Americans, mainly. "
The Torc Waterfall was our last stop. The problem is, when you are a professional traveler and have seen the most majestic waterfalls on earth, you get spoiled. Torc is a 18 meter high fall surrounded by lush greenness.  Nothing spectacular really, but lush and tranquil a place. I think, the main reason Ireland gets stuck in one´s heart, well, it is still the Irish themselves. A great, very hospitable and laid back lot of human beings.
So, yes, the potential for Killarney as an adventure hub is great. Because for me, real exploration is always dealing with people first of all. Not being first or spectacular.
(Thanks To Failté Ireland for letting me use one of their photos, the one overlooking  Carrauntoohill)