Voices of Exploration – An ever-expanding database of exclusive monthly interviews with the world's leading explorers.
Regardless of where we were born, mankind's urge to explore transcends all differences of nationality and faith. It remains an emblem of universality deserving of a wider global study.
Ironically, though the public has long yearned for fresh voices who could share their hard-won wisdom, in the corporate-dominated world, where finances always come first, meaningful dialogue with the world's leading explorers has been passed over in preference to slick ads and predictable yearly awards.
That is why I am proud to announce the launching of this valuable new series.
The Voices of Exploration project is designed to be an ever-expanding data bank of interviews and wisdom. My friend, Basha O'Reilly, is one of the Founders of the Long Riders Guild, who has already launched the Voices of Authority equestrian educational program.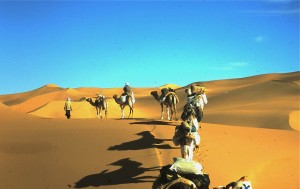 John Hare worked in Kenya for the United Nations Environment Programme (UNEP). During this time he undertook a number of expeditions into remote parts of northern Kenya, travelling all the time with camels and frequently alone. This re-kindled a life-long passion for camels.
In 1993, he took advantage of a chance offer from a Russian scientific team to research the status of the wild Bactrian camel in Mongolia – the 8th most endangered large mammal in the world. The wild camel is a critically endangered species numbering no more than 1000, and only survives in four habitats in the Gobi desert in China and Mongolia.
In 1995 and 1996 John Hare became the first foreigner to cross the Gashun Gobi Desert in China from north to south and to reach the ancient city of Lou Lan from the east.
In 1997, John Hare founded the Wild Camel Protection Foundation (WCPF), www.wildcamels.com , a UK registered charity of which Dr. Jane Goodall DBE is the Life Patron. In 2002, the Chinese government agreed to the establishment of the Lop Nur Wild Camel National Nature Reserve in Xinjiang Province in the former nuclear test site. Measuring 155,000 square kilometres and almost the size of Bulgaria or Texas, the WCPF became responsible for helping the Chinese to establish one of the largest nature reserves in the world, protecting not only the wild Bactrian camel but many other IUCN Red Book listed endangered fauna and flora. John Hare is the sole international consultant for the Reserve.
In 1999 John Hare discovered an unmapped fresh water desert spring, deep in the heart of the Chinese Gobi, which contained a naïve population of wildlife. Wildlife, which had never seen man.
In 2001/2002 Hare crossed the Sahara Desert from Lake Chad to Tripoli, a journey of 1500 miles to raise awareness for the wild Bactrian camel. This journey was undertaken to raise funding and awareness of the plight of the wild Bactrian camel and lasted for three and a half months.
In 2004 the WCPF established the Hunter Hall Captive Wild Bactrian Camel Breeding Centre at Zakhyn Us in Mongolia with twelve wild Bactrian camels, which had been captured by Mongolian herdsmen. This is the only place where the wild Bactrian camel is held in captivity apart from two zoos in China and in 2010 the population had increased to twenty-five. With advice from the Zoological Society of London (ZSL), there is a plan to undertake the first release of the captive wild Bactrian camels back into the Gobi desert.
In 2007 John Hare was the first person to circumambulate Lake Turkana in northern Kenya with domestic dromedary camels to raise funding for the wild camel.
John has just returned from an expedition in China which Prince Albert of Monaco's Foundation for endangered species and Ran Fiennes's Transglobe Expedition Trust generously supported.   In an email to Basha O'Reilly he wrote: "We encountered extremely low temperatures and two sand storms of considerable intensity and our head Kazakh herdsman (one of four) had his right arm removed from its socket by a kick from a camel. The arm was manipulated by the other three herdsmen and went back into place with a resounding 'plop' amidst a grind of gristle."
John is now safely back at his home in Kent, and kindly agreed to answer Basha's questions.
Voices of Exploration – John Hare
Who do you think was the most influential explorer in history and why?
Ibn Battuta, because his journeys in the fourteenth century spanned nearly thirty years and covered almost the entire known Islamic world, extending from North Africa, West Africa, Southern and Eastern Europe to the Middle East, India, Central Asia and China He travelled more than 75,000 miles, a figure unlikely to have been surpassed by any traveller until some 450 years later with the arrival of the steam age.
Who inspired you to become an explorer and why?
Colonel Percy Fawcett, because as a young boy I was totally gripped by the story of his travels into the Brazilian jungle in a search for the Matto Grosso and Inca gold.
What is your favourite exploration book and why?
Exploration Fawcett (see above)
What is your favourite exploration film and why?
I do not have one.
If you were travelling to the South Pole in the "Heroic Age," would you prefer to travel with Shackleton, Amundsen or Scott, and why?
Shackleton for his superior leadership qualities. I feel I could relate to Shackleton more so than to Scott or Amundsen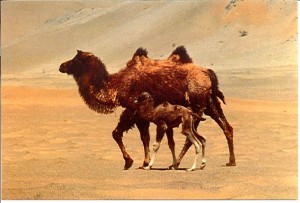 What was the most dangerous situation you survived?
There are two:
(1)When our truck broke down on the brittle rock salt of Lop Nur in China. Our tyres were being shredded and we had to put cooking oil into the engine as we were burning oil faster than we were using petrol. I estimate we were at the time 250 miles from the nearest person in any direction.
Also (2), when 20 of our 22 camels ran off in a sand storm leaving us marooned on the dried-up lake of Lop Nur, shortly after the Chinese had exploded an underground nuclear device. We were separated from our vehicles by 280 miles of one of the most hostile sections of the Gobi desert during the season of extremely turbulent sand storms.
What is the single greatest change you have witnessed in the exploration world since you began?
The power of satellites and their ability to provide communication no matter where you are in the world
What modern technology or techniques do you find most helpful?
The Global Positioning System
What piece of equipment always goes with you?
A compass
Which book would you recommend to would-be explorers today?
Kim by Rudyard Kipling. I always carry it into the desert, not because it helps with exploration but because it is a very good read and provides great solace when times are tough.
What would you tell young explorers to be wary of?
Over confidence
Why is it important for humans to continue exploring?
If 'exploration' in the broadest sense ceases, then the human race will stagnate and eventually die out.
Which of your achievements do you think will be most remembered?
I hope it is the establishment of the Lop Nur Wild Camel National Nature Reserve which protects the wild camel in China's former nuclear test site.
Books by John Hare:  Mysteries of the Gobi: Searching for Wild Camels and Lost Cities in the Heart of Asia
The Lost Camels of Tartary: a Quest into Forbidden China (foreword by Dr. Jane Goodall DBE)
Shadows Across the Sahara: Travels with Camels from Tripoli to Lake Chad