How do you define what is an Expedition? Or an adventure? What is the ethics of today´s exploration? Well, there´s been many articles written on the subject lately by me or others on my site. One of the most read is regarding the unsupported/being first issue. I also brought the issue up in this article with many good comments. Another one is CuChullaine O´Reilly´s article on Ethical Exploration. There´s really no accept set of rules. Explorers Web are really the closest with their list of rules and definitions, but they, like the site itself, only tend to exploration and adventure regarding polar areas, climbing and crossing oceans. And this is only a tiny bit of this genre. But, the other day, I was following the reports from Yemen on Twitter, I came across Alex Hibbert´s idea for a Universal Set of Standards, so I asked him if he could write an article on the subject, which he has below! Even though he focuses on polar travel, this can be applied on any Expedition. Read his excellentarticle and please comment and once again, start the debate! Just so you readers know, even though I publish his thoughts, it doesn´t necessarily mean that I agree on his opinions.
The need for Universal Expedition Standards
by
Alex Hibbert
I came up for the idea for Universal Expedition Standards whilst waiting patiently, or at times not so patiently, on the edge of the Greenland icecap this spring for the weather to clear in order to start a speed crossing. It was not to be and had to be postponed to August. However, the basis for UES had been in my mind in its constituent parts for months, if not years. In all areas of outdoor sports and activities, there are both national and international governing bodies. There are also a plethora of qualifications for the budding or professional climber, kayaker, diver and the list goes on. These tend to be controlled by groups or clubs without a vested interest or financial agenda and have grown to garner such respect that their name speaks volumes. For example, you know beyond reasonable doubt that an IFMGA mountain guide will be of the highest quality, should you wish to be guided or instructed.
What struck me, however, was the number of increasingly popular adventurous activities there are now available for those with the time and money to spare. This explosion in popularity may be for better or for worse, but that is a debate for another time. Most of these do not have a governing body, due to their obscurity, and have grown through word of mouth and shared experience, with the internet playing a major role. One example, apart from things like Stand-Up Paddle Boarding and numerous others, is my chosen specialism – polar travel.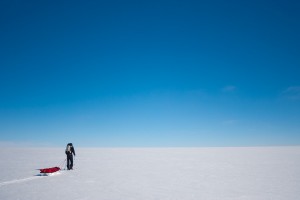 As the desire for anyone and everyone to experience the polar regions developed, there became a need for guides from the late 1990s onwards and inevitably, a more than fair share of cowboys became involved in the industry, in order to make a quick buck. To secure insurance and indemnity to guide on icecaps or the Arctic Ocean, guides are still obliged to gain mountaineering qualifications, since it seems like the 'best match', despite the fact that many of the skills are irrelevant. It seems absurd that some underwriters require a guide to hold an IFMGA award, the pinnacle of mountain guiding qualifications and one that takes years of dedication, for another activity which bears only a slight resemblance to climbing.
Aside from guiding, which in the polar expedition world is a small slice, there are the independent expeditions. These groups venture onto the ice every year, expecting rescue cover from local authorities or private companies who operate aircraft, despite many having little more than hiking experience in the British hills. There was, until recently, no control over access but some authorities, such as Greenland Home Rule, have begun to crack down on novice expeditions due to the high chance of needing to rescue. Just this season I spoke to the Tasiilaq helicopter pilot, who services Greenland icecap crossing teams, and listened in horror to his stories of plucking bodies off the icecap just days before, following relatively mild icecap conditions. Greenland has borne the brunt of the post-credit crunch rush to undertake polar expeditions, cheaper than to either Poles, but by those without the understanding that Greenland is not 'Antarctica-lite'. In spring, the temperatures are just as low, winds as fast and crevasses as treacherous. Anyone who sees Greenland as the easy option is either stupid or ignorant.
I use examples from my own area of experience but the principle applies to every remote or challenging endeavor – be it ocean rowing, open-water swimming, caving – the list goes on. It is very hard to apply conditions, control and rules to a group of people who thrive, myself included, on the lack of them.
This situation therefore spawned my vision for the Universal Expedition Standards – UES. I am aware of the plans for International Polar Guiding Association qualifications and other initiatives, but I believe that they have inherent problems. Not least, the fact that anyone who proposes a governing body will have an interest in how it is implemented. The rise in those wanting to ski in the Antarctic and Arctic is increasing and naturally more and more people will therefore offer services as guides. It makes sense that a small group will attempt to include their colleagues and friends, whilst freezing out those considered undesirable and thereby limiting competition for lucrative jobs. Not a healthy state of affairs in my mind for a market that should be dominated by quality and openness.
The UES is not a competitor or alike the proposed IPGA, the climbing IFMGA, MIC or any other example. It is not a guiding qualification. What the UES aims to achieve and become is:
Non-proprietary – an open standard governed by the community
Free – no money changes hands and so cowboys or business-interests are excluded
Voluntary – not being UES approved does not stop you from getting flights, insurance or backing. Having UES approval can show a positive effort has been made, rather than disable those who don't feel it fits them
The current criteria are:
Expeditions of any style or discipline can apply, free of charge, to become approved as a UES project. In order to qualify, these criteria must be met:
Press releases must not contain exaggerated or inaccurate information, nor omit information in order to enhance the impact of the statement.
Expeditions must carry at least one form of emergency communication system, including VHF radio, EPIRB, EPLB or satellite telephone. The chosen system must have sufficient power sources for the duration of the expedition. In addition, communication must be carried aside from a beacon (e.g. EPIRB/EPLB). This is to allow assistance/advice to be sought for minor and non life-threatening injuries without necessitating use of a beacon (which involves significant expense and commitment from national authorities).
At least one member of the expedition must hold a recent and valid nationally recognised wilderness first-aid qualification.
The expedition must have a nominated representative in their home country responsible for coordinating rescue in the event of emergency.
In order to state an expedition is 'unsupported', the team or individual must not receive external assistance which physically aids motion, including dogs, engines or sails. Skis, bicycles etc. are not considered support. An unsupported expedition will also not involve resupplies of any kind originating from a third party.
Guides employed by a UES expedition must have at least 100 days of relevant experience.
Approval is based on fixed, objective standards and does not involve subjective decisions.
The 100-day experience criteria for expedition guides, in order to be UES approved, is to combat the rise of companies and individuals who offer dangerous and inadequate services. Whilst not a supporter of open-source, crowd-sourcing or other internet generated movements (I believe in open markets where skills are rewarded with pay, not a credit-line), I do want UES to be self-policing. Criteria such as the one which attempts to rein in outlandish and uncontrolled press releases with exaggerated statistics is not there to make expeditions safer. It is included to try and re-introduce common-standards and honesty into the competitive world of expedition promotion and publicity. Something good for the future of the adventure and expedition community as a whole. At present, many who stick to the truth are out-competed by the claims of others – surely not a positive situation.
So, with the aims and hopes laid out in front of us, I welcome peer-review, amendments and comments to see if we can really make something of UES and the expedition world.
Alex is a world-record holding polar expedition leader and photographer. Only 25 years old, he has spent over one hundred and fifty days unsupported in the Arctic and has crossed the second largest icecap on Earth three times. His highlight to date was leading the 2008 record-breaking Tiso Trans Greenland which, at 1374 miles, is the longest fully unsupported polar journey in history. From 2008 Alex spent a period as a Royal Marines Officer and his first book, The Long Haul, was released in March 2010. He was elected a member of the prestigious Explorers Club shortly after. In the spring of 2010 Alex guided an international team 350 miles across the Greenland icecap. In 2011 he plans to break the world speed record for a Greenland icecap crossing followed by Arctic Ocean plans for 2012.