Voices of Exploration – An ever-expanding database of exclusive monthly interviews with the world's leading explorers.
Regardless of where we were born, mankind's urge to explore transcends all differences of nationality and faith. It remains an emblem of universality deserving of a wider global study.
Ironically, though the public has long yearned for fresh voices who could share their hard-won wisdom, in the corporate-dominated world, where finances always come first, meaningful dialogue with the world's leading explorers has been passed over in preference to slick ads and predictable yearly awards.
That is why I am proud to announce the launching of this valuable new series.
The Voices of Exploration project is designed to be an ever-expanding data bank of interviews and wisdom. My friend, Basha O'Reilly, is one of the Founders of the Long Riders Guild, who has already launched the Voices of Authority equestrian educational program.
Voices of Exploration – Arita Baajiens
Arita Baaijens: Long Time Desert Explorer, the First  Western woman to explore the Sudanese desert solo and on camel. The First Western Woman to travel the Forty Days Road twice, Camel Expert, Award winning and best-selling Author, Photographer, Biologist and Fellow of the Royal Geographical Society. Founder of the Dutch Sahara Society.
Twenty years ago she gave up her job as an environmentalist and started exploring the deserts of Egypt and the Sudan with a small camel caravan. After more than 30 desert expeditions Arita Baaijens now focuses on Siberia (Project 'Search4Paradise').
Arita writes, "The desert taught me to turn fear into a positive power. Siberia tests my capability to travel with an open yet critical mind in a world that according to Siberians is  inhabited by spirits."
Who do you think was the most influential explorer in history and why?
What mattered more to me was the insight that one doesn't need an overdose of testosterone to become an explorer.
Also, 'explorer' does not automatically refer to a white British male. Because most Brits do not speak or read another language, most assume the world was almost exclusively explored by compatriots. But what about the great Russians who explored Siberia and Central Asia? Not to mention the early Chinese, German and French explorers.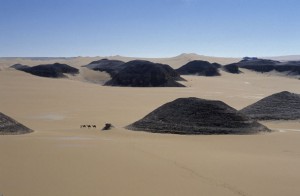 Who inspired you to become an explorer and why?
In my student days I read Christina Dodwell's book about her journey in Papua New Guinea and was stunned. Christina was my hero – but I never thought I would become an explorer myself. A traveller yes, but not an explorer. The push came from desert explorer Carlo Bergmann, who taught me about camels, navigation and survival in the desert. I wasn't supposed to leave his caravan, but because of incompatibility of character and my strong desire to stay in the desert I left him half way through our journey and continued on my own. With one camel, a 70 year old map and a shitty compass.
Next thing I quit my job, bought two more camels and started to explore the desert of Egypt and Sudan by myself.
What is your favourite exploration book and why?
The Fearful Void by Geoffrey Moorhouse. The author undertook a journey on camel from Mauretania to Timbuktu with the aim to look fear into the eye. He never reached Timbuktu but he did overcome ultimate fear.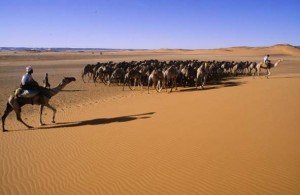 What is your favourite exploration film and why?
Original film of Sven Hedin's expedition in the Gobi desert in 1925. We are used to seeing live feeds now, but this delicate black & white film from another era is as impressive as any contemporary full colour film.
If you were travelling to the South Pole in the "Heroic Age," would you prefer to travel with Shackleton, Amundsen or Scott, and why?
Amundsen because of his interest in & respect for the Inuit and the Inuit culture.
What was the most dangerous situation you survived?
Probably armed robbery in my home city. And a near fatal car accident in the mountains in Mexico. As for the desert: I lost my way more than once. In Darfur I feared armed bandits.
What is the single greatest change you have witnessed in the exploration world since you began?
The appearance of the GPS and the satellite phone. Great tools in the right hands. But a GPS + safari drivers usually mean trouble. Cars venture deep into the desert and the tracks ruin the landscape. The tracks are visible for decades. I've watched centuries old caravan routes disappear as a result of car tracks. Also, a GPS makes it easy to find and loot archaeological sites. If I could perform magic I would destroy all satellites and celebrate the event with champagne.
What modern technology or techniques do you find most helpful?
Although I am a romantic fundamentalist when it comes to desert exploration and refuse to carry a satellite phone on my expeditions, I did own a GPS for a while. But it broke down and I didn't get around to buying another one.
If I forget about safari drivers, I'd say that the GPS and digital mapping are helpful.
What piece of equipment always goes with you?
Compass (and cameras, knife, Sudanese amulets against scorpions and bullets).
Which book would you recommend to would-be explorers today?
Depends what they want to know or learn. Personally, I recommend food for thought. My advice: The Wasteland, T.S. Eliot (believe me, out there it can save your life!)
What would you tell young explorers to be wary of?
Follow your bliss. It's okay to want to explore the world, even if you don't know why. You don't have to invent a 'good' intention or a politically correct mission. Just go. Stay authentic. And you'll be just fine.
Why is it important for humans to continue exploring?
I don't think the answer matters. Humans are curious by nature and nothing will ever stop them from exploring the world and push their limits.
Which of your achievements do you think will be most remembered?
I am already remembered in folktales in the Egyptian oases and northern Sudan. Of course I am not the super woman depicted in those tales, but that's beside the point. What I like is that I became part of the collective memory of people I care about
http://www.aritabaaijens.nl/index_en.php
http://www.search4paradise.com
http://www.aritabaaijens-schrijfatelier.com
http://www.linkedin.com/in/aritabaaijens