What is the future of exploration? Who are the young new adventurers and explorers? I try, as often as time and my daughter allows, to follow some young explorers I find interesting and which I think will shape the future of exploration. Youngsters with more on the agenda than doing sporting challenges, e.g climbing Everest or skiing to the Poles just to show their own strength. We are definitely past those days I hope! One of them I have followed is Kyle Henning. And I asked him to write an article about how has life been since his Big Adventure?
Life After The Big Adventure
by
Kyle Henning
For 68 days I was in perpetual motion. Even on the days when my body was at rest, my mind was rushing forward and backward in time. Being on a solo expedition through Africa was the hardest period of my life, physically, mentally and emotionally, but was therefore extremely rewarding. The physical pain is now gone, but the memories are as fresh in my mind now, a year later, as the moment I came down from the mountain.
I had been living in Ethiopia for 2 years serving with the US Peace Corps. Africa had been intriguing me more and more the longer I lived there. I knew I wanted to see more of the continent, and the trekker in me had his sights set on Kilimanjaro.
Inspired by Goran Kropp, I started to think about traveling by bicycle to the mountain and then trekking to the summit, the highest point in all of Africa at 5,895 meters above sea level. The bicycle would offer a great view as Africa slowly rolled by, but be much faster than walking. I researched all possible routes through Ethiopia's neighbors, some of which were in the middle of deadly wars. Sudan was literally splitting in half, Eritrea was still in a border war with Ethiopia, and Somalia had long been overrun by Al Shabaab militants. However, the little speck-of-a-country, Djibouti, was politically stable. Even though it lays to the north of Ethiopia, and Kilimanjaro to the south, I kept reading about the little independent nation.
Djibouti held my attention for months. I quickly learned that the lowest point in Africa, Lac Assal, was in Djibouti. At 155 meters below sea level, it's Africa's equivalent to the Dead Sea of Asia or Badwater Basin of North America. I now had my starting point!
During my 2 years in Ethiopia, I read blogs, researched visas, planned a route and bought gear. I was even given a Trek 820 mountain bike from another Peace Corps Volunteer who cycled up from Tanzania. I now had my ride!
The ride was all for me. It was something I wanted to do for myself. But after living in an extremely poor country for years, I knew I had to use the ride for some good. I asked a children's center near my home, managed by my friend Fikeru, if they'd be interested in using my ride to raise funds for their new building. They were ecstatic at the offer, and we set up the fundraiser. I now had my mission!
To help raise money I set up a blog and Facebook page, and branded the expedition 'Low2High: Africa'. Funds started coming in before I even moved an inch. Then, on January 18, 2011, I was peddling up and out of Africa's lowest point, completely alone.
I spent 3 days cycling to the Ethiopian border. The people I met in Djibouti were very nice. A Tunisian man living in Ali Sabien invited me to stay in his house. We ate dinner and watched Al Jazeera news as his home country was in the early days of it's uprising that would trigger similar events in Egypt and Libya. All around Africa, things were changing.
I cycled on through Ethiopia to Harar in the east. I fed hyenas and ate camel meat. It was so different from the Ethiopia I knew in the west where I had been living. I traversed the Amhar mountains where my rear wheel suffered catastrophic damage. I reluctantly hitched a ride to Addis Ababa for a repair, then hitched back to the same spot to continue onward.
Ethiopia's government runs a tight ship. It's a landlocked country and it only has one road to it's most reliable port in Djibouti. That very road has a bridge over a small river. Destroying that bridge could literally sever Ethiopia from the outside world, so the heavily-armed police were not going to allow me to cycle over the bridge. I had to hitch a ride, and although it was less than 1/2 a kilometer from one guard post to the next, it bothered me that there was a gap in my otherwise continuous line through Africa.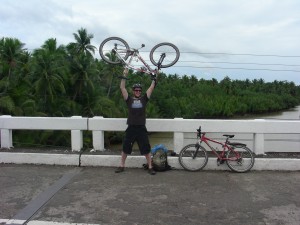 Traveling in Ethiopia felt comfortable to me. It was home. The mountains and the traffic were difficult, but I was at a huge advantage knowing the language and customs. By the time I reached Kenya, however, I'd had enough of the stone-throwing children.
Kenya was rugged. The first 450km of road were unpaved. Crossing the Chalbi Desert was hot and dry, and it's known for banditry and tribal conflicts. While I didn't run into any bandits, a woman chased me with a spear and I narrowly missed a flash flood that came behind me. Northern Kenya was one stretch that felt like true survival in the elements.
I trekked to the summit of Point Lenana (not the true summit) of Mt. Kenya as a trial run for Kilimanjaro. My body was strong, but my knees and ankles felt unbalanced after repeating the peddling motion for so long with very little walking. I knew I needed to do some extra training before attempting the mighty Kili.
I spent a week relaxing in Nairobi. I'd made some contacts and celebrated my 28th birthday with my new Kenyan friends. It was good to be in a large city and enjoy the comforts of society. My bicycle, however, was suffering badly.
My original route was to take me from Kenya into Uganda and Rwanda before reaching Tanzania. I didn't want to take a direct route. I wanted to explore the continent and see as much as possible. I had even gotten a visa for semiautonomous Somaliland, but had to skip it due to Ethiopian visa issues. As my bike limped out of Nairobi, I knew I had no choice but to take the quickest path to the mountain.
Tanzania greeted me with days of rain. It would pour on and off, making it hard to motivate myself to get moving. After a few days is Arusha, I rode to Moshi, then Marangu and eventually the trailhead for Marangu Route up Kilimanjaro. With the biking over, I called my parents and had a small celebration back in Marangu town.
Mt. Kilimanjaro National Park requires guides for all tourists on the mountain. I hired a man named Alex who I really liked. He spoke great English and was fun to chat with. He was strong, and on March 26, 2011, 68 days after leaving Lac Assal, I stood on the summit of Mt. Kilimanjaro. I had done it!
A year has now passed. If it's true that hindsight is clear, then now I should have an opinion about my own expedition and the successes and failures within it. So, as I sit here in the Philippines sipping a coffee, I'll lay out my thoughts.
Was it a success? Yes. In almost every sense. I made it from Lac Assal to Uhuru Peak. That was the basic goal, and I did it. I didn't get hurt beyond minor aches and pains, and there are no permanent injuries as a result. The fundraiser went very well. I aimed to raise $4,000 USD, and I actually raised $5,000! Donations were coming not just from friends, but from total strangers. I felt like I'd inspired people and encouraged them to give some money despite major economic hardships all around the world.
But, if I have to be honest and critical, there were a few disappointments in my mind. When I dreamt of this project, I aimed high. I wanted to do the entire trip by my own power. That 1/2 km ride over the bridge still bothers me. It breaks my line! Having to hitch a ride for a repair also irks me a little, even though I picked up where I left off. I also labeled myself as 'unsupported'.
Can I claim that? 3 different people helped me repair my bicycle on 3 different occasions. If they hadn't, I would have been in serious trouble. Also, I called the trip 'solo', yet I teamed up with other cyclists along the way in southern Ethiopia and in northern Tanzania, and I hired a guide to trek up Kilimanjaro. People I encountered also offered me food, water and encouragement. I couldn't have done it without those people. And finally, I dramatically shortened my route due to mechanical problems that I was not prepared to fix.
I feel great about what I've done, but I'm struggling to find the vocabulary to describe it. I've been told by past girlfriends, my parents, everyone that I am my own harshest critic, but despite that I feel very accomplished. I just feel an obligation to clarify every time I say 'alone', 'unsupported', or 'solo'. Even the word 'expedition' feels uncomfortable to me. Is cycling down a paved road on par with Mike Horn's expedition around the equator, armed with a machete? Or Shackelton's expeditions to Antarctica attempting to reach the pole 100 years ago? Of course not. But, I am no Shackelton and no Horn. I am Kyle, and I'm new at this.
Now I receive both praise and criticism from people who hear my story. I like hearing different takes on it. I think it gives me a more honest assessment.
Do I have any regrets? Just one. After the expedition came to an end, I went to the UK to visit my girlfriend. It took me months to get my head out of Africa and out of 'expedition mode'. It's not the whole story, but I know that played a part in her decision to end our relationship. I don't regret the trip, but I regret not being able to come back to reality soon enough. I would love to read stories by 'expedition wives'. I know it's hard on the people that are left behind, worrying while guys like me go on dangerous trips.
Now I'm back to a somewhat 'normal' life. I'm working overseas again, but I'm not living on a bicycle. I have a house and regular internet access. I still dream of other expeditions in far away lands, and I guess it's time to make a choice. Do I live the American dream and raise 2.7 kids in the suburbs, or do I find my way in an unconventional life, traveling and exploring? I don't have an answer to that question yet. Maybe I'll continue to struggle with it. Or maybe, if I'm lucky, I'll find a balance between those worlds that works for me.
In January, 2011, Kyle Henning began his human-powered, solo expedition from the lowest point on the African continent to the highest. Starting at the shore of Lake Assal, Djibouti (155m below sea level), he bicycled 2,980km through four countries to the base of Mt. Kilimanjaro, Tanzania and trekked to the summit of Uhuru Peak (5,892m above sea level) on March 26, 2011.