I spent more than two months in Malta when I was 17 and I still today remember how impressed I was back than with this very special island. I am still impressed! Even though we only had a day, with a great guide Ana, and only saw and experienced fragments of Malta, I once again, fell in love with it. It is a very tidy, somewhat medieval and modern country in one, with its own language, tempo of life and a history which of course is very specific due to its isolated existence in the middle of the Mediterranean. It has a very strong catholic presence still today and our first stop once we easily got out of the cruise ship, was the picturesque and medieval town of Medina, where we spent a few hours listening to Ana and exploring its tourist resources and narrow winding alleys. It is a dry, somewhat barren landscape, but farming is seen everywhere and life seems very laid back. For lunch we wanted a break from the cruise ship food, so we headed down to a coastal village dominated by beautiful fishing boats and once again, a medieval, Mediterranean feel and the lunch was the best of the trip. The octopus sauce and bread, world class! So was also the view overlooking the harbour and the company was great. We´d only been together a mere day and we were already expanding on the virtues of future exploration on all levels.
After lunch we travelled on narrow back roads back to the capital Valetta, visited a great cathedral and came across the life story of the Italian painter Caravaggio. I think his story and his big paintings was the highlight of the trip!
After having a whole day off the cruise ship, I felt more at ease getting back on it. Quite a few of the passengers had stayed on board enjoying the swimming pools and recreational stuff which is possible on such a massive ship. It is a bit like a floating Canary Island experience at time. Loads of Europeans frying their fat in the sun, looking like they had a bad hangover reading cheap novels. One thing I do appreciate with the cruise ship travel is the ease by which one arrives at a new destination over the night, and we always gets a spectacular first view of the day, especially from our high positioned suites. And the ease which one disembarks and later get on to the ship again. So much easier and less stressful than the airports. Especially if you are American, used to the ridiculous and unfriendly security behaviour of American airports!
My personal opinion is, I would never travel on a cruise ship by myself. It looks terribly lonely. I would say that travelling with your family and kids is the major attraction of travelling by a cruise ship. I don´t really understand why people use a cruise ship to get a sun tan and rest. One is so isolated and still in a known surrouinding. Maybe that is the reason. But, travelling with friends or family, sure, it is a good way to get around with ease, even though the time that one is docked at a port, isn´t sufficient to enjoy to surroundings or atmosphere of a place. It is also a good place if you like to party. Which my friends love and we were very lucky to meet a group of Irish ladies partying hard and they were so so full of humour, laughter and joy, so it made us boys laugh a lot and enjoy life even more.
That was the main reason we didn´t get up too early next morning which would have meant that we would have had a possible opportunity to visit Etna, because the following morning we woke up at the Sicilian port of Messina and got picked up by Kensington Tours local guide, Vicienzo, who instead drove us on mountainous and beautiful roads up to the touristic, but beautiful town of Taormina. It is easy to love Italy with its character. I just love the disorderly order of things, the noises, the mess, the food, the elegance and style, and, of course, they´re masters of making a tourist town feel genuine!
Our last night on the boat, gave us little sleep but lots of laughter and I am now sitting at Rome´s airport waiting for a plane home via Munich. Another Gentlemen´s expedition have come to an end and it has become something very important in my life. All thanks to the most generous human being I have ever met, Jeff Willner.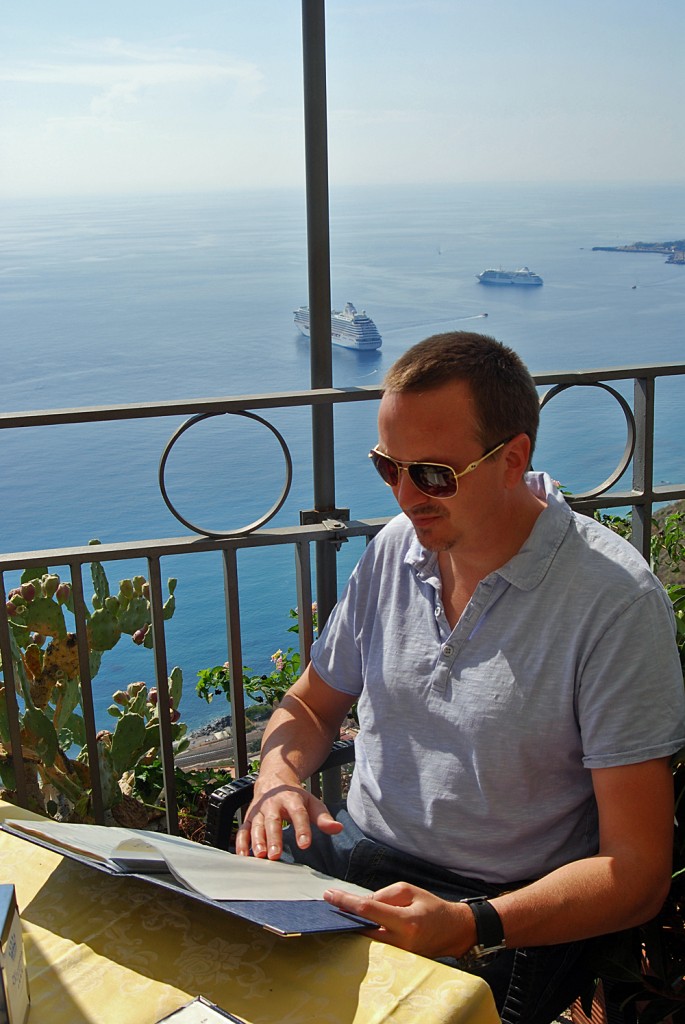 So, would I pay to go on a cruise ship myself?
Yes, I would if the family would need a break and a holiday, were we could get away, see something new and be together in a tight fashion where we also didn´t have to cook or do our beds….Otherwise, no. However, as you know, I am after all into other types of travel. But I think for a majority of people, they see a lot of great things with a cruise. Mainly a relaxing journey with set meals, set agendas, where they don´t have to do anything by themselves.  Requirements for most people´s wish of a holiday.
The environmental impact? Well, if you don´t walk, cycle or make your own way forward, you are bound to travel in a way which has an environmental impact. I don´t think the cruise ships are worse than other gigantic modes of travel.