Introduction
'Bicycling Around The World' celebrates bike travel and culture around the globe. Come pedal with us through the icy Himalayas, the barren Pamir highway, tropical East Africa and the chaos of Dhaka in search of unique cycling images.
We also show you glimpses of bicycle culture via painted rickshaws, overloaded cargo bikes and even two wheelers piled high with cotton candy.
'We' are photographer Paul Jeurissen and his partner Grace Johnson.
In 2010, we set off on a multi-year cycling tour covering four continents. Wherever we go, we search out bike culture, dramatic landscapes and remote places.
By the end of this book, we hope you'll agree that the world is best viewed from a bike saddle.
Photo project
In 2005 I said goodbye to expensive analogue film and hello digital camera! With the possibility of unlimited shots I could finally start taking pictures of a subject that fascinated me: bicycle culture.
In Amsterdam I grew up surrounded by two wheelers. They were just everyday objects that you used to go to the shops or school. Later, when I started cycling through other countries, I saw that they meant many different things to different people and could be an interesting photography theme.
I called my new photo project, 'Bicycling around the world in search of inspiring cycle images'. After trips through South India, Morocco and the United States, Grace and I set off in 2010 on a multi-year bike journey to explore the world and international bicycle culture.
Chinese cargo bikes
Chinese market women love them since they are relatively light and easy to maneuver. The ladies use them not only to transport goods but also as a product and restaurant stall which they can set up on any street corner.
Cotton candy bikes
The cotton candy bike was a favorite amongst kids playing at the riverside park in Vientiane, Laos. They would all peer inside and plead with their mothers to buy them one of the pink and white concoctions.
Oxygen please
Wheeze, gasp, wheeze… We sounded like two asthmatic senior citizens as we pedaled and pushed our bikes up yet another high altitude pass. Sure the scenery was gorgeous, but we also longed to be able to breathe.
Tent with a view
After dinner we asked a Tibetan where we could best set up our tent. He pointed to an opening between two hills and said, "Camp in the valley behind, you will be sheltered from the wind there." Upon reaching the spot Paul looked around, smiled and declared that tomorrow would be a rest day.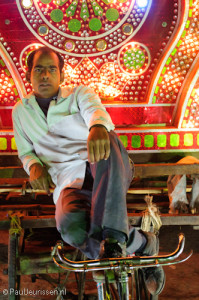 Wedding bike
An Indian wedding procession is made up of the groom riding a white horse (he usually looks a bit shell-shocked) followed by dancing family members, a brass band and at the very end – the neon wedding bike.
Glamour and guns
Birds, flowers, Mecca, automobiles and even airplanes are popular themes painted on to rickshaw bodies. Our favorite theme was Bollywood 'glamour and guns'.
About Paul Jeurissen
In 1981 he cycled the Transamerica trail. During this trip he not only met his future wife Grace Johnson, but also fell in love with photographing the American landscapes, people and the bicycle journey itself. Back in Amsterdam he studied photography at the Fotovakschool Lex Werkheim Instituut and John del Campa Studio.
In the 1990's he began specializing in bicycle imagery and developed a new photographic style 'The small red cyclist.'
"These pictures show a little red bicyclist pedaling through monumental scenery. The cyclist gives a sense of scale to the enormous landscape. It is still an exciting theme after all these years and I'm always on the lookout for new photo locations."
Since 1981 Paul and Grace have taken numerous bicycle/photography trips, totaling more than 4 years over 4 continents and in 2010 they set off on a multi-year journey "Bicycling around the world in search of inspiring cycle images". The challenge will be to not only capture the experience of cycle touring but also photograph the diverse bike cultures they pedal through.
"Bike culture is fascinating since it has so many different faces which can be visualized, from the urban areas in Bangladesh, where a bicycle is an important means of earning an income, to the subcultures of the western world with all their communities, activities and shows."
"It's a thrilling time and we enjoy sharing the result of the photography project on this blog. Every week you can view new images as we travel from one country to another."