The first journey I did after Siberia was heading for the legendary piece of desert called Empty Quarter or today Rub Al Khali, made famous by Wilfried Thesiger and his journeys together with his Bedu partners Bin Kabina and Bin Ghabaisha. I had an idea to cross by camel from Oman in the east to Mauretania in the west. So I hired a local guide Mussalem Bin Hassan and we went into what I would call some of the most spectacular desert scenery on earth! Read more here at http://www.mikaelstrandberg.com/?s=empty+quarter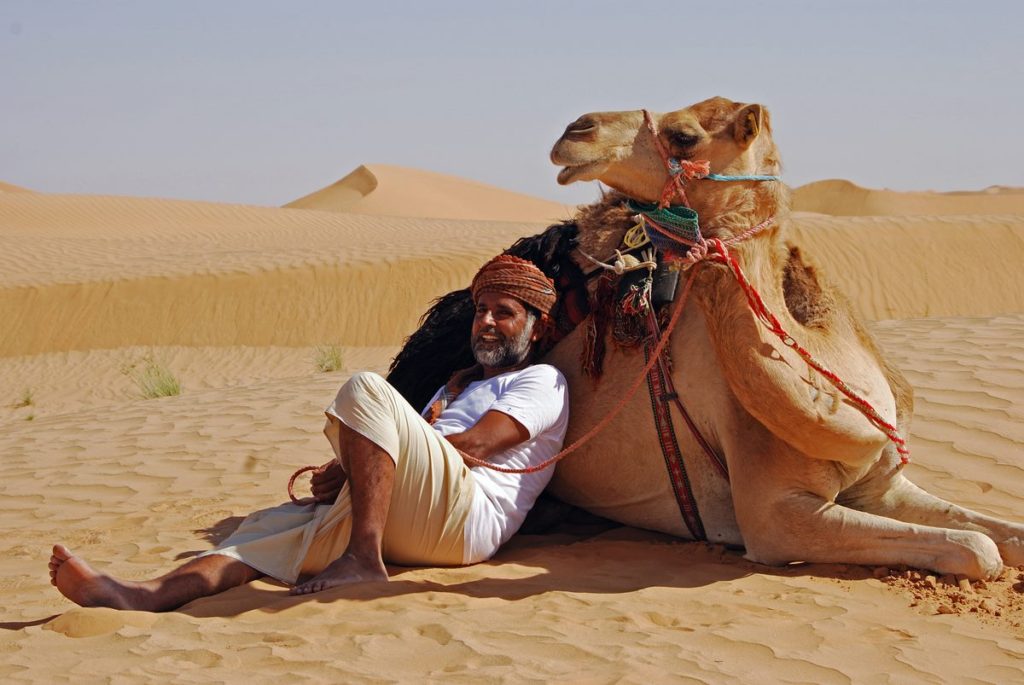 Rub Al Kahli. From Oman to Mauretania by camel, possible?
" The major reason for my visit was to find out if I really had my heart into my next big project, Expedition Arabia by camel, maybe as much as 7000 km:s of desert travel with camel during at least 18 months. One of the last great Expeditions on earth. I have the last two years found myself in limbo, not enjoying life too much, not knowing what to do with life. Suddenly, I just realized, by pure coincidence, whilst visiting a lecture by an oil company and seeing the words Rub al-Khali written on a map, that is it! Arabia! That is my next Expedition! "
Those were my thoughts back in 2007. I needed to do a big Expedition after the Kolyma Expedition 2004-05. But was this the right one? Read more at http://www.mikaelstrandberg.com/2009/02/18/rub-al-khali-part-one/ 
The camels Mussallem Bin Hassan had brought for training were….difficult to say the least. Who knew they could turn their necks around like that and bite? This will be a challenge I thought! Yes, because it turned out immediately I sat up on this peculiar animal, which in itself is dramatic, she groaned unhappily and then we sat out cruising through these dramatic sand dunes, me being transported like a child in a zoo, by somebody holding a rope, pulling the animal. It all went well until a group of English tourists turned up and made it all into a circus by trying t get two people on Sahara. A disaster and from that time she was almost impossible to ride for me. She groaned, vomited and looked like she could bite me all the time and even for Mussalam, sitting up on her was like a small rodeo every time. So I set out on foot. Is it possible to ride from Oman to Mauretainia on a camel? these were my thoughts back in 2007. Read more here at http://www.mikaelstrandberg.com/2009/02/18/rub-a-khali-part-two/ 
There´s first of all in the desert, not only at night camp, almost dead silent, the surroundings, broken only by a stray bird, like ravens, otherwise it is so silent you can almost hear when you make an invisible line in front of you, by drawing your finger in front of you, from left to right. That silent. The food tastes great. The talk is joyful and full of inspiration. Suddenly darkness takes over and the sky suddenly explodes with stars, the Milky Way is so close. Strongest is the Northern Star, It was full moon during my visit. So after two hours of relative darkness, suddenly the moon towered on top of us and we could switch of the torches when going off to do the needs. One sleeps outside in the desert of course, especially during winter, since no scorpions or snakes look for a place to rest. It is part of feeling free. 
2009. Empty Quarter. Oman. I was here to prepare for a new big Expedition. I wanted to walk and ride with a camle from Oman to Mauretania. After 4 days in Rub Al Khali, near the Yemeni border, my conclusions were these:
So, conclusion, what did I learn for the big Expedition?
I need to learn Arabic, there´s no doubt about it. More important than ever. I will not get anything serious done otherwise. I will not understand Arabia.
Good, well-trained camels are dead important. They should be used to hard, undulating desert travel and like tourists…I will need at least three months of training before leaving and setting out on Expedition.
Desert travel in winter is not bad at all. The heat is bearable. Nights are not to cold.
Travelling the Bedu way will be much more difficult than traditional expedition travel. Less food and less energy…..
Motivation is very high and I am definitely ready! It feels like big things are coming up!
Read more at http://www.mikaelstrandberg.com/2009/02/18/rub-al-khali-part-4/