"Olly!" I screamed in the phone, "I need your help! I have deleted all my photos from Siberia and I hope I have left a memory stick with the slide show in a small rucksack in your flat! Can you get it? Where are you?"
"Don´t worry", Ollie said calmly, "Am not far from home. What time is the lecture??"
"6.30 I think" I answered in panic, "No photos, no lecture!"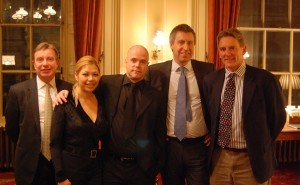 Imagine yourself. As an explorer, there are 4 venues which are more important than others. It is the Royal Geographic Society in London, The Explorers Club in New York, The Travellers Club in London and the National Geographic Society in Washington. I have been honored to lecture at the first two and suddenly I had a chance to lecture at the legendary Travellers Club in London. It is a privilege for few. Imagine when you turn up, you set up your laptop and realize that before leaving Sweden for a very long time, I took away the Siberian slide show…I panicked. Ran up to my room and I phoned Ollie. He said he had just left home. In fact, he was standing outside 106 Pall Mall and the Club. He took a taxi back and an hour later returned. Just before the lecture.
I have no idea if the lecture went well or not. But it was a highlight in my life. Some of my best friends were there. Peter, he came all the way from Sweden to honor me. Barry arranged it. Sam came with his wife and Stephen just made after visiting Jeddah with his great art. One of the biggest surprises was the well-known investment banker David Chaldecott who came with special greetings from the Sultan and Sultana of Hadramawt!
The lecture? Well, Barry wrote this fantastic piece of warmth:
The Travellers Club in London's Pall Mall is perhaps the epitome of a past
tradition of London gentleman's clubs.  No lady members, a smoking room that
you can no longer smoke in and a good bottle of Club claret.  It was the
first commission of Sir Charles Barry, the architect best known for having
designed  the Houses of Parliament.  He did such a good job for the
Travellers that he was also commissioned to design the Reform Club next
door.
The Travellers has an eclectic mix of members comprised of diplomats,
explorers, military men and who knows who.  The common factor is that
between them they have all been around a bit and have experienced a few
things in their time.  However, following various comments made by guests
following the Library lecture last Monday evening, only a few said that they
had ever witnessed a lecture to compare with Mikael Strandberg's journey
along the Kolyma River in North-East Siberia.
Mikael's library lecture, given to a joint meeting of the British Chapter of
The Explorers Club and The Travellers Club was full to capacity and there
was an expectation that something unique was about to be witnessed.  The
audience of seasoned travellers seated in what had been the Queen Mother's
favourite room in London were to be far from disappointed.
Nobody could have imagined the extreme hardship, cold and danger that
Strandberg and his companion had experienced on his last major expedition.
The beauty of the river, the friendliness of the people seemed oddly
misplaced with the horrors and evil that took place in that part of Siberia
during the Soviet era.  Many of the locals still longed for past days where
security and a social system provided for most of their basic needs and
Mikael's lecture made it clear that many still yearned for the return of the
security and certainty that the State had provided prior to the transition
to a semi-capitalist society.
Mikael's lecture is crafted like a nordic epic and in some ways that is
exactly what it is.  A mixture of a quest for the meaning of life, trials,
tribulations, fearce animals, spells and  signs.  It is about the search for
oneness with nature, survival, harmony and the fellowship of man.
Strandberg is an explorer of extremes.  His humour is infectious and crosses
any language barrier.  But most important, he is an astute observer of
cultures, many of which are likely to be lost in the next generation or
two.  His expeditions are not only adventurous, they are also a record of
things past that may never be eye-witnessed again.  Communication is
Mikael's craft and long may that continue.
Barry Moss FRGS
Chairman, British Chapter of The Explorers Club and Member of The Travellers
Club
A full house of Travellers and Explorers Club members and guests enjoyed Mikael Strandberg's talk on the Kolyma River on 19 October. Mikael was an especially entertaining speaker, fluent and witty; the Chairman tells me that he emerged from the talk being totally convinced that it is very, very cold in Siberia.
David Broadhead
Secretary
The Travellers Club 29 October 2009