By Duncan J. D. Smith – Urban Explorer
I was recently asked to give a lecture on travel writing to a group of bright eyed seventeen year olds preparing for university. At the end of it only one of them showed any real inclination towards travel writing as a career – but all of them were reassuringly enthusiastic about travelling in general, and they had plenty of searching questions about my own approach to it. But perhaps the most surprising question came from an elderly lecturer who had snuck into the auditorium half way through. "Do you give GPS coordinates in your guidebooks, Mr. Smith?" he enquired.
The reason I found this surprising is that I would have expected such a question from one of the students, most of whom seemed to be clutching electronic devices of one kind or another. I explained to the lecturer that I didn't give co-ordinates, my reason being (as I mention in the introduction to all my books) that I prefer to give only brief directions, precisely so that my readers can find their own way to the places I describe. This way there is the very real possibility that they will stumble upon other places of interest along the way, thus creating their own personal travel experience. Indeed, they may never get to the original destination I've described, and instead might linger at a place of their own choosing. "That's no good to me," retorted the lecturer, obviously rather disgruntled at my failure to embrace the irresistable lure (at least to him) of new technology. By the time I had answered a further question from one of the students, about how long it takes to research a guidebook, I noticed that the lecturer had vanished.
As I sat on the tram back to my apartment in Vienna, Austria, where I'm based for part of the year, I thought further about this. I couldn't help recalling the words of the Spanish philosopher José Ortega y Gasset: "He who does not really feel himself lost, is without remission; he never finds himself, never comes up against his own reality." As far as I'm concerned, and I'm a little old school I admit, GPS coordinates are all well and good if one's crossing a desert or cutting one's way through mile after mile of dense jungle. But I'm writing guidebooks to cities, where the majority of streets are signposted, and where there's almost always a friendly local willing to point the way. Surely including GPS coordinates would detract from the adventure in hand, and reduce the journey to little more than a box-ticking exercise.
Since commencing work in 2003 on my "Only in…" series of city guides, I've worked hard to reinvent the art of urban travelling, indeed I call myself an Urban Explorer. My particular niche is locating hidden corners and unsung backwaters of cities, places which speak just as eloquently about the history of a city as their more famous counterparts. Not only do such places rarely involve an entrance fee but they also offer my readers the opportunity to discover the place for themselves, and in doing so to leave them with a more indelible memory. Self-education is the name of the game. Definitely no box-ticking exercise here, please!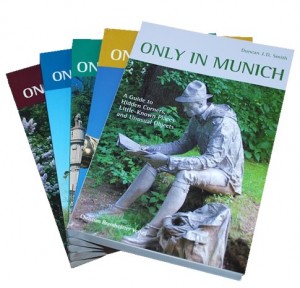 The pace of life may be fast in modern cities but when it comes to exploring them by foot, speed really isn't everything. On the contrary, there is a strong case to be made when exploring cities for adopting the principles of 'Slow Travel', a recent phenomenon that bucks the trend towards reaching one's destination as quickly as possible. Fine if you're meeting someone or you've a train to catch but otherwise racing along at top speed is a practice best left at home, jettisoned in favour of the chance to get under the skin of a place, and to get a flavour of its real spirit. This inevitably involves such pleasures as talking to the locals, whiling away a few hours in a local café, and generally dropping down a gear or two. As the self-styled psychogeographer Iain Sinclair so eloquently put it "Drifting purposefully is the recommended mode, tramping asphalted earth in alert reverie, allowing the fiction of an underlying pattern to reveal itself."
Yes, drifting purposefully is definitely the way the modern city explorer should proceed. After all, as José Ortega rightly observed, life is a drama that exists between necessity and freedom. The necessity in travel is to reach one's destination…eventually…and the freedom is the possibility travel offers the open-minded traveller to gain enlightenment and in so doing to return from each journey a changed person. The slower the journey, the greater the change, since ultimately, as the old Persian Sufi saying goes, "The road leads neither East nor West but within."
Short biography: Having worked for many years in the publishing industry selling other travel writers' books, Duncan J. D. Smith decided in 2003 to start writing and illustrating his own. As an 'Urban Explorer', travel writer, historian and photographer he has embarked on a lifetime's adventure, travelling off the beaten track in search of the world's unusual people and places, from the back streets of Vienna and the bunkers of Berlin to the deserts of Jordan and the highlands of Ethiopia.
Discover more about Duncan and his "Only in…" guides at www.duncanjdsmith.com