Voices of Exploration – An ever-expanding database of exclusive monthly interviews with the world's leading explorers.
Regardless of where we were born, mankind's urge to explore transcends all differences of nationality and faith. It remains an emblem of universality deserving of a wider global study.
Ironically, though the public has long yearned for fresh voices who could share their hard-won wisdom, in the corporate-dominated world, where finances always come first, meaningful dialogue with the world's leading explorers has been passed over in preference to slick ads and predictable yearly awards.
That is why I am proud to announce the launching of this valuable new series.
The Voices of Exploration project is designed to be an ever-expanding data bank of interviews and wisdom. My friend, Basha O'Reilly, is one of the Founders of the Long Riders Guild, who has already launched the Voices of Authority equestrian educational program.
Interview with John Blashford-Snell
Colonel John Blashford-Snell started his remarkable exploration career on underwater expeditions and in the Sahara then in 1968 he led the first descent of the Blue Nile .  JBS, as he is always known, went on to lead the first vehicle crossing of the complete Darien Gap jungle.  In 1974/75 his team navigated almost all the Congo River.  Since then he has organized and led more than 100 expeditions.
But JBS is far from being the average explorer.  With a group of friends he set up the Scientific Exploration Society, to foster and encourage scientific exploration worldwide.
Indeed, these expeditions have resulted in hundreds of thousands of people, rich and poor, being given an opportunity for travel and adventure.
I am one of these people.
My name is Basha O'Reilly and I am one of the Founders of The Long Riders' Guild, the world's first international association of equestrian explorers.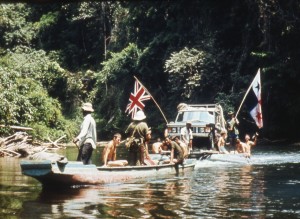 I am a Fellow of both the Royal Geographical Society and the Explorers' Club, because I rode my Cossack stallion from Russia to England, then journeyed on horseback from Mexico to Canada along Butch Cassidy's infamous Outlaw Trail.
But, although I had ridden all my life, my travels in the saddle came about quite unexpectedly.
As a middle-aged woman I thought "living rough" meant staying in a four-star hotel instead of a five-star one. Then I joined an expedition led by JBS to Mongolia.
Four weeks of living in a tent in the High Altai mountains changed my life. Like thousands of others, Colonel Blashford-Snell opened the doors to a world of adventure which I had never imagined.
I was lucky enough to catch JBS at the headquarters of the Scientific Exploration Society which he founded, where he kindly agreed to answer these questions.
Who do you think was the most influential explorer in history and why?
There are many, but I suspect Zheng He, the Admiral of the Chinese fleet that set out to discover much of the world in 1421 may prove the most influential in due course.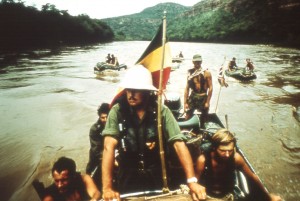 Who inspired you to become an explorer and why?
My parents with their travels and adventures especially in New Zealand and the Pacific and my regiment, The Royal Engineers.
What is your favorite exploration book and why?
The Ascent of Rum Doodle by W. E. Bowman
What is your favorite exploration film and why?
I love the Indiana Jones films.  Although a little exaggerated they reflect many of the problems we face and are great entertainment.
If you were travelling to the South Pole in the "Heroic Age," would you prefer to travel with Shackleton or Scott, and why?
I'd prefer to go with Shackleton because I feel he was really seeking the answers to many scientific questions.
After leading more than a hundred expeditions, including a crossing of the Darien Gap jungle, what was the most dangerous situation you survived?
Probably on the Blue Nile in 1968 when we tackled massive rapids with no previous experience and the prototype raft, battled with bandits and faced some hungry crocodiles.
What is the single greatest change you have witnessed in the exploration world since you began?
Space travel and on this planet undersea research
What modern technology or techniques do you find most helpful?
Goretex, GPS, inflatable rafts, paramotors and modern medicine
What piece of equipment always goes with you?
Swiss Army knife and a bottle of scotch!
Please tell us what prompted you to start the Scientific Exploration Society.
The concept of bringing together the Armed Forces expertise in field administration and the ability to conquer obstacles with civilian scientists
Why was it important to invite women and disadvantaged youth to take part in these explorations?
Women are very determined, have quick wits and intelligence and can be almost as tough as men.  They can also be very caring and good company.
What made Operations Drake and Raleigh unique?
Letting young people tackle physical and mental challenges under expert guidance and discover their strengths and weaknesses at a time when they can build on them or correct them.  At the same time doing much to make the world a better place.
Which book would you recommend to would-be explorers today?
The Springs of Adventure by Wilfred Noyce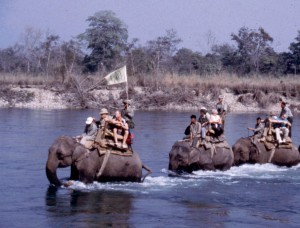 What would you tell young explorers to be wary of?
Greed …. And never believe your own PR.
Why is it important for humans to continue exploring?
If man is not to become a robot he must face challenges and seek to save the earth from self destruction.
Which of your many achievements do you think will be most remembered?
I hope it will be the launching of Operations Drake and Raleigh which have done so much to develop young leaders and future explorers who care about people, environment, fauna and flora.
What ethical, intellectual or technical advances would you like to see in the exploration world?
The most exciting technical advance at present is the development of the paramotor.  This really gives explorers a most valuable birds eye view of their area and way ahead.  Hopefully engines will become lighter and more powerful and pilots more skilful.  We have used them successfully in South America.  I'd love to fly one!
Why are you anxious to help others via the SES and the many charities you support to help disadvantaged youths?
SES is a great organisation bringing together people of all nations in the cause of science and community aid.  I believe if one can redirect the energy of disadvantaged young they can become far better citizens.  Stanley and Livingstone are great examples of this.