***Import update***Mikael asked me (Pamela) to send out this report out as soon as we got internet which is now (17:00 Sanaa time by generator). On the day Mikael sets off on Expedition Yemen, fighting started again with heavy mortars and gun fire near Jabel Noqum and Hasabah.  When you hear the sound of mortars, it echoes and you never really now what direction or how close you are to the mortars.  We both thought, "why now?"  Why just before Mikael sets off?  But of course, Mikael gets a call from his expedition companion, Amin, and they are off with no worries.  Yemen is a country where war is experienced as 'aidee" which means that war is part of everyday life and "normal".   Let's hope Mikael finds a strong camel ready to face whatever lies ahead…
This is how it all started. We had no idea whether we would get out of Sanaa or not. I called Amin. He was late. And he didn´t answer. I was nervous. Maybe the government had turned off the mobile phone net again due to a possible escalation in the war. Amin called an hour late and said he had forgotten to recharge the batteries of his mobile. It was a unique call. He never called himself, only received. To expensive to call he said. And he didn´t want to waste his time, with small talk. He also said that the driver had problems starting his old jeep, but that they were on their way.
"Get ready!" he said.
I had been ready for many days. All packed. But I was unsure if it all would happen or not. It seemed almost impossible. Nobody got out of Sanaa. Not even our headmaster of the College of Middle Eastern Studies, Sabri Saleem, could make his way back to his home village of Manakhah, a stones throw from the capital. But Amin had said, Mikael, no need to worry. We had all permits. I quickly said goodbye to the girls, pushed in my gear in the cramped jeep and jumped into the front seat. And off we went down the busy road, whilst we heard mortars in the back ground.
"It must be a big wedding today" , Amin said seriously and than smiled.
I realised he was a joker half the day and very serious the other half. I preferred the joking part, before he started to chew khat.
"We need to buy khat" , he said about 2 minutes after we left the school, "This is the national hobby of Yemen. I divide my days in three parts. I work, I sleep and I chew khat."
We must have passed at least a dozen check points, half belonging to the government, the rest to Ali Mohsen´s troops, before we left the war torn city and started to climb out of the valley, heading up north for Al Qabil, turning west before the impossible road to Amran, Huth and Sadaa. We passed Ahmed Ali Saleh´s, the powerful son of Abdullah Ali, big camp to the left before we got stopped and checked seriously. By which I mean, they took a copy of my permit and didn´t react. Our idea was to do a rec of our possible route and Amin reckoned a possible route would be Zabid and north to Sanaa via Al Mahwit, Shibam and Al Qabil. The Old Historical Tea Route.
The choice of our starting point in the historical city of Zabid, and not as earlier planned in Bayt Al Faqih, was due to the fact that we had found a ready to go camel there. A friend of Amin´s in the tourist business of old, Usama, used to have a business of hiring out a camel for the day to tourists to explore the desert area of Tihama. We had already understood, Amin and me, that due to the war and lack of time before my permit and visa ran out, we just didn´t have sufficient time –at least 5 weeks- to train 1-3 camels to bring on the long trip. Therefore, this was a good alternative, because he would send a cameleer with us and when we thought we could deal with the camel ourselves, he would leave us. He would therefore train us whilst walking. That was the idea. I did know, though, experienced as I am in these kind of situation, the truth could be slightly different.
Unfortunately I had already realised during the packing of gear that I, the old explorer, had lost a bit of the touch needed, which one has when doing Expeditions continuously. Once again I had forgotten to get malaria prophylaxes or any decent medicine by the way. I just brought pain killers and tiger balm. I had also forgotten to prepare my feet, which was down right stupid. So I just had to take the risk of ruining them. I had trained quite a lot the last year, walking with heavy gear. So to make myself feel better, I told myself that was more than enough. I also had punctures unfixed on my inflatable sleeping mattresses, and one torch didn´t work and I had no maps! Well, I had a road map as an outline, but that is it. And Amin said, he had everything under control. Which worried me. Because I should be the one who had it all under control…..There were no maps to be found In Yemen, I didn´t dare to bring any, but I reckoned we would get by. That is Yemen. A slog, but you get by. And don´t complain.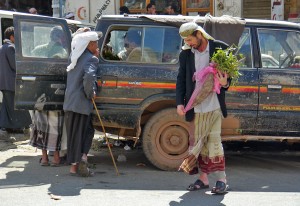 As regards to travelling with camels, I walk, not ride. This is due to the fact that I have learned throughout the years, that animals like camels and horses take too much damage on their backs on long trips. Especially camels. Even though cameleers can say that they can carry hundreds of kilos for years, they have no idea. They have never travelled more than two weeks at the most. And as important a fact, there's no camels today, trained for these distances and this kind of hard work in this neighbourhood, so better take it easy and walk. Until one has trained them oneself. This is my firm belief. But I didn´t get much time to think about such issues, because as quick as we left Sanaa, I realised our driver, Abdul Aziz, wasn´t happy. Amin had warned me as quick as we had signed him up to do the job to drive us and the gear to Zabid, that it wouldn´t take long until he would start bothering me for more money than we had agreed upon.
"It is always the same" , Amin told me; "He says yes, because he needs the money, doesn´t calculate and than ends up begging. He is a scallywag. But he was the only one who would drive us."
Amin is a very honest, straight forward person. He is that kind of guy who will tell you absolutely everything. Whether you want to hear it or not. And Abdul Aziz and his begging would bother us both for the rest of that. I didn´t give him anymore than we had agreed upon. If he chose to spend most of it on khat, that is his problem, not mine. And he spent a lot on khat whilst heading for Al Mahwit and the gravel road there after. And once he started to chew, he ended up in his own little world. Like Amin. Fortunately, they were still hanging in, when we ran into trouble of the big kind in a tribal check point!
Well, let me first say that the first serious check point, was actually when we got stopped by a group of tribal warriors who had set up a check point on the road just after the turn off at Thilla. An illegal one, of course. They checked our car carefully, looking for a fugitive who came from another tribe, a neighbour, who apparently had stolen some wheat from this tribe. An they wanted to punish him badly for this. We would be stopped by these armed tribes men on and off, they were never difficult to talk to. See this film below!
By which I mean, at least until an hour before we reached Al Mahwit on one of the most stunning routes on earth. This time they pulled their Kalashnikovs and pointed at us through the window and demanded 200 dollars. We said no. They demanded we pay.
"If you don´t pay, you will have to come with us to our village. You will have to stay there until you have paid!"
Amin demanded to see their sheikh. They said no. Suddenly, before things turned nasty and we possibly got kidnapped and held at ransom, a new American jeep turned up with the sheikh inside it. We complained, he laughed and set us free to leave.
"Hmmm" , Amin said; "Maybe we should find another route. This one is not safe."
That aggressiveness was not a very common Yemeni behaviour. They must have been under great pressure. Just a few hundred metres ahead we stopped for me to take a photo over the great surrounding nature and its villages perched on every mountain ridge and top and people came by and congratulated us all for having left Sanaa to see the real Yemen. As always, they asked where we came from. Most people thought Amin was a foreigner, due to his bleak complexion, which probably shows that he has some Ottoman blood in himself. He stated with clarity that he came from Ibb, the most beautiful place in Yemen, with the kindest and most hospitable people. When I said I was Swedish, somebody said:
"Alfa Laval and Ericsson."
Knowledge which surprised me! I don´t know why, but once we left Sanaa, it felt somehow that we entered a completely different world, centuries older and that big change was still to come. Once we left Al Mahwit, so used to tourist when there were tourists in this one of the most spectacular countries on earth, we headed down a dirt road. This was the old ancient Coffee Caravan Trail, where camels loaded with coffee, and other items, travelled from the coastal towns in Tihama to Sanaa and the cities beyond. There´s still watch towers and remnants of caravanserai on the route and I have to admit, I feel extremely privileged and happy that I might come this route a few hundred years later!
The dirt road slowly took us down the valleys and slowly temperatures became more humid, well, palm trees started to appear next to the road and people turned darker.
"This people used to be slaves" , Amin added as if he knew what I was thinking and finished by saying: "They still behave like slaves. They only sleep, eat and chew khat."
Almost everyone we met along the dirt road begged for money or food. They were happy just getting a few cents. Everyone in the car except me gave. I felt bad. It is this Western thing, or I should say Lutheran upbringing, basically teaching that be fair, but only if you work, you get paid. So I started to share out all the change I carried. It felt much better. But nobody talked about the war here. It was, once again, like we had entered another world.
Tihama was hot, but the air so much less polluted than Sanaa. It was a relief. We arrived in Zabid in the car and went straight to Usama, who owned a small hotel just in front of the Old Fort, an impressive building even in the dark. They had no electricity but offered us, as usual, to sit down, relax and chew khat, before we started doing business. Hunger drew us instead downtown this old and charming town and we ended up at a wedding for an hour!
Back in the dark, we dealt with the business by candle and my torch and the camel and its handler with arrive next morning and I said we would leave immediately. I was told the cameleer was prepared to travel all the way to Sanaa, if needed.