As quick as the first sunlight hit the shack we were sleeping in, I stood up, feeling very dirty and worried about all these mosquito bites throughout the night. I have suffered the effects of malaria too many times. It is nasty and debilitating.
"Don´t worry" , Hussein, Usamas son said when I asked; "There´s no malaria in Zabid. The camel is here!"
The camel was resting on all fours with the great fort as a background. It was a beautiful sight! And a beautiful camel. He had henna made patterns on his sleek body and he looked very proud.
"We will call him Antar" , Amin said and I protested; "It will be Erik".
The owner, Ahmed Ali Hassan, said camels didn´t have names in the Tihama. He smiled with black teeth. Too much honey, fattah and khat Amin told me later. We loaded the camel, I took my heavy rucksack with all the technique and suddenly Amin tells me when we start walking in the midday heat:
"I forgot my boots and only have sandals."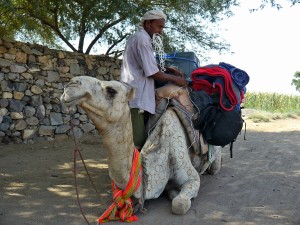 I pointed to Ahmed Ali Hassan who only had flip-flops. Amin nodded and we started walking. First heading south to the crossing in Al Jarrahi, about 15 km:s away. I was hoping we could average 20 km:s a day. We had decided to cross through the mountains of Rub Al Utma, heading up Wadi Zabid, possibly following parts of Carsten Neibuhrs Expedition in the 18th Century, where the Swede Peter Forsskål died in Yarim of malaria. If we stuck to that route it would take us about two weeks of continuous walking. According to what I could figure out on the car map. Amin thought it would take us 10 days.
I tried to set the speed immediately, walking hard. Amin dropped back immediately, but Ahmed easily kept up with Antar, which probably carried around 50 kg:s of weight. Basically all our survival gear. According to Ahmed, who said he knew the route to Sanaa, it would be easily all along our chosen route to find food for Antar, who loved the stems of maize more than anything. So I felt very content that we were finally moving.
The midday sun was getting brutal and it made it more difficult when we left the main road, headed inland, through the villages. It was all sand, dust and heat. But it was a great experience passing through these hamlets of villages. The kids were terrified of me and ran away in terror. Even the dogs avoided me. But not all the plastic and rubbish, which obviously just had been dumped outside each door.
"The real treasure of Yemen!" Amin said, when he noticed I was filming rubbish.
I gave Amin 3000 Yemeni Rial ( apprx.12 US dollars) in advance on his wage in Al Jarrahi so he could by boots. He came back with a pair of Nike Soccer boots.
"I always wanted a pair of these" , he said; "But I have never been able to afford it."
I wanted to do another 5 km:s from Al Jarrahi, so we turned out noses east on the main road to Ibb. I told Amin I wanted to put up camp an hour before it got dark, as I always have. But it wasn´t as easy this time, because people were kind of hesitant and afraid as regards to who we were. And I remembered from reading Thorkild Hansen´s book about the Carsten Neibuhr Expedition, that they, 250 years earlier had encountered the same suspicions in this exact area back than, strangely enough. Eventually we just walked off the road, where I saw a small cottage, some stunted trees and a series of fields. At first they were a bit hesitant to us staying there, mainly because they didn´t own the land, just farmed it. It was almost dark when the tents were pitched. Ahmed slept on his really thin mat. Amin in a tent he had bought from a German group years back. And Antar, he just chewed his food. All night.
It didn´t take long until we had half the village, located a stone´s throw away, visiting us, checking every detail of our equipment, peeked into the tents, even tried the sleeping mattresses, and asked loads of questions. Since my Arabic still is far off good, Amin had to deal with it. Which he patiently did. I don´t think I ever have come across so curious a people. Maybe in India.
I had problems sleeping even if I was really tired. This was the first time in almost 6 and a half years that I had truly set off on an Expedition where I at least new I had a chance of reaching my first goal, Sanaa. It felt like a new beginning of life.
It took almost 3 hours to get ready next day. Possibly because we had so many visitors, but also because it takes time to get into a routine. I had porridge, which Amin and Ahmed didn´t even touch. So they just had some dry bread, processed cheese and really sweet dates. I argued that porridge is the best to start the day. It has everything.
"We will do like the old days" , Amin said and Ahmed nodded in agreement.
That choice was definitely one reason why we had such a slow start once we started to walk. I got irritated and was anxious to move on, off the main highway, into Wadi Zabid and the rural part of Yemen. Well, this was rural as well. Basically we passed a series of adobe homes, a mosque, a wall surrounding it all, chicken, goats and dogs. On and off a noisy market, where Amin and Ahmed could eat as much boiled meat as they could. Lunch was their highlight of the day. Antar he was still loaded will al the gear, even during breaks, and that was also beginning to make me irritated. So, after setting off after lunch I said:
"If I am going to buy this camel, I want him to take off the gear every time we have a long break. Tell him that, Amin."
Ahmed wasn´t happy to hear that. Which I can understand. It was his camel. And they were really good friends, no doubt. But as the Expedition leader and the one who pays the bills and wages, I explained, it is my responsibility to see that everyone is doing as well as possible during the circumstances. Amin agreed with me. They argued for awhile and than Amin said:
"He will do it. He needs the money."
The sun was really burning on our heads. We reached Al Mabraz, a town shown as major place on my car map, at three. But it was nothing but a khat market today. I checked my map and saw it was dated 2003. I felt out of shape. In every way. I was tired. But so was Amin. And Antar. And Ahmed, even though he was chewing khat. I had been told that khat made you strong. I wonder where.
We left the road to Ibb just after Al Mabraz and climbed down into Wadi Zabid. Views where stunning. We pitched camp next to the river, on a path between two villages, we still had a bath in the dark and had beans and bread for dinner. Just a few visitors, who just watched, hardly any talking. Antar was really tired. So Ahmed pretty much stayed awake and fed him most of the night. He had also left his village, located an hours walk from Zabid, without any other clothes, not even a blanket to cover himself during night. I was beginning to believe that he had never been to Sanaa. He would know, if he had been there, of its altitude and cold winter nights. I didn´t sleep that night due to this fact.