Even though I am not a mountaineer and hardly ever write about this topic, I still get a fair amount of questions as regards to this delicate activity. Most of them regarding Mount Everest and often, what costs are involved. Especially after publishing Ben Thackwray´s excellent article on why he climbed Mount Everest. And just by pure chance, because I also very seldom read anything except politics on Yemen on the Internet, I do on and off visit Kraig Becker´s excellent Adventure Blog, one of the best around on adventure, both light and profound, and saw an article by a gentleman named Ala Arnette on the subject of costs involved. Turns out Alan Arnette is a great guy who has put his life forward as an advocate  Alzheimer.  So I asked him if I coul re-publish this great and very interesting insight!
Everest 2012; A look at the costs
by
Alan Arnette
How much does it cost to climb Mt. Everest?
This is probably the most popular question second only to "Did you summit?"  Well the short answer to question one is – a car.
Selecting a guide is often personal, controversial and highly based on a last experience. This article strives to be objective and not make specific recommendations other than to carefully research your choices, ask questions, get references and go in with your eyes wide open.
The Big Picture
I am always receiving emails asking how to climb Everest as inexpensively as possible. My short answer is stop trying. There are real costs involved and Everest is not the place to save money. However, with guided expeditions charging from $30K to $100K, it is confusing. You can sometimes get a deal, but don't count on it given Everest's popularity. Most of the leading commercial guides sell out months in advance each year.
Prior to 2102,  climbing from the north was significantly less expensive. This year the China Tibet Mountaineering Association (CTMA) raised permit fees and imposed several requirements that made the Tibet costs similar to a Nepal climb for comparable expeditions.
You basically have three ways to climb Everest: put together your own expedition, join a logistics only expedition or join a fully guided expedition. The logistics option is further complicated by deciding what level of Sherpa support you require. The Nepal and Tibet governments control much of the costs today with their requirements on wages and treatment of Sherpas, cooks and porters so a base price has been effectively established.
Some climbers believe a solo expedition in the Messner 1980 north style is the way to save money; however the notion of a solo climb is somewhat academic today. Before the explosion of commercially organized guides with dedicated Sherpas, ropes and ladders; a climber could go to the mountain (usually the north) and climb alone without using any of the common support systems. Some people try these days but end up using a ladder someone else put across a crevasse or a cook at base camp thus never really making a true solo climb. The best you can really achieve is without Sherpa support and still the costs are significant.
The reality is that the majority of climbers uses commercial expeditions because they spread the costs across multiple climbers thus reducing expenses and improving safety.  But the spirit remains to be as self sufficient as possible so let look at what it would take plus the options with commercial teams.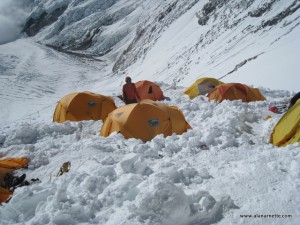 On Your Own
It is tempting to dream of planning your own Everest expedition. After all, anyone can fly to Kathmandu, buy a permit, food for 6 weeks; fly to Lukla or Lhasa, hire yaks and porters to get your gear to BC, establish your own base camp, cook all your own meals, determine your own weather forecast, make multiple climbs to ferry your own gear while establishing your high camps, pay for use of the fixed ropes, buy/rent oxygen, regulator, mask, summit, hire more yaks to get your gear back out or carry it yourself, and a ton of other stuff. It is certainly possible and done occasionally. However even these "independent" expeditions rely on some level of local logistics.
If saving money is the goal, you will be disappointed. You might have been able to do all this for under $15K back in the last century but probably not today. Even the first Swiss and British expeditions were massive undertakings requiring funding on a national level.
To get started on the costs, there are fees every climber and expedition must pay- directly or indirectly: a climbing permit, liaison officer, visa, park fee, Icefall route management, fixed ropes, waste deposit, travel, insurance. At a minimum these total $13K even sharing the costs with 6 other climbers; for one person going alone, these base expenses soar to over $35K.
Then there is gear, food, tents and more so the shared price increases to $25K minimum – bare bones – no oxygen or Sherpa support; anywhere.  Add these in and now for a 7 person team you are at 35K and truly solo approaches $60K.
Realistically, you would join a team to leverage the expenses, especially the permit, but you could try to hire your staff and pay for the normal group expense yourself thus I estimate a "do it yourself" south side expedition for a one person with one Sherpa and two cooks will cost between $55K and $85K.
This is my estimated break down and there are additional costs I have not included for example travel, insurance, etc. for the support staff required by the governments.
TRAVEL $2375 – $6225
Airfare $1500 to $5000 depending on class and routing and excess baggage
Transportation Kathmandu to Lukla $250 roundtrip per person
Hotel and food in Kathmandu $300 to $700 depending on delays
Nepal Visa $75
Immunizations $200
Getting to EBC $2150
Yaks to and from Base Camp $150 per yak per day carrying 120lbs
Porters to and from Base Camp $75 per porter per day carrying 60lbs
Tea Houses and food on trek to EBC $20 – $100/person /day – 7 days $140 – $700
Park Fee $100/team
Climbing Fees $19700 – $37700
Nepalese Liaison Officer $3000/team
South Base Camp Medical support $100/person
Permit $25,000 for 1 – $70,000 for 7
Garbage and human waste deposit $4,000/team (refundable)
Icefall Doctors to fix route $2500/team
Contribution to fixed ropes above Icefall $100/climber
Weather forecast $0 to $3000
Puja $300
EBC and High Camps $9300
Tents $3000 new (sleeping, cooking, toilet, storage at 4 camps for 3 people)
Cooks $5000 per cook and assistant for 6 weeks
Food and fuel $2000 per person for 6 weeks
Climbing $8525
Oxygen $500/bottle (5 bottles) $2500
Oxygen mask (TopOut) $525
Oxygen Regulator $500
Climbing Sherpa $5000 per Personal Sherpa
Misc $12000 – 19000
Medical kit $1000
Sherpas, cooks tips and bonus $250 – $2000 per individual depending on performance and summit
Helicopter evacuation from EBC-South $5000 (not available on north)
Gear: $7000
Satellite phone (own) $1000 to $3000 depending on usage
gear allowance for Sherpas $1000
OK, so now that it looks cost prohibitive to climb solo or even very independently for most people, let's look deeper at climbing with an organized team.
Guided Expeditions
There are three options for these climbs: Sherpa supported, Sherpa guided and a Western Guided commercial expedition.  All leverage permit fees and group costs such as deposits, cooks and tents across multiple climbers.
Guide Definition
What is a guide? There are international organizations that certify guides such as the AMGA and the IFMGA. Individuals after years of practical experience, go through extensive training across all types of terrains and techniques plus rescue and some medical courses before an intensive testing process to receive their certification. This is time consuming and expensive and not common in the US market but almost always required across Europe. They are the best of the best.
Some expeditions are led by a Westerner who does not call himself a guide but rather a leader. The leader coordinates activities, sometimes from base camp and may or may not actually climb with clients. The leader may or may not have actually summited the mountain.
A Sherpa Guided expedition means just that, an experienced Sherpa who leads climbers through the route and consults with clients. Usually they depend on a Sirdar to make the big decisions such as when to go for the summit or when to turn-around.
Finally, a Sherpa supported climb simply means you have a Sherpa climbing along with you. He may or may not speak English very well and will most likely follow your lead as to pushing forward or turning back.
Sherpa Supported Expedition
A Sherpa supported expedition is one where a company organizes all the logistics: food, group gear, transportation plus Sherpa support but does not provide traditional western guides or, in some case, even a lead Sherpa Guide. These cater to experienced climbers or those on a tight budget. You can sign onto one of these climb for under $30,000 on the south side, but you need to read the fine print.
At the low end of the price range, a Sherpa will ferry your oxygen gear to the highest camps, prepare all the tents, and carry the group gear but not your personal gear. Don't underestimate the toll of the simplest tasks at extreme altitude. One service uses a 4:1 ratio of climbers to Sherpa to give you a feel for the level of support.
In addition, he will climb with you on summit night but you are on your own with your teammates or maybe a Sherpa throughout the rest of the acclimatization climbing process, including preparing meals at the high camps. Access to modern weather forecasting technology is unlikely, you may use old style oxygen masks and you may find yourself climbing alone. It is absolutely required to ask many questions and understand every detail before signing onto these style of expeditions.
Sherpa Guided Expedition
A Sherpa Guided expedition will have an experienced Sherpa lead the climb but may or may not actually climb with you as an individual. You may be climbing in a group risking becoming separated from your main group, especially on summit night. This approach varies widely amongst operators so ask specific questions as to if you would ever be in a position of climbing alone – not a good thing ever on Everest.
Personal Sherpa
Personal Sherpas are a somewhat new service as Sherpas have gained significant experience, and training in dealing one to one with western clients. A personal Sherpa will be at your side, literally, throughout every step of your climb including all the acclimatization climbs. While they will not carry your gear, they may offload some items from time to time. They will be with you exclusively on your summit bid even if you turn around before the summit. Expect to pay an additional $5K to $7K for a Personal Sherpa plus another 5% to 20% in tips and bonuses.
Western Guided Expedition
The Western Guided expedition are 'full service' trips and are most appropriate for first time Everest climbers or anyone looking for a bit more support. The cost vary widely ranging from $45K to $65K. This includes all the services of a Sherpa guided climb plus sharing a western guide. If you want your own personal western guide, expect to pay $100K, plus tips and bonuses.
The major point of this approach is you are climbing in close proximity to a Western guide who most likely has several summits of Everest under his/her harness. There is no language barrier and the guide will make all the decisions as to turn around times, weather and manage emergencies. That said, there are some Sherpas who perform equally well at this level. In addition with a Western Guide, you will receive coaching and encouragement but this varies widely amongst the multiple personalities of the guides. A major component of the price difference is that you are paying for this incremental attention and guidance.
On some expeditions, you will also receive a higher quality of food ranging from better prepared to exotic. One service likes to promote their sushi, another their 5 Star chef. Then there are espresso machines, open bars – in other words the sky's the limit, all at a cost
A Wide Price Range
So, what is the difference between an Everest expedition for $65K and one for $40K? Often it is simply how many services are bundled into one single price versus offered as options. The lowest price outfits promote a low price and then offer "options" such as oxygen, Sherpa support or even food above base camp.
Another common practice to keep expedition costs low is to pay support staff the absolute minimum whereas the best guides pay a livable wage for their entire team.  It is critical to fully understand what you are getting into.  But often it is the availability of resources: extra Sherpas, back up supplies (ropes, oxygen bottles, etc), medical facilities, communications and profit and overhead for the operator. But this is difficult to compare.
An example are Sherpas bonuses. A low price service may not include a bonus whereas another may. For example, one company asks the climber to pay $1500 to his Sherpa if they reach the South Col and another $500 if they leave for the summit. This is not shown as part of the base price. But a different company includes these bonuses in their overall package. In both cases it is customary to tip your Sherpa an additional amount.
You can see my thoughts on Everest guides on the main site at Selecting a Guide.
Safety
In my mind one of the largest decisions to make in selecting a guide service is your personal safety. The vast majority of rescues and emergencies are never reported to the public on Everest – and there are many; almost daily throughout the season. Climbers get altitude sickness, GI issues and debilitating fatigue; your life becomes dependent on those around you.
If you are climbing with a small team or a thinly staffed team, there is the possibility of not having adequate resources nearby to help you. It is a serious and sometime fatal mistake to believe that Everest is so crowded that someone will always be around to give aid if needed. Remember that each person is struggling to survive on their own, including the Sherpas, and may not have the strength to help regardless of their desire.
The bottom line is that teams who charge more generally will have more resources available to their clients.
A 10 Step Plan to prepare for an Everest climb:
Often people will ask what it takes to climb the highest mountain in the world. It comes down to a few areas: skills, experience, fitness and commitment. Now that we have examined the expense side, let's look at the total package. Look to budget, including travel, at least $45K assuming you are looking to go a couple of years from now. Go with a quality organization, not the lowest price one. Here are ten key factors to consider for planning an Everest expedition:
Build your climbing fund: create a plan to prioritize climbing expenses in your overall income and expense plan.
Find like minded climbers with similar goals you can train with and count on in difficult times: Join a club
Get in shape – you need a basic level of fitness to start climbing including stamina and aerobic conditioning: Interval training, long runs and climbs, anything that takes several hours is good training: A good program can be found at Body Results or PowerFit or my own plan
Lean the basics of wilderness medicine, and avalanche training and mountaineering through a course: Look into courses with REI and AIARE
Accumulate the best quality gear you can buy. Don't skimp because it could mean your fingers, toes or your life at 8000m: AAI has an excellent gear and brand suggestion list. Take a look my gear list from the 7 Summits.
Climb mountains that limit your risk but still allow you to learn such as Rainier or difficult 14ers in Colorado orCalifornia
Test your skills on a high mountain such as Aconcagua and a tough snow mountain like Denali: Go with a proven guide who will teach you as well as guide.
Climb to 8000m on Cho Oyu before Everest to experience expedition life, extreme altitude and understand how your body performs: Ideally, go with the same guide you will select for Everest
Work on your mental toughness by pushing yourself in harsh conditions: Run in the pouring rain, climb on the coldest and windiest route at night you can muster, cycle when dead tired, climb with a pack heavier than you will use on your next climb
Hone your climbing skills to be as self sufficient on every climb as possible including knots, crevasse rescue, winter camping techniques, cooking. Practice every chance you get
As you can see selecting a guide service can be as daunting as climbing Everest itself! But in the end if you get references from other climbers of similar age and experience, the decision will be clear for you. Never be afraid to ask questions. The best operators welcome your questions. Trust me, they have heard it all. Finally, no operator wants to bring someone on who is a liability so they are interviewing you as much as you are them.
Oh and on the other question I posed in the opening? Yes and I hope you do as well!
Climb On!
Alan
Alan Arnette is a mountaineer, speaker and Alzheimer's Advocate. He took early retirement from executive level positions with HP after a 30 year career to oversee the care of his mother, Ida, who passed away from Alzheimer's. In 2011, on behalf of Alzheimer's causes Alan, at age 54, did something few people have even attempted; he climbed the highest mountain on each continent, including Mt. Everest, in under one year. He shares his experiences through www.alanarnette.com and Outside Magazine with an active following of over 1 million people.