A Gentlemen´s Expedition in the eyes of Kensington Tours owner, Jeff Willner, is full of dramatic challenges. Like now, when we have pretty much reached the end of a 12 day tour, I feel as always – extremely run down! But happy! Just like on any Expedition I have ever been on. Even though these Expeditions which are organised by somebody I see is my brother, have a very luxurious touch, they´re really demanding. Two days ago, as always for me, I was down and out! Well almost. It is the enormous quantities of good liqueur, the long talks about life, complete lack of sleep and absolutely no time to recover, no personal time for reflection which knocks me out! On the other hand, I always return home wiser, happier, with new friends and have changed some perspectives of my way to look at life. On this Expedition, set in East Africa, the group consisted of 6 individuals who went under the names of the Eland, Giraffe  Warthog, Hippo, Impala and The Common Goat. During a series of 5 articles, I will show you readers what a Gentlemen´s Expedition with Kensington Tours consists of.
A pride of lions at Loisaba
By 
Mikael Strandberg
I saw Mount Kenya hoovering over the clouds early one morning at Loisaba Wilderness. It was the first time I saw this giant and even if it doesn´t compare to seeing the back drop of Kilimanjaro from Amboseli National Park, it still triggered that strong feeling that I am belonging to some of the most privileged people on earth. Always I come across this beauty of our globe.  As beautiful as the mountain it self was the valley below the balcony of my lodge. A wet little mist sat just over the bush which covered all the distance from where I stood to the mountain. The Aberdare´s where covered by mist and hidden to my right, but I spotted 5 elephants who were eating breakfast just in front of a little man made pond maybe half a kilometer below. I was still thrilled by seeing a leopard from a hide the night before. It was my second day in Loisaba in Laikipia and I had entered another paradise.
It wasn´t only too much Jonnie Walker Blue Label which had kept me awake the past night. It was a landing we had done after leaving Masai Mara the day before, on route to Loisaba. Jeff wanted to visit Sibiloi National Park, since he once upon a time had passed this area with a military escort, because not long ago, this part of Kenya was off limits to independent travel. I had dreamt all my grown up life about Lake Turkana and all the extremely interesting tribes who lives around this extra ordinary crocodile infested lake. And landing in this desert area filled my heart with great joy. There´s not much to see as such of the lake and its wildlife, but the heat is awesome and since we only had a mere two hours before continuing on to Loisaba, we opted to visit the petrified forest. If you have been lucky to see the petrified forests of Patagonia, Sibiloi hasn´t much to offer. I am sure most have been stole long ago by treasure hunters and visitors. But, what Patagonia cannot offer, is this profound feeling of belonging here. Which comes from the fact that remains after our ancestor homo habilis originate from pretty much here. And standing on top of one of the many rocky outcrops, overlooking miles of desert and drought, it was my strongest feeling of this entire trip.I will return soon!
 The major difference between Masai Mara and Loisaba is due to the hilly and bushy environment, the wildlife just turns up out of the blue, compared to Masai Mara where you can spot it from a long distance. We 6 were extremely lucky with seeing lots of game in both parks. I had three highlights in Loisaba, first was finally seeing Oryx, Grevys zebra and the amazingly beautiful reticulated giraffe. Secondly, doing a horseback ride through parts of the park, seeing some of the game, as for example buffalo and not feeling trapped by a car. Thirdly, an hour with a pride of young lions. I can never tire of seeing these amazing cats! During my last game drive together with an elegant young lady from Nairobi, we spent an hour just watching a pride of 11 young lions trying to figure life out. Initially they seemed bothered over our presence, but after awhile they just didn´t care.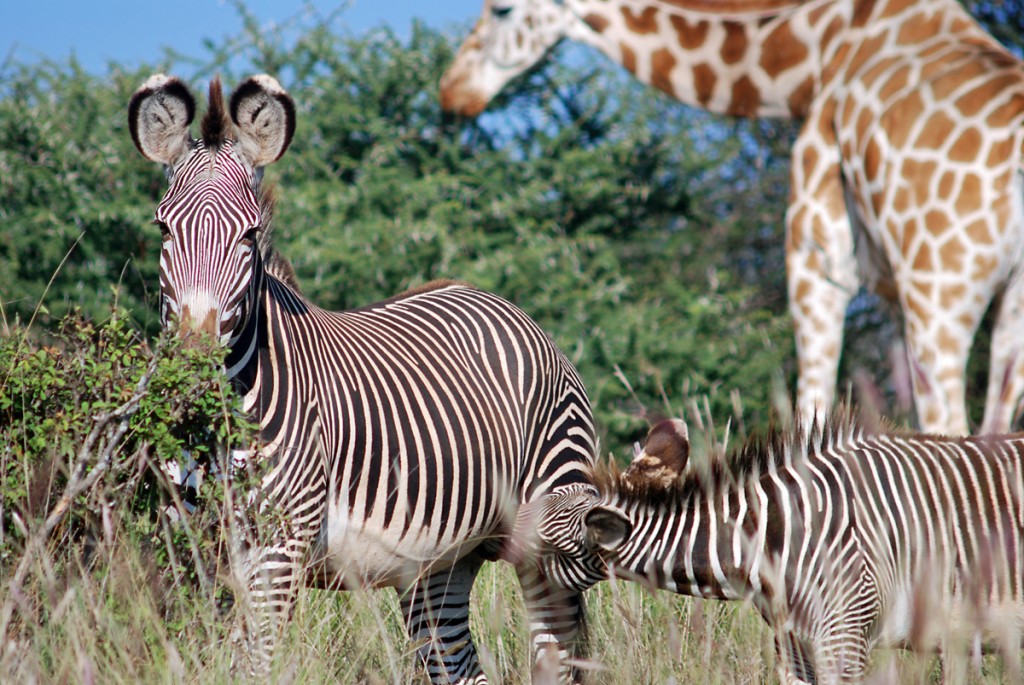 Unfortunately, though our driver Lucas which again was excellent really tried, I didn´t come across any African wild dogs. I have been dreaming about seeing these ultimate pack animals all my life, but it just means I will have to return back one day to pursue trying to see them. But, than again, experiencing wildlife is more than just seeing it. One of the great new things of the African Safari that I have never ever before experienced is what is called star beds. Which basically is a luxury bed on wheels covered by a mosquito net which allows the guest to lie out in the bush, safe, listening to the sounds of its dramatic environment. I heard a leopard, many hyenas, hippos and in the morning I noticed tracks after elephants which had passed under my bed. Sure, I have spent over 2500 nights in a tent in my life, but this still was a great experience!
There´s a lot of advantages to visiting a private park like Loisaba. The guides are almost always excellent, atmosphere somewhat old English colonial, which I like and service is extra ordinary. Distances are smaller, it means more time with viewing wildlife and less time on bumpy roads. Because going on safaris might seem like an easy thing, it ain´t. It is quite demanding, but worth every cent spent!
Photo Gallery from The Gentlemen´s Expedition in East Africa 2012.
Earlier Gentlemen´s expeditions
Congo and Rwanda 2009
Iceland 2010