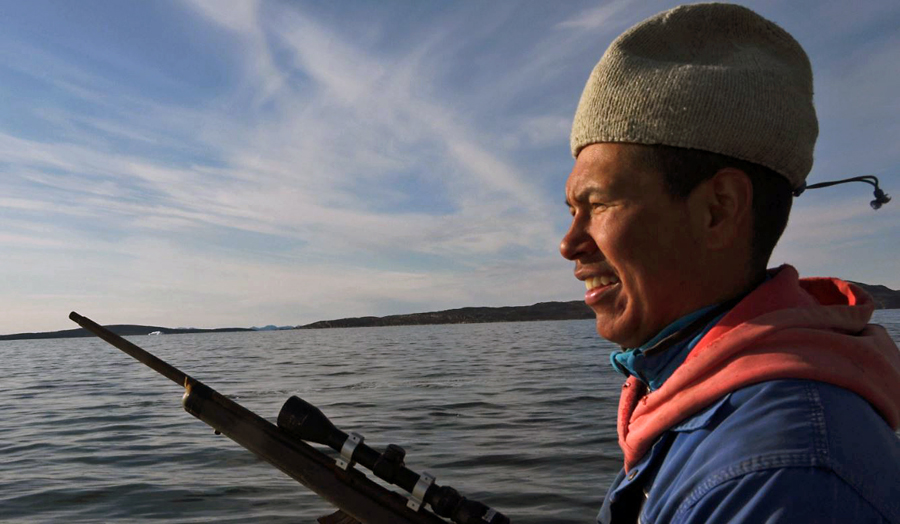 (Swedish version first followed by the English)
-5 grader kallt i morse, snöat lite i natt, det är vackert där ute. Mörkret är på gång. Sommarvattnet är avstängt och vi väntar tålmodigt på tankbilen som kostar 25 spänn per tur. Vi har beställt två turer per vecka. Så pengarna rinner iväg kan man säga. Det är många i samhället som känner oro inför mörkret, så många jag har samtalat med har gått i mörkrets tecken på alla nivåer. Det tynger skallen. Så det var underbart när jag träffade den alltid lika pigga, glada och positiva Louis Pele häromdagen när jag lämnade min dotter på dagis och han sade:
"Följ med på säljakt!"
Självklart hängde jag på, hann precis hem och göra en macka innan han ringde och som vanligt frågade:
"Var är du?"
Så jag sprang ned tillhamnen som ligger nedanför huset, hoppa i båten och så drog vi via tankstället västerut. Solen var på väg att bryta ut, temperaturen runt nollan, så passerade vi några isberg med riktning mot en liten by på en ö, där vi skulle lämna av en familjemedlem innan jakten började. Jag hade ju ända sedan jag såg Alatea Arnaquq Barils dokumentär Angry Inuk haft säljakten i skallen. Nu skulle jag med egna ögon få se den av många djurrättsaktivister kritiserade säljakten skulle gå till. Ja, faktum är att de gått så hårt åt den att det ruinerat många säljägargrupper i Arktis, framförallt kampanjer bedrivna av Greenpeace. (Läs även denna artikel i Guardian, se nedan (*1) och denna av Greenpeace samt kommentarer *2)
Louis Pele visste direkt vart vi skulle åka och han spejade i 180 grader, såg en grupp sälar och satte full fart efter dem och samtidigt som han stannade båten, skjut han med flera skott med sin 22:a. Samtliga missar. Omgivningen var spektakulär och jag tror om livet verkligen skall vara av allra högsta kvalité om man skall leva i Grönland, så måste havet utnyttjas även som friluftsbruk. Jag kände att de positiva tankarna återvände direkt. Vi fick in en träff, men hann inte dit i tid innan sälen sjönk. Tragiskt, men en del av havsjakten. De vi jagade var vikaresälen (*3), som finns runt de svenska kusterna också i stort antal och är en stor konkurrent till människan i fisket. Sälen är extremt viktig för de här små kustsamhällenas framtida överlevnad och har varit en del i grönländarnas liv sedan de först knallade in här för runt 5000 år sedan. Men när jag frågar Louis Pele om han föredrar säl eller val som mat, svarar han:
"Val för jag älskar mattak." (*4)
Vi försöker även med en .3006, men idag har lyckans gudar borta och det blir ingen säl. Så runt 12 återvänder vi mot hemmet via familjens sommarstuga, där vi träffar hans mycket hyggliga farbror som fiskar torsk på långlina. De snackar en skvätt och så säger Louis Pele:
"Han fick två sälar igår, så jag får en av honom."
På vägen hem berättar Louis Pele att han tidigare jobbade på fiskefabriken, men nu varit egen några år, jakt och fiske. Han strålar av nöjdhet när han berättar hur bra han har det. Han är en av få idag som klarar av att leva på ett får man väl säga, ett traditionellt sätt som han och hans förfäder gjort under flera sekel men idag med moderna grejer. Så länge det är öppet vatten jagas sälen med bössa. När man ser hans lycka jämfört med många andra i samhället, som inte har valt eller klarat av att få hans liv, så klart man begriper att om vi moderna människor skall förstå grunden till vilka vi är, så måste alla möjligheter ges till de som vill och klarar av att leva detta traditionella liv.
Nu kom tankbilen med vatten och han klagar direkt att en lampa inte funkar som skall indikera när vattnet är slut eller inte. Mer kostnader….helt klart är att man måste vara rik för att leva här!
English version: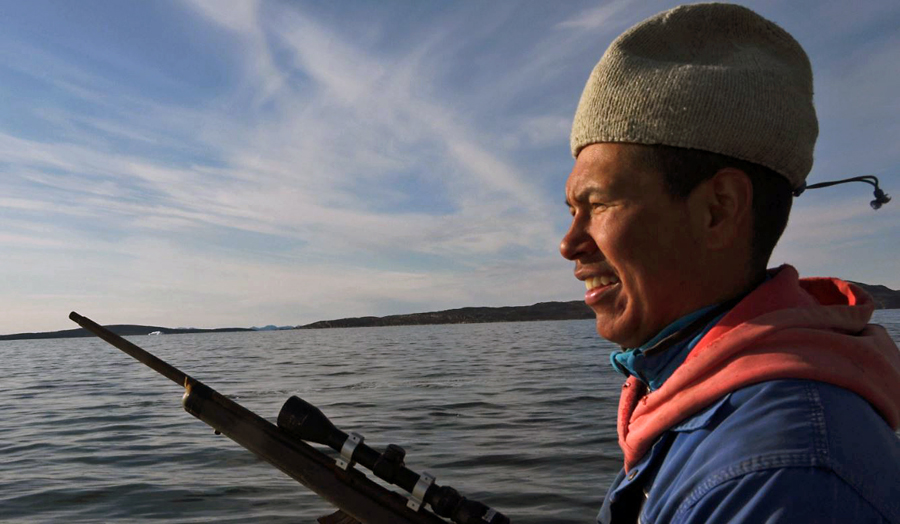 It was -5 degrees C early this morning, it snowed a bit during the night and it is beautiful out there. The darkness is however slowly moving in and the water we have had up until yesterday is closed off and we are patiently waiting for the tanker to come with water for our tank. The cost is 4 dollars a trip and we have ordered two trips a week, so one could say, the money is running away quickly. There´s many in the settlement who worries for the arrival of the darkness and for this reason, quite a few locals I have come across this week, well, I guess you could say the conversations have been a bit on the darker side. It adds heaviness on the head no doubt. For this reason, I felt a great joy when I came across Louis Pele the other morning whilst leaving my daughter at pre-school. He is always positive, happy and full of energy and he said:
"Come seal hunting!"
Obviously I said yes, just made it back home, made a sandwich, just as he called as always and said:
"Where are you?"
So I ran quickly down to the harbor, located just below our house, jumped in his boat and off we went via the gasstation heading westwards. The sun was on its way to break out of the clouds, temperature was around zero, we passed a few icebergs heading for a tiny village on an island not far off from our settlement to drop of a family member but for he initiated the hunt. Ever since I saw Alatea Arnaquq Baril´s documentary Angry Inuk I have had seal hunting going around in my head. Finally I would get a chance to see how this seal hunt we be, which on one side have been heavily criticized by many animal groups, including Greenpeace,  to such a degree that I has ruined the lives of many who live in these traditional seal hunting areas of the Arctic.  (Read this article in the Guardian, at (*1) below plus this comment from Greenpeace and the comments following at *2)
Louis Pele knew immediately where to start, he viewed the sea in a 180 degree angle until he found a group of seals, he set after them, when he caught them, he brought out his .22 rifle and shot a round but missed with all. The environment was spectacular and I have realized that anyone living in these isolated communities need to use the sea to feel free, healthy and good. My positive thoughts returned during this hunt. We got one, but didn´t make it there in time, before it sunk. Tragic, but part of the hunt at sea.  It was the ringed seal we hunted (see more info at *3) which can be found all over the northern hemisphere and it is a great competitor with the humans for the fish. The seal hunt is extremely important for local people in this area and it has been an important part of their lives since they walked into Greenland about 5000 years ago. But when I ask Louis Pele whether he prefers to eat seal or whale, he answers:
"Whale, because of mattak." (*4)
We even try with his second rifle, a .3006 caliber, but the Gods of Fortune were not with us this day. At around midday we head for home, pass the family summer house, where we meet his very friendly uncle, who is fishing cod on a longline. They chat for a few seconds and when we head home again, Louis Pele tells me:
"He shot two yesterday and he will give me one."
On route back to the settlement, a stunning ride, he tells me he used to work at the fish factory but have worked full time as a professional hunter and fishermen for the last years, he is one of few who is doing it and when you see how happy and content he is by this fact, one does realize that the rest of the world have to do everything to make local hunters and fisherman with Centuries of traditions, to continue what they do best. And I base that also of the fact of the rest of the settlement, who in general, look less content according to me.
The tank lrry just arrived with the water, but he notes that my light which is supposed to indicate that our tank is empty, doesn´t work. More costs coming up. You have to be rich to live here!
*1. https://www.theguardian.com/world/2015/may/16/greenland-inuits-urge-eu-reverse-seal-ban-save-way-of-life,
*2. http://www.greenpeace.org/denmark/da/nyheder/blog/where-does-greenpeace-stand-on-sealing/blog/55358/
*3. http://naalakkersuisut.gl/~/media/Nanoq/Files/Publications/Fangst%20og%20fiskeri/ENG/Udgivelser_FJA_White%20paper_Management%20and%20utilization%20of%20seals%20in%20Greenland_ENG.pdf