Voices of Exploration – An ever-expanding database of exclusive monthly interviews with the world's leading explorers.
Regardless of where we were born, mankind's urge to explore transcends all differences of nationality and faith. It remains an emblem of universality deserving of a wider global study.
Ironically, though the public has long yearned for fresh voices who could share their hard-won wisdom, in the corporate-dominated world, where finances always come first, meaningful dialogue with the world's leading explorers has been passed over in preference to slick ads and predictable yearly awards.
That is why I am proud to announce the launching of this valuable new series.
The Voices of Exploration project is designed to be an ever-expanding data bank of interviews and wisdom. My friend, Basha O'Reilly, is one of the Founders of the Long Riders Guild, who has already launched the Voices of Authority equestrian educational program.
Interview with Basha O´Reilly.
Who do you think was the most influential explorer in history and why?
As a publisher of one of the world's largest collection of classic travel books, I am in the fortunate position of knowing about so many explorers.  Some are still remembered by the general public, like Columbus and Cook.  However, many fantastic explorers have been forgotten, like Frederick Jackson (1860-1938).  When Jackson led (1894-97) the Jackson-Harmsworth expedition, the world of exploration was focused on reaching the still-inaccessible North Pole, so this Long Rider turned Arctic explorer led an expedition into the Arctic Circle, headquartering in Franz Josef Land.
Because he had explored Siberia, Jackson had witnessed horses being used in Polar travel conditions.  This led him to use horses when he explored Franz Josef Land. One of these horses was the first enthusiastic meat-eating equine recorded in Polar exploration!  It was Jackson who inspired Sir Ernest Shackleton to use Siberian horses on the latter's attempt to reach the South Pole in 1907.   Likewise, Shackleton fed his horses a meat-based ration.
Jackson was the consummate gentleman explorer and expedition planner, who is best remembered today because he almost certainly saved the life of the first great superstar of Polar exploration, the Norwegian Fridtjof Nansen.  In 1896 Nansen was returning from his attempted journey to the North Pole.  Starving and weak, he staggered into Jackson's camp.  The Englishman revived, fed, clothed and restored his fellow explorer to health, then sent him back to a hero's welcome while he remained in the Arctic Circle to continue his research.
I also regret that the English-speaking world seems to have forgotten Gabriel Bonvalot, (1853-1933) the French explorer and Long Rider. In 1889 Bonvalot set out to make an unparalleled journey from France to French Indochina. Accompanying the seasoned equestrian explorer was Prince Henri d'Orléans, a young aristocrat with a craving for adventure and a talent for photography. After crossing Russia, the Frenchmen mounted up in Siberia, then headed south towards Tibet. The resultant equestrian winter journey across the Tibetan plain and the Himalayan mountains is nearly too arduous to believe. The men routinely rode in weather so cold that their Siberian companions begged them to turn back when the mercury in the thermometer froze.  There is more information about Bonvalot in the Historical Long Riders section on the LRG website.
The reason I mention Jackson and Bonvalot is to demonstrate how rich the history of exploration is and how few names and accomplishments are remembered today.  This also explains why I think it is so important that we admire real heroes, not shallow imitators.
Who inspired you to become an explorer and why?
Colonel John Blashford-Snell, founder of the Scientific Exploration Society. I joined one of his expeditions to Mongolia and discovered it is possible to live in a tent. Before that I thought living rough meant staying in a four-star hotel instead of a five-star one!
What is your favourite exploration book and why?
My husband's book, "Khyber Knights," for sheer excitement and its amazing insights into Muslim culture.  Also "The Worst Journey in the World" by Apsley Cherry-Garrard because it has the most graphic descriptions I've ever read about travelling in extreme cold.
What is your favourite exploration film and why?
Without a doubt the 2002 TV drama about Sir Ernest Shackleton and his ship, the Endurance.  Entitled "Shackleton," and starring Kenneth Branagh, I watch it every Christmas to remind myself how lucky I am to be warm, fed and with my loved ones, and not marooned on a piece of melting ice.
If you were travelling to the South Pole in the "Heroic Age," would you prefer to travel with Shackleton or Scott, and why?
It would have to be Shackleton – he is one of my heroes, and I know he would get me out of any tough spot.   In 1914 Shackleton and twenty-seven men set forth on a south polar expedition, only to become trapped in pack ice and stranded for nearly two years in one of the most inhospitable regions of Earth.  Against almost impossible odds Shackleton brought his 27 men home safely.  Shackleton is more than just a paperback role model to me.  His courage in the face of exploration disaster was a beacon during the dark days of my own life in 2010.
This happened when CuChullaine and I were preparing to make the first equestrian journey around the world.  On the strong recommendation of the most trusted Long Rider in France we had entrusted our horses (Count Pompeii and Sikunder) to a woman in Burgundy.  Unfortunately when we rejoined the horses we found Count Pompeii had been starved and Sikunder physically and emotionally abused, so our journey has been delayed.  When we found our hopes shattered and our once-proud expedition struggling to survive, we remembered Shackleton's courage and his refusal to despair.
Before we left London, his granddaughter, the Honourable Alexandra Shackleton, granted CuChullaine the rare privilege of holding the brass compass used by this greatest of explorers during his journey across Antarctica. We committed to memory Shackleton's belief that blows which don't break your back strengthen it.
What was the most dangerous situation you survived?
It may surprise people to learn that it's bureaucrats, not bandits, that are most to be feared by equestrian travellers!  I rode Count Pompeii 2,500 miles through Russia, Belarus and Poland without any problems.  Then when we arrived at the EU border, he was grabbed by the bureaucrats and slammed into quarantine.  There he was starved for 17 days while an argument arose about whether they should take a blood sample or shoot him. It was only when I appealed to the chief vet of the EU in Brussels that Pompeii's life was saved and we were able to escape.  More equestrian expeditions have been ruined because of the pen-pushers than for any other reason.
What is the single greatest change you have witnessed in the exploration world since you began?
When I was younger, the famous British explorers – Robin Hanbury-Tenison, Ranulph Fiennes, John Blashford-Snell and Wilfred Thesiger, for example – were all actually exploring.  Today it sometimes seems that the TV adventurers are just performing stunts.  The difference is that, with GPS and Satellite telephones, they are never as out of touch as my contemporaries were thirty or forty years ago.  Technology should be our ally, not our ruler.  You can't explore your soul if you're obsessed with posting on Twitter.
What modern technology or techniques do you find most helpful?
Google Earth!  Although one can never entirely avoid nasty surprises, one can plot one's course very accurately.  Whereas every explorer delights in the element of surprise, when you travel with horses or other animal companions, their welfare becomes a critical need, so being able to avoid motorways and find grazing, for example, is a tremendous help to Long Riders.
What piece of equipment always goes with you?
My Swiss Army penknife with a USB key – an inspired birthday gift from CuChullaine.
Which book would you recommend to would-be explorers today?
Either of my favourites mentioned above, Khyber Knights and The Worst Journey in the World – the first because it shows how dangerous some parts of the world still can be;  the second because it sums up the legendary stiff-upper-lip British courage of the times and the men's determination never to complain.
But for expert practical advice on a day-to-day basis, I would recommend "An Explorer's Handbook".   It is one of the many fantastic books written by my friend, the tremendous British explorer and Long Rider, Christina Dodwell.  After travelling everywhere and surviving enough dangers to curdle the courage of an army, Christina committed all her hard-won knowledge into this unique book.  Need to know how to cook crocodile?  How to buy a camel? How to deal with the head-man of the native village? Christina tells you all this, and much more.  She livens up the instruction with tales of some of her adventures, all told with modesty and a charming dry humour.
For equestrian travel, the book CuChullaine is working on now, The Horse Travel Handbook, will contain more knowledge about how to travel with horses than has ever been assembled before.
What would you tell young explorers to be wary of?
I think there is a danger that huge amounts of publicity can go to young people's heads.  They should always remember how incredibly fortunate they are to be doing what they love.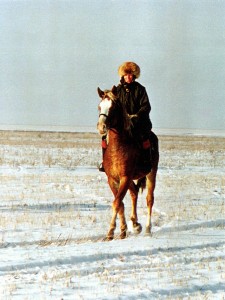 Why is it important for humans to continue exploring?
Because, even with books, television, photographs and films, I don't believe you can understand a place unless you've been there.  I've never forgotten at the very beginning of my ride from Russia, some of the Cossacks joined me for the first few days.  One of them turned to me and said in astonishment, "I'm a Communist and you're a Capitalist – but we're just people and we both speak 'horse'."  You can't have a life-changing experience like that by watching a travel show on television.
Which of your achievements do you think will be most remembered?
I think I am most proud of my part in the formation of The Long Riders' Guild in 2001, which rescued equestrian travel from virtual extinction.  The LRG has now mentored 100 expeditions and equestrian travel is thriving!
Basha O'Reilly was born in Switzerland and has the blood of most of Europe running in her veins – as a result of which she has no nationalistic tendencies.  She attended school in Belgium and speaks five languages.
In 1995 Basha travelled to Mongolia on a scientific expedition led by Colonel John Blashford-Snell.  During this journey she discovered a taste for adventure.
The following year the life-long horsewoman bought a Cossack stallion, Count Pompeii, and rode him 2500 miles from Russia back to England, becoming the only person to complete an equestrian expedition out of the former Soviet Union.
In 1999 Basha made the longest known journey by a woman along Butch Cassidy's infamous "Outlaw Trail", riding 1500 miles from the Mexican border to Cassidy's Hole-in-the-Wall hideout in Wyoming.
She is currently planning to depart on the World Ride, the first equestrian journey around the planet.
Since 2001 she has worked with her husband, CuChullaine, creating The Long Riders' Guild (LRG), the world's first international association of equestrian explorers, managing the Guild's eight associated websites, publishing more than 300 travel books in eight languages and mentoring more than a hundred equestrian expeditions on every continent except Antarctica.
As a director of the LRG Academic Foundation, Basha was instrumental in creating a ground-breaking programme entitled "Voices of Authority," an ever-expanding database of interviews with the world's leading equestrian experts, including scientists, professors, authors, researchers, historians, social activists, crusading editors and artists.
A Fellow of both the Royal Geographical Society and the Explorers Club, Basha has now launched a similar programme entitled "Voices of Exploration," wherein she will be interviewing the elder statesmen, the rising stars, the famous, the obscure, the forgotten, the knowledgeable and the deserving voices of exploration.
At the request of her host, friend and fellow Long Rider, Mikael Strandberg, the normally very private Basha has agreed to be the first Voice of Exploration featured in the exciting new programme.
The VoE programme will feature a world exclusive interview, hosted by Basha, on Mikael's blog every month.  The majority of the questions will remain the same, though each interview will focus on that explorer's speciality.  All of the interviews will be publicly available on Mikael's blog and the LRG's Classic Travel Books website, so as to ensure that this valuable open-source collection of exploration oral history is preserved for future generations.
www.classictravelbooks.com/authors/dodwell.htm (Christina Dodwell)
http://www.thelongridersguild.com/Historical_b2.htm (Bonvalot)
http://www.classictravelbooks.com/authors/cuchullaine.htm (Khyber Knights)
http://www.horsetravelbooks.com