Ever since I saw this video I haven´t been able to relax a second. I come back almost every hour of the day to check here if any developments have occurred, but in general there´s very little movement forward. What has happened is that two friends from Sanaa, Judith and Bou, got abducted outside their house in Sanaa the 15th of July and initially there were great worries as regards to who the abductors where. Al Qaeda, who´s only wish is to make money and who care little about human life who are not affiliated to their doctrines, or if it was the tribes. Which I hoped. For centuries they have kidnapped people to use as pressure on governments to listen to them. And I remember when i first came to Yemen back in 2009, many joked about being kidnapped by the tribes, it was kind of a cultural holiday with free food and boarding. This seems to have changed in the last two years. Hostages still seem to survive, but come out of it scarred for life. And it seems like it is deteriorating I am afraid. I just feel a need to shout out for help, for people to see this, so as to get the involved, the abductors, the Dutch and Yemeni governments, possibly other regional governments who can assist and do something about it.
There´s still a lot of understanding for the problems that the Yemeni Tribes (and others) are facing with a weak government. They are suffering in many ways, but their wrong choice of action here, would be a disaster for them. The positive understanding of their plight would erode and their situation would even worsen. i hope it is elders doing the dealing, not young hotguns.
Most of all, I cannot even understand the worries that Judith and Bou and their loved one´s are going through at this time. And, in this case, to kidnap two people who show so much love and understanding for Yemen and make a positive difference to how this complicated country is looked upon globally, well, that is as stupid as it goes. Judith wrote a lovely article for me as regards to Yemen and I want to republish it for all to see her love for Yemen and its people.
Also, please sign this petition at Avaaz!
The land of the kind and the messy
By
Judith Spiegel
It takes the guy behind the counter half a minute of brain searching, then he remembers: 'Thank you for visiting the post office'. His smile is wide and genuine. He makes me laugh.Yemenalways makes me laugh, for its sweetness and absurdness.
I am not an explorer, I am just a journalist. I have been here since September 2009 and have laughed a lot. Even during the tough year of 2011 I did. Sometimes out of despair, sometimes because despite the shit they were in, Yemenis could still make jokes. And most of the times because guys like the post officer simply put that smile on your face.
I have met wonderful people. Like the boys inYemen's national football team under 17, who still cannot get really used to this strange woman showing up during their training. Like the bunch of employees of the Hayel Saeed Anam group on their yearly outings in Khawkha. They gave me soap and beans, straight from the factory.
Like rebel leader Shalal Ali Shaia Hadi who was hidden in the mountains of Al Dali'. To get to him, I had to travel strange roads and wear the niqab. He offered me 15 bottles of Dilsi-coke. Like Vadim from the Russian Club, who couldn't stop talking about my swimming skills, combined with my smoking and vodka-consuming ones. He thought I would be good at using guns too and put one in front of me.
 There are assholes too. Like the guy who still owes me quite some money for some permits he never managed to arrange. For months he keeps on telling me that a) he will call me back and b) that the money will come this week. Both never happen. He belongs to an army of permit-crooks.
Or like the guy at immigration. One day I decided to kick out the permit-crook and go to immigration myself. Bad idea. Everybody was called Al Kibsi there, and non of them were nice. I made a joke in the general's room, moments later I was surrounded by soldiers. The general ordered them to kick me out.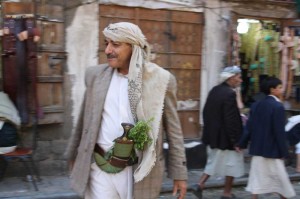 But there was also the officer during the uprising. He ordered me to go away, I was entering an area were heavy shooting took place. I lingered around a bit, thinking of another way to get in, then walked off. The officer yelled at me and ran after me. Now what? 'Wait, wait, I want to give you this,' he said. 'This' was a guirlande of jasmine.
I ruined my eyes inYemen, that's true. A year reading books by candlelight and typing articles at the white light of the laptop only, is no good. I can no longer read how many calories a spoonful of chunky peanut butter contains. Which is not very important really, but I needed a bridge to peanut butter.
I love a sandwich 'fool sudani' from Shaibani V.I.P. Superdeluxe. I love it how they shout to the guy responsible for the sandwiches: 'wahed fool sudani lisafari!!!' There is nothing superdeluxe about the small cafetaria, but it is the ultra warm reception that makes me go back to this ultra super deluxe very important persons place.
You may have had it by now, with my O how I loveYemenstory. Trust me, I hate it too sometimes. I hate the talk talk talk, not do do do, the Yemenis are so good at. I hate qat, period. I hate it when we take a bus to Taiz at 1, it leaves at 2.30 and stops at 2.40 for lunch, because the passengers refuse to change their habits even for a day.
I hate the smell of fried chicken livers early in the morning at the bus station at Bab al Yemen, mixed with the smell of old piss. I actually hate that smell in the afternoon too. I can smell it while typing. I also kind of dislike the dead cats and dogs in my street. I especially dislike the first stage, the one of the maggots. Later, when they are all dried out and flattened by the cars it is ok.
I love, I hate, I laugh, but I do not really know. I do not really know whereYemenis heading to, I do not really know how believing in djinns really works, I do not really know when girls can finally marry the guy they love. I do know thatYemenwill never be theSwitzerlandof the Arabian Pensinula and I am happy about that.
Shouldn't I say something about Al Qaeda? Don't think so. Shouldn't I say something about the Houthis in the north? Nope. Or the Southern Movement in the south? La. And what aboutYemen's near dead economy. Nah, boring, just read the papers.
Judith Spiegel is a Dutch journalist working for NRC Handelsblad, De Standaard, Elsevier, One World, Radio 1, VRT, Ikon, VPRO. Judith holds a PhD in law and practiced as a lawyer for years. One day, she decided to follow her dream: being a journalist in theMiddle East. After a post-doctorate in journalism at theuniversityofRotterdam, she left forYemenin 2009. 
Read more at www.judithspiegel.com