Q: Let's start at the beginning…  What was the earliest point in your life when you knew you needed adventure in your life?
M: I would say 10, because this is when  I discovered books. We had only three books at home, a picturesque house located in a tiny village surrounded by a lush Swedish countryside. My dad, a bricklayer, had stolen them from the local library, most likely so that we would look more intellectual and cultured than our working class neighbors. It was the Bible, White Fang by Jack London and the Last of the Mohicans by James Fenimore Cooper. They opened the gates to the outside world and took me away from the safe harbor and a potential future rat race to be like everybody else. Since then I have tried to stay free from normality.
At the age of seventeen I hitch-hiked to India, inspired by Herman Hesse´s book 'Siddharta'. It is kind of a story about Buddha himself and all the phases of existence he passes through to understand the meaning of life. I wanted to become a Buddhist monk. But after a few days in a monastery I realized that being silent ad infinitum was not my path to understanding.
Instead I cycled from Chile to Alaska.
Q: You did a lot of cycling in the early days of your career.  One of your trips was from Chile to Alaska, a journey of 27, 500 kms, was a mammoth undertaking. What is your favorite memory from your days in the bike saddle?
M: Well, I basically spent 7.5 years pedaling and what I remember the most is of course all the great personalities and people I met on route, which has been the base in my strong confidence in all human beings. To pick one specific, it is impossible.
Q: You have covered thousands of miles over the years during your adventures, but is there one place either at home in Sweden or elsewhere that you still haven't explored for yourself but hope to one day?
M: Oh, there´s a lot to be explored still! Greenland, Svalbard, China, Borneo, Antarctica…so I will be busy until I stop kicking.
Q: If you were asked to take one member from three different tribes/nationalities on a round the world expedition which would you choose and why?
M: Well, it all depends on where I would choose to go, but imagine I would do an around the world trip, I would than consider bringing a yukagihr hunter/fisherman, a Bedu from Al Mahrah  and a Bushman from Southern Africa. I would bring them for the same reason, they´re great company, humble, intelligent, great survival experts and extremely curious!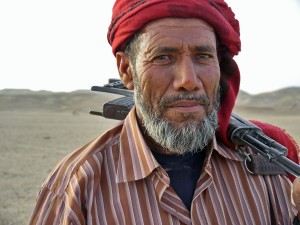 Q: You mention on your website that Siberia was "The best time in my life" What advice would you give to anyone wanting to go off on an adventure in Siberia?
M: Be prepared for the best time of your life!
Q: Have you ever had a "Not sure if I am going to survive this" moment?
M: Yes, quite a few. The most recent in Yakutia crossing big stretches of ice in -60 degrees Celsius, where I felt a certain fear every time we entered ice, which was almost once a day for a month.
But the most frightening moment of all was during mortar fire in Sanaa, Yemen, when I was running like a madman down the streets through clouds of dust and this enormous noise made by these awful grenades and there was nowhere to go. But we made it and my daughter, then 1½ laughed because we had taught her when shooting and mortar fire started, it was a party!
Q:Is there one piece of kit/gear you would not leave home without?
M: My camera.
Q: And finally…In a parallel universe, how is Mikael Strandberg spending his time?
M: The complete opposite is a guy whose life is extremely structured, full of worries how to behave, no humor and who thinks life is good when nothing is happening.