(Swedish version first, followed by the English)
Klart är att jag saknar långfärdscyklingen!
Varje dag på färd är som en nystart i livet. Du vaknar upp på ett nytt ställe. Nya människor och utmaningar väntar. Och man sover bra.
Vardagen är sig dock lik. Rutiner. Skola. Fotbollsträning. Storstaden med sitt eviga buller. Och hetsiga cyklande. Häromdagen på hemväg från skolan, i efter jobbet ruschen, körde en knarkdimmig ung man på Dana. Han flydde innan jag hann på honom. Jag var inte nöjd med hans cyklande. Dana blev riktigt chockad.
Så igår när jag borde ha gått till gymmet för att träna detaljer inför löpning och kommande Expedition, så körde jag fram och tillbaka till Lund i stället
. Jag tänkte, det måste ju finnas en bra cykelväg mellan dessa orter. Förvånansvärt nog inte. Otydligt var den gick (bättre från Lund hållet), svängig, sliten, smal, mycket folk på den och inte särskilt vacker omgivning. Cyklar inte folk till och från Lund från Malmö? Uruselt!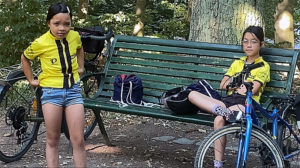 Lund var anledningen till att vi hamnade i Malmö. Pam tog sin master på CMES (Centret för Mellan Östern studier) En vacker stad. Livfull. Centret blev också en del för mig när jag gjorde en liten film om centret. Det var under den gamla goda tiden när Leif Stenberg var chef där. Idag finns han på samma position vid Aga Khan Universitet i London. Gammal bandyspelare som han är.
Nu gäller det bara hårdträning i det närmaste varje dag. Jag måste höja nivån ett snäpp. För att klara av det jag planerar. Men mycket pappersarbete krävs också!
Tjejerna och jag har inte hunnit prata om färden. Men de klädda sig i tajta cykelkläder skolans första dag. Stolta över vad de genomfärd. De är mycket glada att vara tillbaka med sina kompisar.
Of course is miss the cycle touring!
Every day is like restarting your life fresh. You wake up in a new place every day. You meet new people, see new places. It is like Ground Hog Day. The film. And you sleep well.
Right now every day is a routine. School. Soccer practise for the girls. The noise of the big city. And the stressful cycling. The other day, on route back from school, some crackpot ran into Dana. He ran before I grabbed him. I was not happy. Dana
was shocked
.
Yesterday, when I
was supposed
to go to the gym and train details to help my running, I choose to ride my bike to Lund. The academic city a stone´s throw away from Malmö. I thought,
surely
there must by a super cycle roadto one of the countries main academic centers?
Amazingly
enough, not. Hard to find, and follow (better going the other way from Lund), curvy, run down, narrow, full of people who shouldn´t be on it. And surroundings not the most spectacular. One would think loads of people would need a good passage here. Poor!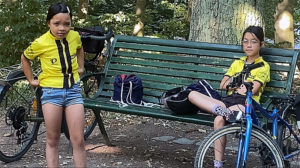 Lund was the reason my family ended up here. Pam went to do her master at the Center For Middle eastern Studies. Lund is a beautiful city of academics. Lively. And the center became part of my life too when I did a film for them about what they actually do. That was in the good old days when Leif Stenberg was the leader of CMES. Today his got the same porition at the Aga Khan University in London. And an old bandy player as he is.
Right now it is all about raising my training to another level. Otherwise I won´t be able to see through my plans. But there´s a lot of paper work waiting too!
The girls and myself, we haven´t
really
had any time to talk about our journey. But they did dressed up in their cycling gear at their first day at school. Proud over what they had achieved. They´re happy to be back with their friends.