"Mikael, you have been to a 115 countries worldwide", Ismail Oral at the local TV-station asked me in an interview, "But have you ever come across anything like this?"
"I don´t think so", I answered honestly and looked around me, "It is definitely one of the wonders of the world and has to be seen by any traveller before he or she dies."
I felt like I was walking through the middle of a moon landscape. A midget in a playground for giants, surrounded by eroded hills, twisted towers, giant boulders, tall spires, caves, chimneys and an array of geographic oddities which also gave me a strong feeling of being in a fairy-tale.
"This is the work of three volcanoes around 30 million years ago who scattered debris all over this place on the Central Anatolian plateau", Ismail continued, "Wind and rain played their part to make this more fantastic than any other place on earth. And man, of course, has done his part to shape it as well!"
We walked together into a restaurant carved out and located in one of the fairy tale chimneys just outside the charming town centre of Göreme and had another tasty Turkish meal. This time we enjoyed manti, which basically consists of small stuffed dumplings, together with a good garlic and tomato sauce. The local cuisine is definitely one of the tastiest on the globe. And as good as the food is, as friendly and welcoming are the local Anatolian people. The Hittites were the first people to enjoy and live in this fantasy landscape about 3800 years ago. And since than many kingdoms and people have had the fortune to live in this magic surrounding with its pleasant climate. One of the most interesting and influential was a group of Christians fleeing religious persecutions during the Roman and Byzantine era as far back as 1500 years ago. They built and carved out the most amazing underground cities, chapels, churches and monasteries in this soft lava. All of them hidden away inside this amazing landscape! It is considered that around 40 000 people could hide away in one of the underground cities! Amazingly enough this remarkable world was all hidden away from the until a French priest rediscovered it 1907. But Cappadocia continued to stay out of the tourist radar until the late 1970´s.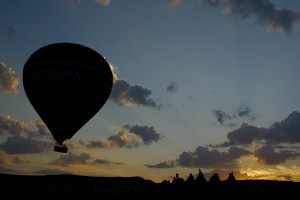 "I came here with my family 1970 since my father was looking for work, but we didn´t have any money, so we made our home in this cave" , Dogan said who today ran a small café and a cosy hotel at the bottom floor of a six storey fairy chimney called The Cave Man just a stones throw from the magnificent rock village of Uchisar, "And I remember the first tourists who came a few years later. It was three hippies from Germany who stayed in our cave for many months. Things have changed since than."
It certainly has. Cappadocia is one of the most popular tourist destinations of Turkey today and has hundreds of thousands of visitors every year. But it is still far beyond the countries most popular destination, Antalya, 350 miles south of Cappadocia at the Mediterranean coast, which has 9 million visitors every year. A reality which is both surprising and jolly good. Fine because you still have a feeling that most of the area is unspoilt by tourism. Startling due to the fact that there's so much more to do in Cappadocia than along the coast! For me, I would rate it as one of the ten most interesting places on earth!
Don´t miss these 5 attractions during your visit!
Göreme Open Air Museum. Get astounded by the rock-hewn churches and the radiant frescos inside!
Underground cities. Corridors are narrow and some ceilings are very low but going through the underground is remarkable.
Ürgüp and Göreme. Enjoy the local food, local wine and local atmosphere in these picturesque villages.
Trekking or horse riding through the Ihlara Valley. Properly explore the nature and beautiful churches along this great valley!
Balloon flying. What better way is there to fully grasp this fairy tale world than floating through the air with a balloon!
Facts for the visitor
Best time to go: Cappadocia is generally cooler than the popular coastal areas of the Mediterranean and the Aegean. April to mid June and September to October are the best months for avoiding the intense heat and crowds of summer.
How to dress: Modest, season appropriate clothes are suggested for visits to Cappadocia.     Long pants are recommended for those who want to explore cave dwellings as some crawling may be necessary and the tufa surfaces can be quite rough. Be sure to bring a wide brimmed hat, sun tan lotion, and comfortable shoes.
Getting there: 
By Plane: The closest Airport to Cappadocia is in Kayseri and it is 75 kms. from Yunak Evleri.
By Bus: There are regular buses to Cappadocia from many cities in Turkey. All the busses used on long journeys are luxury and air-conditioned.
Photos: Baris Koca, www.bariskoca.com