I think that probably the most important important aspect of a successful Expedition is having the right partner. I have had both really good and really bad. Best is if you can choose yourself. So that you know what you get and know the person. Worst is always when you get forced to take somebody you don´t really want, but the circumstances forces you to choose a partner. This has happened recently and before. This time I really wanted to pick myself, but initially the one who was supposed to come, pulled out. he was to pressured by his surrounding and the happenings in Yemen. After awhile, only one single person was ready to come with me, which I myself had asked.
Probably the most unlikely of all. Tanya, my great friend in Sanaa! She has never done an Expedition, she has no kit, doesn´t know how to orientate, use a map or how to work with animals.  So, on paper, it seems like a very dangerous choice I presume!
But, I have long since learned that an ideal partner is somebody who has the right attitude, wants to learn and love life. And this is definitely Tanya! She is ready to explore the deserts of Al Jawf! She wrote this for me some time ago!
I better let her introduce herself!
I am ready
By 
Tanya Holm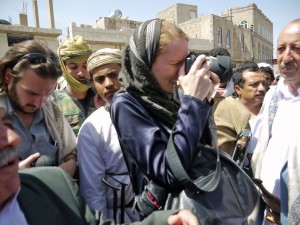 The most noteworthy moments in life are surely those when one suddenly realizes how one actually lives. That kind of awareness hits me more and more often. How the hell did I end up in Yemen? If someone asks I answer that I had lived in Egypt and Lebanon, I wanted to stay in the language. And I was interested in the Arabian Peninsula. Then I add something rather brilliant.
Yemenis are the first Arabs, the first Muslims and just two years ago Yemen was the first country ever to receive the entire 252,6 million dollars in military support from the States. But, if it is instead I who ask why I bought that one-way ticket three years ago, I reply that something could be wrong with me. I did not know then that one has to understand Yemen in order to understand the world.
Insight to one's life comes at ordinary times. I've eaten mashed beans for breakfast and drank a cappuccino with a friend. Now I want to know why I'm going on a camel trek in the hottest desert during its hottest time. I cannot quite get it together. If something goes wrong along the way, I will blame another. It usually works well.

 Michael kidnapped me and forced me into the desert, I'll say to cover up the stupid, stupid decision I might very well be taking.
The truth is of course another. And if I focus hard to reply truthfully I say that "Yes" comes far more natural to me than "No". Yes is a bridge to something else. Despite the tears, Yes is what continues to shape life to what I want. Yes comes with recognition in the own abilities. Fuck, we're made to get up after a fall. So it was the word I chose when Michael recently said that he would make a new Yemen Expedition.
You wanna tag along, he asked.
I remember laughing at an advertising poster in my late teens.
"You only regret what you never did."

Ridiculous, I thought. The list of things I would like to have undone was long already then. I keep adding to it and today I say al-hamdullillah. I know to read it right and I know I have at least tried to find another way. The philosophers don't count trying as a virtue, but what do they really know? And I still laugh at the slogan because years later I realize the majority doesn't need such encouragement. They are ready to take the risk and fuck up. Cause shit is not the only thing that happens.
I doubt it but I know Mikael and I might end up in a mess. People have told us so. At times I have gotten people into telling me so and talking me out of going. Some people think Mikael can do it, not I. Here comes a Biology lesson. Comments like that trigger a woman's instinct to feminism.
I know that a rational one would have flaunted her No to Mikael. But. I also know that Cinderella went to the prom even though only mice, rabbits and birds realized how important it was. And she danced!
In the kitchen, on the top floor of a gingerbread house, I now empty a bottle of wine.
Two pairs of pants and two shirts.
Mikael tells me to pack. The moments when we become conscious of our choices are so short that to me they already appear distant. So khallas. I'll find a shirt fit for 52 degrees Celsius. When insight strikes next, I promise to write again.