6 June 2012, humid, hot at 34 degrees Celsius at 16.12.28N, 52.1043E
Tanya Holm writes:
"One million and one hundred thousand Saudi riyals is not much money", says Aboud, the bedouin.
Sheikh Muhammed Saat Gam-Said, more commonly known as King of Camels, has just told him the Saudi equivalent to 5000 US dollars. Aboud shakes his head while he looks at me.
"Little!"
I count to ten.
"It is a long walk and my legs will hurt" says Aboud.
I have never gotten 5000 dollars to do anything. My legs will hurt too, most likely far more than his.
"Are you a real bedouin?" I ask.
He answers. The sheikh claims Aboud walks the region since childhood. Perhaps four-wheel drive has taken his confidence.  Fifty-eleven times, as we say in Sweden, and still nothing.  Aboud continues:
"If you get sick I must lift you up on the camel and take you to a hospital"
"Every day I must translate for you from Mahri (South Arabian) to Arabic. My mind will be tired."
"My body will get worn down and I might need a hospital."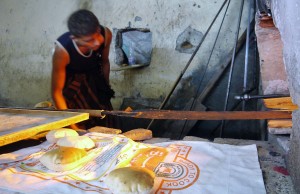 I look at Shekh Muhammed's gold watch and his nicely ironed shirt. His head scarf is bright red and white.
"If they die I'll be the one dealing with it" says Ahmed trying to get Muhammed on his side. When we get sick we rest a day. Our legs will hurt but not fall off, I say.
"Inshallah" adds Ahmed and points to the ceiling with a fan. Then he repeats himself.
"Little!"
For twenty-one days work, a million and one hundered thousand SAR won't do. That we had already agreed on the price and all the details is a misplaced thing to say. So is the following.
"The majority of the stories coming out of Yemen these days are about terror. This is a chance to show another side to your country."
The bedouins walked in Yemen long before here was a nation, or an idea of Yemen, before Islam and thousands and thousands of years before that. Aboud might feel he has nothing to prove to others. With a cultural heritage so rich there is no need to show off.  He knows he can get up and walk out without that anything changes for him.When Aboud has left the room I realize it is almost empty. For days people have gathered around our table and had opinions on the plans and negotiations. They've engaged in every detail. Now Mikael and I are left in the restaurant. A few men pass by. I am dissapointed. And very tired from many days of hard work with little sleep. It is late, hot and humid. Of course we are sick on top of it. If Aboud would write a piece about what has just happened he'd maybe make the reader understand that the joke is on the foreigners. They thought they could fly in and settle a deal in a week. Aboud would explain that it takes generations to build up a trust. Europeans think they can buy it with dollars. So, it takes an Aboud to put them in place. And I think he'd finish off with that the misconceptions foreigners have about Yemen make them stupid, and that is their problem not his.
I don't care who's right and wrong. I will perhaps never understand  Aboud "qaleel!!". But I'll remember the first guy I know to have said no to a three week walk for thousands of dollars. He is a beduin in Yemen.