Options – Route & Style
On roads or tracks
Many deserts have roads running straight through the middle of them. If there is tarmac then a crossing is a fairly straightforward undertaking by car, bike or similar.
The Trans-Sahara and Cairo-Dakar Highways, many North American deserts and a soon to be completed road across the Empty Quarter between Oman and Saudi Arabia are all possibilities for this. A little more adventurous would be following tracks off-road which might take a little more effort and equipment (e.g. four-wheel-drive or mountain bike) but are still notably easier than going entirely off the beaten track.
For the remaining areas of desert which do not have such routes already made for you, plenty of options remain…
Enter a race or rally
Racing through deserts on foot is becoming increasingly popular with many different organisations now offering desert ultra marathons all over the world. The formats vary but typically see you running long distances through various check points either in one big hit (e.g. 24 hours non-stop) or over a few days, sometimes carrying your own equipment and sleeping in tents.
It is rare that any such race would actually take you the width or length of an entire desert but they are a good way to get a taste of desert life and some physical hardship.
An alternative are motorised rallies. They are sometimes called rally raids and involve driving long distances over several days. Some are competitive with different classes for motorbikes, buggies, trucks and so forth, whilst others focus more on the fun and adventurous aspects with entries open for anything from cars that cost under £100 to fire engines and ambulances. Some are primarily off-road and require appropriate vehicles, others are entirely on paved roads. Of course, not all such rallies cross entire deserts but plenty of them do.
The Marathon des Sables – The best known desert marathon. 150 miles over six days. Costs £3,700+ including flights.
Other desert marathons in e.g. the Atacama, Gobi and Namib – Varying distances and itineraries but typically cost around £2000 including flights.
Budapest-Bamako and Trans-Sahara – Popular, non-competitive rally raids. Registration typically a few hundred pounds but food, fuel and accommodation are extra.
The Dakar Rally – The best known competitive rally raid. Originally from Paris to Dakar but now changing destinations each year. Registration from £15,000.
Crossing a big, a small, or part of a desert
Deserts come in all shapes and sizes. Many offer scope for epic voyages over several months and many more can be crossed in a matter of days or weeks.
Some larger deserts with potential for big expeditions include:
The Sahara – Covers a dozen countries in North Africa. 1000 miles long and 3000 miles wide.
The Gobi – Mongolia and China. 1000 by 500 miles.
The Arabian – Covers most of the Arabian Peninsula in the Middle East and contains the Rub' Al Khali Empty Quarter. 1300 long and 700 miles wide
The Kalahari – Botswana, Namibi and South Africa. 1000 miles by 600 at its greatest.
The major deserts of Australia and North America.
Some smaller deserts which could be crossed more swiftly:
Namib – Namibia and Angola. A thousand miles long but less than 100 miles wide in many places.
Atacama and Sechura – South America. Narrow strips like the Namib which are never wider than 100 miles
Sinai Peninsula – Egypt. Easily accessed and its wedge shape offers a variety of coast-to-coast distances from 50 miles upwards
---
The great European deserts
Europe may not be known for its deserts but it does have a few areas which either meet the criteria or have enough sand to look like they do:
Deliblato Sands – A long stretch of sand in Serbia.
Piscinas – A tiny sandy desert in Sardinia.
Oltenian Sahara – The nickname given to a desertified area of Romania following deforestation.
Tabernas – An arid region of Spain averaging 3000 hours of annual sunshine.
Oleshky Sands – An expanse of sand in Ukraine
---
Hot deserts or cold ones
The colder deserts – which can go several degrees below zero – tend to be at the higher latitudes. Some examples are:
The Asian deserts above India and Iran
The Patagonian desert in South America
The northernmost deserts in the United States
Deserts closer to the equator – and that covers the majority of them – tend to be warm, if not hot, even in winter.
Sand, salt, gravel or rocks
Remember to check before packing your bucket and spade as many deserts do not have that much sand. In most situations you should be prepared to spend decent chunks of time on different terrain. Here are some common types:
Salt flats – The Lut and Kavir in Iran do have big piles of sand, some of the biggest in the world in fact, but they also have huge areas of salt flats without a grain of sand in sight. The same goes for the Atacama.
Gravel plains – Gravel is a common feature of many deserts including the Patagonian, Arabian, Gibson and Taklamakan to name a few.
Rocky terrain – Vast expanses of barren, rocky terrain fill many deserts such as in much of the Gobi and Mojave, and parts of the Sinai Peninsula.
Sand – Plenty of deserts, of course, do contain sand. The Empty Quarter, Sahara, Kalahari, Simpson, Karakum and Nebraska Sand Hills all have large concentrations of sand.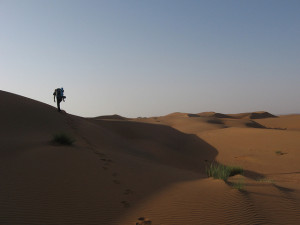 Tim Moss has supported over 100 expeditions across all seven continents. He has climbed new mountains, crossed a desert and recently cycled 13,000 miles around the world. He is a Fellow of the Royal Geographical Society London and a Guinness World Record Holder. He runs adventure website The Next Challenge where he encourages more people to live adventurously.