(Swedish version first, followed by the English)
Vi är nu redo tjejerna och jag att ge oss av. Vi gjorde sista träningsturen igår. I stark vind, enstaka hällregn och full packade. Ett par mindre missöden. Dana. Nummer ett, på grusväg. Ned i ett hål. Missöde två, Dana. Hon skulle försöka göra som jag, en massa konster på cykeln. Men Dana är tuff, så hon reste sig upp och körde vidare. Hon önskade bara ett stort plåster vid hemkomst.
Det är ju några år sedan jag cyklade på det här viset. Runt 6.5-7 år i cykelsadeln blev det. Senast 1995. Men det kändes som det var igår när jag började trampa med tjejerna. Bekvämt, invant och jag känner mig lycklig. Och jag ser tjejerna gillar denna frihet. Detta ganska snabba sätt att färdas. Vi satsar på 4-5 mil per dag. Eva driver på. Hon vill göra 5 per dag.
Vi har nu gått genom all utrustning. Gjort färdig cyklar. Vi satsar på lite vikt denna gång. Vilket innebär att handla mat ett par gånger varje dag, för vi har inte utrymme att bära med oss föda.
Tack till alla som stöder denna färd. Huvudpartner är Kensington Tours.
Här kommer kartan att ligga https://www.google.com/maps/d/edit?mid=1EiZqZAIqgz22lTBUPwhkYx251Pr8J_6B&usp=sharing
The girls and myself, we are ready to roll. We did our last trining day yesterday. We had to deal with a strong wind, rain showers and we were
fully
loaded. We had a couple of incidents. Dana. The first one occured on a gravel road, going downhill. She hit a pot hole. Number two, when Dana tried to do bike tricks like I do. But she is tough, so even though she had a bit of a scratch, she stood up and continued. Her only wish was to get a nice bandaid when back home.
A few years have passed since I last cycled any distances like these which are waiting. All the way back in 1995. I spent around 6.5-7 years in the saddle. For this reason, beginning again, felt easy, routine and made me very happy. And I have noticed the girls like this freedom the bike offers. Fast and accessible. We are planning to average around 40-50 km a day. Eva is pushing for 50 kms a day.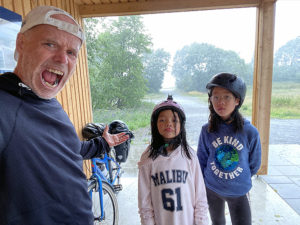 We have none
carefully
gone through our equipment and fixed any issues. The bikes are ready. We are going for low weight this time. Which means shopping for food at least a couple of times each day. There´s no space to carry food.
Thanks to everyone supporting this journey. Especially Kensington Tours.
The map for daily updates https://www.google.com/maps/d/edit?mid=1EiZqZAIqgz22lTBUPwhkYx251Pr8J_6B&usp=sharing