"Even though we were warned on the radio, some people just didn´t leave in time" , Emmanuel told us while he gesticulated frenetically with his arms, indicating how the hot lava spread over the town of Goma, "They ran for the cathedral and thought hiding inside would save them. It didn´t. They fried to death."
We were all standing on top of an outcrop of sharp black lava, where the eruption had started in January 2002. It was Emmanuel, our guide, Jeff and me, a very passionate local woman who saw herself as the caretaker of the area and about a dozen kids in awe of what they called monics. (mispronunciation of United Nations mission in Congo, MONUC) The lava had just broken through the ground where we were standing, about 10 km:s south of Nyarigongo Volcano, but at the edge of this unfortunate town.
"The lava stream was one kilometer wide and up to two meters deep and it just went through the whole town ending up with a great fizz in Lake Kivu."
I looked to the north, were the perfect coned shaped volcano Nyarigongo, looked as calm as an active volcano can look like. Just a small cloud covering it, a bit of smoke crawling out of the caldera we had stood on a few days earlier. I turned my eyes back to the south and saw a wide black line of dried lava shooting through the town. Goma probably has one of the most beautiful settings in the world, at the foot of a string of volcanoes which forms Virunga National Park and overlooking the charming Lake Kivu. But it is a town which has suffered badly from the effects of the eruptions and from the two wars of 1996-97 fuelled by the Rwandan Genocide. We left the eruption area, went back to the dusty road, paid a few "fees" for our visit and started one of the oddest city tours I have ever done. But also one of the most interesting.!
It was in one way, a trip through the lives of many unfortunate, struggling people, who´s lives had been totally ruined. It was a tour plagued by rubbish everywhere, poverty, kids with signs of kwashiorkor, the thinnest of dogs, ramshackle homes and stores, extremely pot holed dirt roads and enormous amounts of people just trying to figure out how to go ahead with daily life. There were many fortunate ones. They kind of hid in homes covered by barbed wire and guards, as where all of UN:s deposits around town. Their presence could be seen everywhere. Troops came from Uruguay, Pakistan and India. I even heard Swedish spoken.
Is this tourism?
In my mind, absolutely. For me tourism is showing reality, creating understanding and finding ways to build bridges between cultures. And even though, for somebody with a very negative attitude to the realities of life, sure, it was a lot of misery. But, amongst all this, there was a everlasting feeling of hope, possibilities and pioneering. People were starting to rebuild their lives, by setting up what it looked like, very unstable structures, homes, on top of the dried lava. Others were transporting enormous loads of fruit, building material, cassava, on home made bicycles of wood. Small businesses were starting up everywhere. On sale was second hand clothes, cassava, loads of pine apple, beer and lots more. Things were happening and the one feeling which always have dominated my time in Africa is that the Africans are extra ordinary resourceful people and always find ways to survive and live in dignity. And they still know how to laugh!
It was definitely a tour of hope!
But, except mobile phones, and to be fair to reality, not a lot had changed in those 21 years since I passed through on my push bike. Congo, of course, have gone through a lot of upheaval, at least two wars, Mobutu was dead and gone and a new president had arrived, the son of Laurent Kabila, Joseph. As far as I can understand, the governing by cleptocracy that was Mobutu's legacy, is far from gone. Many Congolese we conversed with, talked themselves warm for Paul Kagame, the president of Rwanda, a country modernizing quickly. I can understand they want change! Just crossing the border to the twin city of Gisenyi on the other side, was quite dramatic. In reality, this area was once part of the great kingdom of Rwanda and many of the inhabitants are of course Tutsi and Hutu. The Belgians, like other colonial powers, didn´t care about such things and made their borders without thinking about the tribal identities in the area.
"Is it safe to visit this area?" I asked Emanuel, which echoed what his boss Kennedy and pretty much everyone else we´d come across during the visit in this region, " Yes! The last insurgents left the area half a year ago and we welcome tourists again!"
"And the Hutu FDLR-rebells have left as well?" I asked, and Emanuel answered: "Yes, but some or still hiding away in the mountains and forests north and west of the town, but are easily avoided. "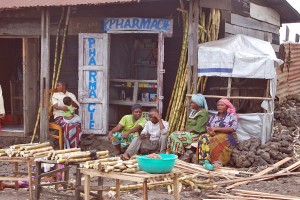 Of course, if you read on the Internet, and the recommendations of the British and American Embassies,  its almost on pair with Yemen, which is one of the safest places I have ever visited. Congo is one of the most fascinating places on earth, for me the real Africa, and just have to be visited! And like Kensington Tours moving in just six months after the last disturbance, is very brave and shows why I want to work with them. They move the limits what is possible and offer something utterly unique. My feeling, travelling through Congo, is that it is almost unspoilt by tourism! Not many places you can get those feelings nowadays!
And Goma feels very safe, very stable, but one major difference have occurred since I passed through 21 years ago. Somebody said that the Congolese have lost their innocence through the wars and taking photos is a major obstacle. There´s no doubt, there´s a more aggressive attitude formed, which is very understandable.
Goma is probably one of the most interesting places on earth right now!
And, not only that, Goma is the birth place of Innocent Balude, the 13-year old which is the number one super star in Congo right now, see why here!