This is the first in a series of three articles about Iceland and Kensington Tours exclusive offer of The Gentleman's Exploration. I am an honoured explorer-in-residence at this giant of a true travel company.
Day 1-2
Rained poured down when I got out of the airport in Keflavik. A big dark cloud covered every inch of the sky, threatening even worse weather to come. I pulled up the hood and ran over to the guy from the jeep rental company who was waiting for me. He must have seen my worry, because he immediately said:
"Don´t worry, in ten minutes, you will have a different weather. This is Iceland."
He shook my hand and started explaining all details concerning the Land Rover in front of me. The tires were huge and I wondered briefly what Jeff had planned for our Gentleman's Exploration of this peculiar country. This vehicle was definitely what somebody would call a male symbol of strength.
When I left the airport heading for the capital Reykjavik, night fell over Iceland and the rain was still pouring down. Next morning, the capital was covered with snow.
"I´ll drive the Land Rover!" Jeff said happily as soon as we met in the hotel lobby.
He had brought a good friend of his, Tim Mechem. Together we were set to do a three day Gentlemen´s Exploration of Iceland. Jeff Willner is one of the kindest, most generous and interesting human beings I have ever come across. Last time we met was in Congo-Kinshasa in May 2010, setting up me as an Explorer-in-residence offering his clientele privately guided tours to the most exotic, challenging and rewarding places on earth. This trip would also be a break in his demanding schedule as the motor behind Kensington Tours. Driving the Land Rover was part of that scheme. Back in the early 2000 Jeff travelled the world in a Landrover Defender 110. Expeditions which formed the base of his immense knowledge of the travelling industry. So, when we left in darkness at 10 a.m. in the morning, snow falling down, Jeff was content just driving this giant of a vehicle. Tim, like Jeff, slightly run down with far too much work and responsibilities, relaxed for every meter we travelled the snow covered road.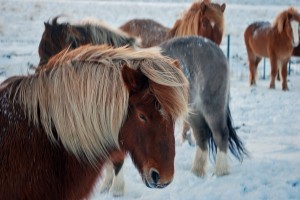 Myrdalsjökull was our first stop. This glacier is covering Katla, the very irrational and extremely active volcano, which is located next to Eyjafjallajökul, famous for halting the worlds airlines not even a year ago. They both are set next to its giant brother, Vattnajökul, the biggest glacier in Europe, but is doing very well on its own. Since this was the winter time of the year, there where hardly any tourists at the glacier, and it would stay like this throughout our visit. Suddenly it stopped snowing, the sun broke through the clouds, the blueness of the glacier shined and it was one of the first glaciers I have seen, which wasn´t covered by heavy snow and I could see it was an easy glacier to travel on. Jeff was still impressed by the huge tires on the Land Rover, so we just climbed up the side of the volcano for a better view. Weather changed a couple of times during this time, but at this staged I was really appreciating this irregular mood swings of the climate. The light was impressive and it made photography a joy with no bounds!
The small picturesque town of Vik was our next stop. It is famous for its black basalt rocks shooting up from the unsettled sea, Reynisdrangar. Weather changed three times whilst photographing them. Snow, rain and sun. And a beautiful church placed at the top of a mountain, overlooking this former fishing village. We would see a lot of these well positioned churches in this Lutheran country and many times they were architecturally very different to anything I have come across before. However, when it comes to religion, apparently more than half of the population of around 320 000 inhabitants, still believe in elves and trolls! A fact which is very easy to understand. Especially when considering the continuous weather changes and spectacular scenery.
I would even consider Iceland an incredible success story in every way. Because, whilst travelling thru this almost treeless country, experiencing all faces of this harsh weather, appreciating the big rocky plains, mountains, rivers, its persistent active volcanoes, erupting geysers and thermal activity, it is amazing to see a modern society on top of it all.
The food at the road cafés turned out to be as bad as in the rest of Scandinavia. Luke warm, fat, tasteless, expensive and un-inspiring. And the coffee, for a Swede, it is coloured water. The next stop was Skogafoss waterfall. The fall in itself wasn´t anything to remember, but the light around it and the big amount of birds, especially ravens, made this a worthy visit.
We spent the evening in one of the countries few 4 star resorts, Hotel Ranga. After one or two, or a bit more, glasses of Glenlivet and a priced cohiba, we had one of the best meals I have had in years. I had very tender monk fish. It has to be experienced! The hotel is famous for good viewing of the polar lights, but the Glenlivet put us early to sleep.
Even you can be part of the Gentleman´s Exploration and private guided travel, read this!
Don´t miss this photo gallery from Iceland!