There's no water in the tap, we only have electricity from the government a few hours a day and therefore the ways to communicate ain´t the best. The mobile phone is expensive and you have to stick to sending texts because it is so hard to hear what people say due to the poor lines. At times, these issues is demanding, because you just can´t get things done. Washing clothes happens if all goes well, every ten days, a luke warm shower at the best every other day, drinking water you buy most of the time, food consists mainly of bread, eggs and rice or pasta, mainly due to the time constraints and that we cook our own food all the time. And doing your business on the Internet isn´t happening every day either. Now it has been off for three days. But you get use to it. Most business, including the school, have a generator, but that one is also on and off down, and isn´t strong enough to run both the Internet and supply us with water. Having a conversation outside after the sunset is hard, due to the extremely noise generators, but even though we have one just outside our window, we still sleep well and go about our business. You learn to live with it. Something the Yemenis are expert in doing. We are learning slowly!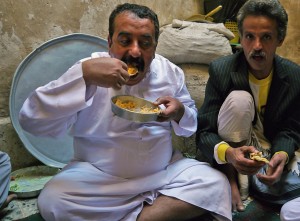 Life after the signing haven´t changed anything dramatically, except, of course, no mortars, no shooting and, yes, people are more relaxed everywhere, especially the check points. That is a great difference! But we are still confined not to leaving Sanaa, and that is beginning to bother me. I don´t have a lot of time to get a camel and do the very steep and difficult ride and trek from the coast and up to Sanaa, crossing two mountains over 3 000 metres. I don´t sleep a lot now. It is hard to find people. Especially those individuals who can make a difference. My friend, the Self Made Man, is busy and involved in getting the new government on the feet. He is trying to find time to help me, but it is like asking Barack Hussein Obama if he can help me finding a camel and permits to do a trek through the US.
I need more hours a day. The Arabic takes a lot of energy, but I am getting better and better. That is a great joy, but still far to be fluent. Pamela is a step ahead, but I am at least better than Eva who still works on her few words like Pappa (abi in arabic) and Mamma (omi in arabic). In all languages! I have found six characters which will make a difference in the film, but filming still isn´t easy. Security is watching and military is touchy and everywhere, but it is coming together. For a price of some lack of quality sound and images. But not too bad I think. It can be salvaged by a good editor! But that is what has to be done, if you want to film anything during these circumstances.
So right now everything is loose and it seems hard to tie the knot. I don´t have all needed images for those characters I am following. I still don´t have the permits from everyone I need to do the trip. I don´t know exactly where yet, where to get at least one good camel. Zabid or Bayt Al Faqih. Prices seem to range from 1500-2500 dollars, though I have found a place where to leave them in Sanaa, namely at the zoo. Maps doesn´t seem to exist in this country, so I might need somebody who can come with me. I don´t want to travel on the main road, what a scare! But along the old coffe trail from Mocha to Sanaa, via Zabid, Bayt Al Faqih, Mahwiht and Sanaa. Does it still exist?
I have ten days, or say, nine, to get all this onboard. The girls are still sleeping, Time is 4 in the morning and the government have turned on the electricity, Internet doesn´t work, but I can write this piece of worry. I think I am just tired at the moment, because Yemen is still like a dream. These generous, hospitable and child loving people offer a never a boring second. And the Old Sanaa is an amazing world in itself.
Politically, we are all waiting to see what will happen. The Houthis and Salafis are still fighting in the north. And a separatist movement for a free Southern Yemen seems to get stronger in the south. But at least the Saleh Family, Ali Mohsen and Al Ahmars are resting their guns right now. It is actually really, really silent, almost dead here in Sanaa. If you readers want action and extreme problems, read the global newspapers or watch the news on TV. You will find all you need there from terrorism, kidnappings, big amounts of killed Yemenis and ongoing demonstrations.
Oh, yes, I almost forgot. I have started a weekly course of documentary filmmaking and dramaturgy together with a Swedish female journalist who lives and works here, Tanya Holm, for a group of young Yemeni girls. At least I will do two classes before I hopefully set off on a camel. It has really opened a little door to this unknown and exciting world of Yemeni women and I am really happy to be a little part of these motivated girls, who really know how to move between all worlds to be able to tell a story. I also want them to help me get in there, but this won´t happen until I get back in early March. I was given a visa of two months, so I have to get out, go to South-America as a guide, go to Yakutsk and Barcelona and lecture, before I can come back on a totally different visa which will allow me and my family to stay until I have done my trip. In shallah, I need three months at least to cross the country!
Woow, I have been sitting here for three hours figuring out what to write, what would be possible to film today and how to go about things. Eva just woke up, wants for the 547th time see parts of the Lion King and I need to do a nice porridge with banana and UNT milk for the family. On my petrol stove, since the school ran out of gas and diesel yesterday. Like most other Yemeni families. I really admire the average Yemeni for staying alive. I really don´t know how they do it with rising costs and wages the same or even lower than before.