"I will miss sleeping under the stars" , Tanya said whilst we were cooking our last dinner under a moonlit sky full of stars and a clear Milky Way, but she finished her dreamy comment with a reality check; "But on the other hand, travelling through the desert is most of the time like a prison. The heat and lack of water forces you to stay on track leading to other people to be able to survive. The freedom of the open spaces is really completely off limits."
Sheikh Saleem was praying again.  Today he had prayed more than the compulsory 5 times. He was worried about entering Rumah which he considered full of evil and he continuously reminded us to get out of there as soon as possible. We had already decided that we would give Kensington to him as a gift. They were already best friends and Saleem had taken over the job of feeding and packing him more for every day that passed. And we allowed him to do this, since we knew he was the best solution to where to leave this fantastic travel partner we had named Kensington after one of my sponsors, Kensington Tours. We had received offers from quite a few Bedus who wanted to buy him, but almost wherever we came, we were told by the people living there, that it would be a great idea to give Kensington to Saleem. Our friend was liked and venerated by everyone. And the more we got to know him, the more we really liked him. He was extremely talkative like most Bedus, but had all the great assets for which the Bedus are famous. He was loyal, brave, had great humor and patience, he was very generous and the last day he asked Tanya if it was true what he had heard through the grape vine, that I had problems with my economy. Because if that was the case, he told Tanya, he would lower his wages by half. What a human being!
However, when we met him the first time, we got into a serious argument. We had made it halfway and already agreed to take on another guide, when Sheikh Saleem turned up and demanded to be the guide, since he was the best. The whole nomadic tent camp we stayed at that night agreed and told us with passion that he was a religious man who everyone along the route venerated and admired. He was a much better man than the one we had picked. Our choice wasn´t even a Bedu, he came from Shabwa, they said. And he would just get us into trouble with other tribes along the route. But we insisted. However, after walking just a kilometre the following day we noticed a jeep parked next to the track and at the same second we passed it, we crossed an invisible border and the driver told us aggressively that we had entered another tribes area who didn´t allow us to continue. The only one who could provide us with safe conduct through this apparently hostile country was Sheikh Saleem. And so he have done throughout the trip! We haven´t paid one single meal, overnight stay, even though we have asked if we could!
You really get to know each other on a trip like this one, where the surroundings in every way, demand all your energy. All the best and worst sides show up. I did have some worries before setting off as regards to my partner Tanya, who had never been on a hard Expedition, but on the other hand, had many years of living in the Arab World and three years in Yemen. But still, there´s a clear difference from living outdoors doing hard physical work in a relatively unknown environment each day and since I have had many partners throughout the years, good and bad, I also knew that a good partner had nothing to do with your experience, it is all up to your attitude, but I was still worried. Which, as usual in my case of continuously worrying about things, was a waste of time. Tanya turns out to be one of the best partners on an Expedition that I have ever had. Most of all, she had the right attitude, a positive outlook, like me almost naive, as regards to life and Yemen. She was also very independent minded with a strong view on all aspects of life, which I appreciate a lot, and the idea from the beginning, that we would supply different views of our trip turns out perfectly. But she was also very fun, always extremely charming and sensitive to her surrounding and I honestly didn´t have one boring and sad moment with her. I am extremely privileged to have had this time together with this fine human being.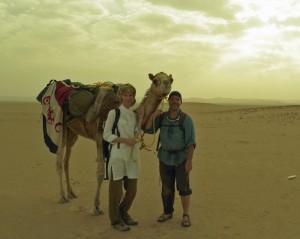 The last three days was the hardest of all the walks, since we had put our minds of doing almost 30 km:s a day. This was also the stretch where we initially didn´t have any nomadic Bedu Camps along the way and we had some worries how to get water, but Bedu jeeps passed us on and off, so that turned out to be a small problem. We basically hurried through Wadi Nahrit and zoomed up north through Wadi Armah and the desert scenery was beautiful. The distances weren´t a real problem, but it took its toll on Sheikh Saleem and at one stage he got really upset and shouted;
"Mikael, you are a big man and this is too hard for the rest of us!"
That was the only time on the whole Expedition where any of the guides told me the truth that they were tired! They always complained when walking next to Tanya, but didn´t want to appear weak in front of me, so after moaning for her, who always sent them directly to me with their complaints,  they came to me and said instead:
"The woman is tired. I think we need to rest."
I told them, she is fine. We will continue. They would then fall back to Tanya, whine about me being like a machine, wait half an hour and come up to me and say:
"The camel is tired. I think we need to rest."  
Let me just say, after coming across a lot of camel people on earth, the Bedu are the best.  They genuinely respect their camels. When two Bedu meet they rub their noses against each other as a respectful greeting. The same applies when they greet a camel. I never saw a Bedu treat a camel bad. Most camel people globally use a nose peg to control the camel, but not the Bedouin. They don't need it, since they love and treat them accordingly.
The last day was the hardest. We did 7 hours though the midday heat and when we arrived at Rumah, we were all knackered. But we immediately got surrounded by a small crowd of people in cars, following us and scaring Kensington which immediately got diarrhea from anxiety and Saleem said he wanted to get out of this place as quick as possible. He was clearly very worried. Rumah was a kind of a crossroads place in the middle of the desert in the state of Hadramawht, where we were not officially allowed to be, due to the worries concerning the presence of Al Qaedah. We parked Kensington at a hotel parking, had a quick lunch, repacked and gave Saleem all the equipment we didn´t need anymore, he complained it was too much and then we cross the road in front of the hotel to say goodbye to our partners on route, once again a crowd turned up in no time, as did the police and wanted to see our papers and talk about Al Qaeda.
"You cannot be here" , the police man said; "You have to leave now and I will drive you myself to Al Ghaydah."
We didn´t like the idea, since we knew that the police often were involved in kidnappings in Yemen, so we managed to get out of it and talk us into staying a night in the hotel.
"You can´t leave the room!" Sheikh Saleem told us sternly and it was hard for him to leave, he was that worried.
Eventually he left with a worried Kensington, waving goodbye with pain, but I am sure he and Kensington both looked forward to return to the stillness and solitude of the desert again. We did! And, yes, there was some worries about Al Qaedah, even though we really didn´t believe in their existence as far east as here! So we did a walk around the little desert town which felt very Gulf alike looking to buy all the food and drinks we had dreaming about for almost a month and at one shop, the curiosity of a journalist like Tanya took over the carefulness we probably should have had and of course she asked if Al Qaeda was in town!
"Oh yes they are, they have a house here in Rumah!" the shopkeeper said with a big smile and added to my worry: "I can take you there if you want! "
"But aren´t they dangerous?" Tanya asked and they shook their heads in unison and said clearly; "No, they´re good people!"
 Slightly shocked and a bit worried, I much more than Tanya, who didn´t believe them, so we left the shop after finding out that the bus to Al Ghaydah left between 7-9 the following morning and went back to the hotel. We knew somebody would  knock at the door soon. Either the police or Al Ghaydah. In either case it would mean problems. But nobody knocked at the door until next morning and, of course, we woke up in readiness, but it was the hotel who noticed we were on the edge of missing the bus. So we packed in a hurry, ran to the bus station, where everyone was still eating breakfast, sitting down on mats, people told us it was full, the bus, but the Turkish bus driver fixed us with the best seats, of couse, this is Yemen and with Turkish kindness, it is even better! We bought the tickets in the same shop where we had been told the day before, that Al Qaeda was in town, so Tanya with her sharp mind rephrased her question and asked if Ansar Al Sharia was there and in shock they shouted back at us;
"No, they will never be able to get in here! They are not here!"
We entered the bus in surprise, but suddenly realized after a call to our friend Mohammed in Al Ghaydah  that they most likely were talking about a family which came from the village near Taizz called Al Qaedah! So much for terror organisations planning to kidnap us! However, we still felt some anxiety of reaching the first road block, since we didn´t have a permit to be in Hadramawht, but Tanya told our Turkish driver, who sorted that out with ease and also invited us for lunch at the next stop.
I just love Yemen! And the Bedu!
Check the photo album of the Expedition!
George Stiller has made a great map of the trip here!
See the trailer from the upcoming documentary here!
PS. All the opinions in my articles are my own and not Tanyas! DS