A Gentlemen´s Expedition in the eyes of Kensington Tours owner, Jeff Willner, is full of dramatic challenges. Like now, when we have pretty much reached the end of a 12 day tour, I feel as always – extremely run down! But happy! Just like on any Expedition I have ever been on. Even though these Expeditions which are organised by somebody I see is my brother, have a very luxurious touch, they´re really demanding. Two days ago, as always for me, I was down and out! Well almost. It is the enormous quantities of good liqueur, the long talks about life, complete lack of sleep and absolutely no time to recover, no personal time for reflection which knocks me out! On the other hand, I always return home wiser, happier, with new friends and have changed some perspectives of my way to look at life. On this Expedition, set in East Africa, the group consisted of 6 individuals who went under the names of the Eland, Giraffe  Warthog, Hippo, Impala and The Common Goat. During a series of 5 articles, I will show you readers what a Gentlemen´s Expedition with Kensington Tours consists of.
The Maasai and Kensington Mara West
By 
Mikael Strandberg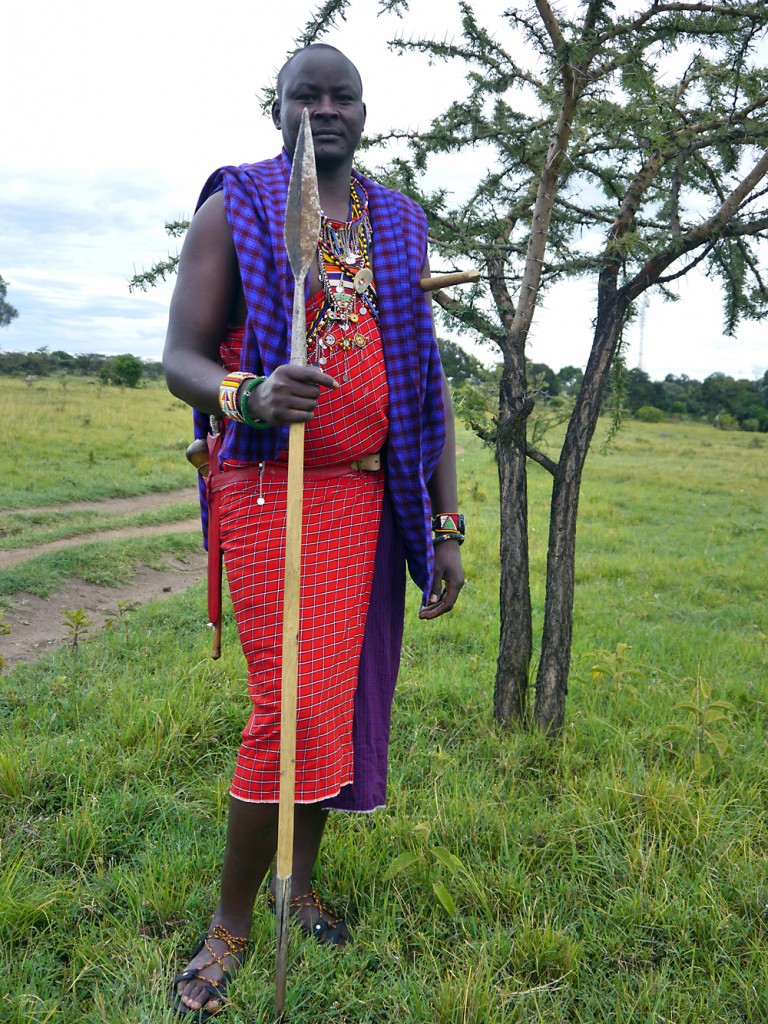 " I have changed quite a lot in my opinions the last few years" , Joseph Ole Kitembe told me when we stood chatting outside the main building belonging to Kensington Mara West; "Today for example I think all children should have an education. But we need to preserve our heritage as well. I think we have to find ways so for example all teenagers have to do a year as a moran (warrior) before they continue their higher studies. in this way we will keep our heritage."
Joseph works as an askari or nightguard for Kensington Mara West which is spectacularly positioned up on a ridge, the Oloololo Escarpment, overlooking probably the best game park in the world, Masai Mara. He had worked for other companies all over East Africa, but decided he wanted to return back to his home area, il-siria. He belongs to one of the smaller  of the 16 Masai clans, il-siria. And I never met them during my walk through Maasailand back in the year of 2000, mainly because they were located in the far west of the park and I prepared in the village of Talek, the home of the il-purko clan. From there I walked eastwards and never came across the il-siria. However, I remember my loitai and purko partners, Lekinjot and Oleleuka, weren´t too fond of the siria, mainly because they had a subtribe called ndorobo, who they considered dirt eaters. When I mentioned this to Joseph, he just smiled.
Olekitembes home easn´t to far from the camp and he told me an elephant had passed by our suites in the night. As quick as it got dark, we were not allowed to go to our rooms without being accompanied by Olekitembe. Leopards, hyenas, elephants and buffalo all passed the camp on and off on their search for food and routes. Even though I hadn´t been in East Africa for 12 years it still felt like I hadn´t been away for more than a few months, it still felt a bit like my real home, my origins. I was very happy to be back. There´s something with Africa which differs from all other continents. It is this feeling of belonging, touching your origins as a human being. I wasn´t the only who felt this when we landed at the private airstrip just below the escarpment. Jeff felt the same. It was probably even stronger for him, since he grew up in Congo and Kenya. This feeling is very distinct and part of it its composition is the vast views over the grass savanna, the smell of earth and the eternal smiles of the Africans.
 "How are the masai´s doing today?" I asked Olekitembe, since I knew from my time back in 2000 that they were badly marginalized by the leading tribes of the country, due to old animosities, since those who rule today, used to be treated quite badly by the masai. The time since Kenya freed itself in the year of 1964 from the burden of British colonialism, the other tribes have hit back at what they see as their former bully and the tribe which the British favored more than the others.
"Well, it is all politics. We have one MP, but I don´t think he is doing to good", Olekitembe answered.
Looking at Olekitembe gave nothing away. He had is orinka (club), ol alem, the short sword and his belt offered many colors  The only new thing in is attire since back in 2000, was his mobile phone. Most of his friends and family had phones today, even if they still lived in their huts built by cow dung, manyattas. The mobile phone have changed a lot for the better in Kenya. But compared to the great changes I saw in Nairobi, 12 years since I last was here, the masai in the western Mara hadn´t taken they same step forward. They´re still dealing with the loss of land, circumcision, common African diseases and lack of resources like education. But, as the last time I was here, there´s many people around willing to help the Masai in a very unselfish way. Two of them were Andy Aho and his spouse to be, Francis. Andy is one of these extra ordinary personalities that one comes across in a place like East Africa. Builder by trade he just wanted to make a difference, and he is, and during our visit he had together with Kensington Tours built the first secondary school for the Masai in this area. A huge step forward. Because as Olekitembe said;
"If we are going to survive in the future, by which I mean keeping our heritage and competing for better jobs and political positions, we need to get educated quickly."
Now, Olekitembe is just a night watchmen, but I did realize whilst talking to him, that it did seem that the Masai had a much better outlook on their future compared to 12 years back. It seemed like they knew more, were updated on what was happening around them and beyond and his way with words were impressive. I felt real good talking to him and he called me by my Masai name, Olorogwa. Or maybe it was just that I felt so incredibly good to be back in Africa, so I just saw everything positive! Africa makes that to you. And it doesn´t get much better as a 50 year old with some sort of a vacation from the loved family, to sit overlooking Masai Mara on the patio of one´s room, smoking a cigar,  hearing whooping hyenas and spotting a big herd of elephants just below, whilst you listen to somebody as smart as Olekitembe. Happiness!
Well, maybe doing it all in a balloon! Stayed tuned for the next insight into the World of The Gentlemen´s expedition in East Africa!
Photo Gallery from The Gentlemen´s Expedition in East Africa 2012.
Earlier Gentlemen´s expeditions