A German adventurer is crossing the Alaskan wilderness on horseback, nearing the end of one of the most remarkable equestrian journeys in history. His epic trip began nearly 20 years earlier in Patagonia, near the southern tip of South America.
Guenter Wamser is currently out of contact, but is almost certainly nearing the end of his epic journey, during which he has covered more than 25,000 kilometers (15,535 miles).
In 1994, Guenter, an airplane mechanic by trade, set out from Patagonia on horseback with the intention or riding north to the top of Alaska.
CuChullaine O'Reilly, a founding member of the Long Riders' Guild, the international association of equestrian explorers and long-distance riders, reports that Wamser is now deep in the Alaskan back-country and is expected to be nearing the end of his expedition.
His journey took him from Argentina into Chile, Bolivia, Peru, and Ecuador. He reached the top of South America five years later, in 1999.
In 2001, Wamser resumed his ride, taking four years to reach Mexico after riding through Panama, Costa Rica, Nicaragua, Honduras, El Salvador, and Guatemala.
He crossed Mexico, but his Criollo horses were not permitted entry into the United States because they were found to be infected with the tropical protozoan disease, equine piroplasmosis.
They were rehomed and Guenter adopted four formerly wild mustangs, which had been captured by the Bureau of Land Management and retrained by prison inmates in Canon City, Colorado, as part of a rehabilitation program.
In 2007, Guenter and his traveling friend, Austrian-born Sonja Endlweber, began riding the Continental Divide Trail, heading north through New Mexico, Colorado, Wyoming, and Montana before entering Canada.
They wintered over in the Yukon and have since used the northern summer to push north to complete the ride.
Wamser, who was born in 1959, had worked initially as an aircraft mechanic but,  at the age of 25, took a different course. He started to travel, first with a motorbike. After a few years, he discovered the joys of traveling with horses.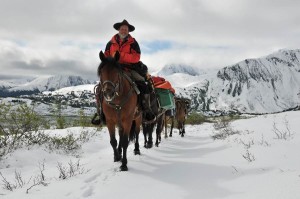 O'Reilly describes Wamser, who is also a founding member of the Long Riders' Guild, as a talented author and a fine photographer.
"He is also rightly considered Germany's most important living equestrian explorer."
"During the many years and the thousands of miles he has ridden, he has successfully survived tremendous dangers, overcome incredible challenges and always treated his horses with the utmost kindness."
"He is, in a word, a fine example of the equestrian ethics which the international Long Riders' Guild strives to promote."
O'Reilly noted: "By using Criollos from the pampas, and Mustangs from the plains, both parts of Guenter's amazing journey have been done on native horses which originated at either end of the Americas."
"These great horses cost very little but have turned out to be extraordinary examples of how good, strong native horses are so well suited for equestrian travel."
"If there is a modern 'hero of the mustang', which represents both North and South America, then Guenter Wamser has earned that honor!"
O'Reilly says he had been observing with increasing alarm the rising levels of horse neglect and abandonment, with many horse owners struggling due to tough economic times.
"In contrast to abandonment and cruelty, Guenter and his horses are a stark reminder of the incredibly rich emotional experience which horses and humans both achieve when they set off on a long journey together."
"During his many years in the saddle, this German Long Rider has literally ridden thousands of miles."
"Yet his treatment of his horses has always been of paramount importance. He has never rushed them, abused them or over-ridden either the Criollos or the mustangs."
"That is why, even though his BLM mustangs have traveled thousands of miles across some of the world's most challenging terrain, Guenter's horses are all in superb condition."
"Guenter is therefore a great example of how an ethical equestrian traveler can overcome all kinds of dangers and challenges, all the while remaining true to his horses and protecting their interests."
Ride website: www.abenteuerreiter.de/2013/ All photos Copyright Guenter Wamser
Neil Clarkson is editor of Horse Talk New Zealand. Visit http://horsetalk.co.nz