"Om ni kikar över kanten här, så ser det enda protestantiska område på den här sidan älven, omgiven av ett hav av katoliker", förklarade guiden med stort engagemang när vi följde med på en tur längs den mur som började byggas 1613 för att dela de två grupperna; "Men vet ni, jag har en önskan och tror att det kommer att ske, nämligen att den fred vi har fått till här på Nordirland, i framtiden inte bara kommer att hålla, utan även fungera som ideal för andra konflikter världen över. och att Derry blir utgångspunkt!"
 Derry som katolikerna kallar den, eller Londonderry som protestanterna kallar staden, är en värdig avslutning på ett besök på Nordirland. Platsen går också under namnet Stroke City. Den liksom sammanfattar Nordirland. Först och främst, så är lokalbefolkningen är oerhört trevlig, intresserade och hjälpsamma. Och sanslöst engagerade angående sin del av världen och det är lätt att tillbringa mycket tid på att lyssna på intressanta berättelser. Främst angående de s.k troubles. En av de som gjorde en stor skillnad när det gällde att överbrygga de enorma motsättningar som rådde mellan de två, katoliker och protestanter, var en Derry-bo, Nobel pristagaren John Hume. Ett pris han delade med John Trimble. och oavsett hur man vänder på saker och ting, så präglas ett besök i denna underbara del av världen av just the Troubles/Motsättningarna. Och för min egen del är bara det mycket lockande och därför var besöket i Bogside, där det s.k Bloody Sunday eländet inträffande, en av resans höjdpunkter, återigen till följd av de politiska väggmålningarna som är med världens bästa.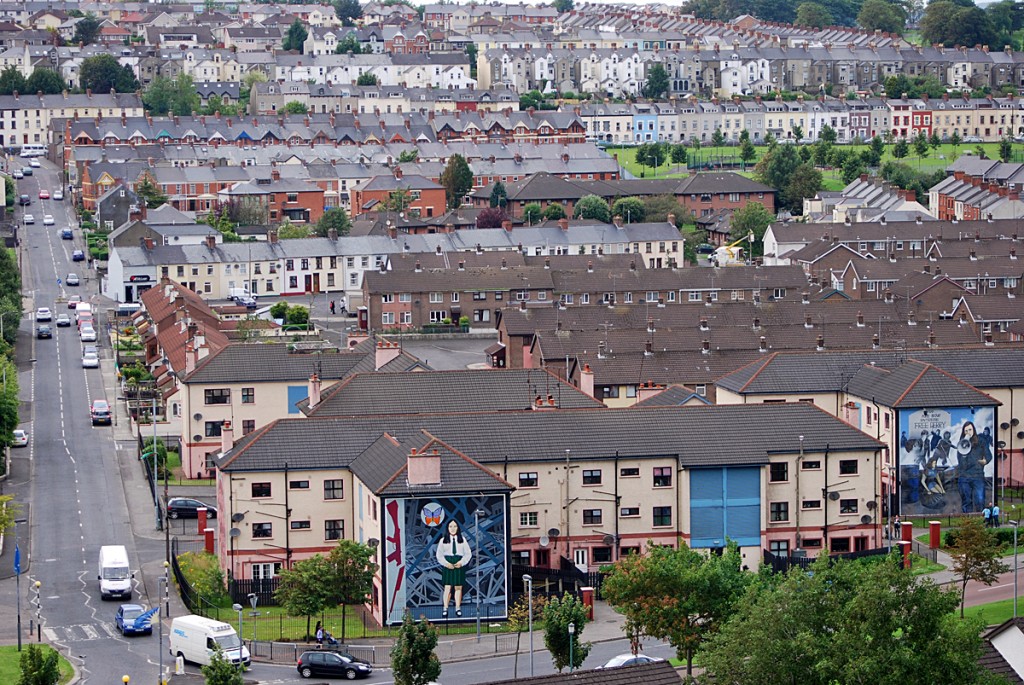 Som helhet måste jag säga att besöket i Nordirland är en uppenbarelse! Jag hade inte förväntat mig att det skulle vara så oförstört, genuint, vackert och sanslöst spännande! Att folk skulle vara fantastiska, det förstod jag efter ett besök i våras i den södra delen, men de är nog ett snäpp mer fantastiska i Nordirland, ovana vid turister som de är. Det är ett helt säkert, mycket familjevänligt land med den mest fantastiska kuststräcka man kan drömma om. Skynda er dit innan det är för sent och de stora massorna börjar anlända till detta lilla himmelrike!
Och jag vill tillägga,
 skall ni hit, så rekommenderar jag er att läsa på om
The Troubles
för att förstå varför problemen finns än idag. Det gör er upplevelse större.