(Swedish version first, followed by the English)
Jo, jag vet. Ni tycker säkert vi är galna. Och det har börjat snöa norröver. Jag fick en bild från det kommande etapp slutmålet och min vän DH:s från bilen foto. Men vi kör oavsett. Tjejerna är definitivt redo!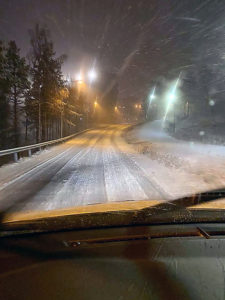 Nu går vi och väntar på grejer från samarbetspartners. Köket och andra intressanta prylar kom från Sibirien-Johan på Ultimate Nordic igår. Exempelvis en sorts enkel kaffebryggare. Soto Mukkan är uppgraderad och skall klara -40. Det är verkligen ett kanon kök. Samt att alla detaljer till det nya gasköket är kanon! Kläderna från Termo Original kom idag. Känns oerhört spännande!
Detta är etapp två. 9 nätter. Vi har gjort 1204 km utav drygt 11 000 km totalt. Se bifogad karta.
Länkar längre ned.
(English version)
I know. You think we are mad. And it has started to snow further north. I had this image you can see from car sent to me by my great friend DH the other day. No matter what, we will cycle. The girls are ready no doubt about that.
At the moment we are getting ready. Basically waiting to leave and for needed gear to arrive. The stove and other new stuff (like a coffe filtering device) from Soto Outdoors arrived yesterday. My old Siberian partner Johan has sent me the best of the best. Soto Mukkan is upgraded and can take – 40 now. And all the new details from the new gas stove are thrillingly interesting.
We will now enter phase 2 over 9 nights out. We have done 1204 km:s of expected 11 000 in total. See attached map.Links further down.
Resan kan ni följa här /The journey will be displayed here https://www.strava.com/athletes/23404606/heatmaps/16ebbd68…
Trailer från etapp 1/Trailer from stage 1 https://youtu.be/54lMp2560Jk
Soto Stoves (kök) https://sotooutdoors.com/
Termo Original https://www.termooriginal.com/