What is a proper Expedition? Are there any guidelines? It is a question which comes up for air more often than ever. There´s no doubt that the name Expedition is misused today, especially in media, who calls pretty much everything moving an Expedition. I personally have an acquaintance in Exploration who calls pretty much everything an expedition, almost when he goes to the toilet. Which is fine for me. For him it is an Expedition. For me, however, I think anything below 6 months of hard travel, isn´t an expedition. But, there are no set rules what constitutes an Expedition, officially, but Explorers Club for example, only gives their honorable Flag to expeditions they deem scientific, no matter length of time or difficulty. It is a sensitive issue, for sure, but I think it  should only be discussed by people who actually live on doing expeditions, not the opinionated arm chair travelers or jealous wanna bees. I get some kind of opinion every week on the issue, sometimes I am really sad, see this for example. But, do also read the 23 comments, for the issue really, is, what is exploration? Who can call him or herself an explorer? What is the difference between advanced travel, an adventure and exploration? It is the second most read blog report I have written, which shows the sensitive side of things. I just want to add that the two British subjects attacking me, one is a woman I met in Yemen, who herself wants to do Expeditions….the other her male friend. Such is life. Everyone has the right to have an opinion!
But the reason I bring the issue up is that the other day I helped a couple of very good friends to look for participants for a very interesting Skeleton Coast expedition they´re setting up. I posted it on various Expedition sites I knew of and immediately got an angry answer:
"Appearently this is a for-profit pay your own way "adventure vacation" venture, not an expedition. Don't you hate it when the adventure travel industry abuses the term expedition to sell empty positions. if you can get enough people to pay the 25 pound processing fee, you can make a tidy profit even before you pick the people who are willing to pay for a position. Mikael, you are damaging your reputation by having your name associated with this type of ethically challanged practice."
My friend, Andy, one of the organizers, gave a very good answer, worth reading to understand the difficulties at putting any type of Expedition together: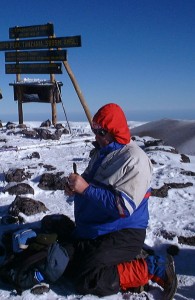 Hi Mikael,
We had ill informed people commenting like this about the first expedition, and people saying it was not a first and that lots of people had walked the route we were doing. I am afraid it all came down to ignorance, and I got quite annoyed with it all in the end, I didn't have the time or energy to answer everyone. All the expeditions we investigated were supported in one way or another, or went inland far enough to reach water, we were the only unsupported coastal expedition ever!!!
As to this "for-profit pay your own way comment", this is ignorance again i'm afraid, these people have never tried to organise a large world first expedition that is being filmed for television. If this expedition is for profit please could they tell us where the profit is, and who is getting it because I think it is very unfair that someone is getting this profit and not us  !!!
The truth of the matter is that the first expedition cost so much to organise that the £5,000.00 we charged each member was not anywhere near enough money to cover the expedition, and Jason and myself almost went bankrupt because of the expedition, that is why we have charged more this time! I spent 4 years in total organising, researching, planning and getting the necessary permissions to allow us to do the 2009 expedition, and I didn't get any money at all for any of this time. The only money that anyone got out of the 2009 expedition, or will be getting out of the 2010 expedition, is a very modest fee for all the administration time, and money to cover the organisers mortgage and expenses whilst away.
If this person who commented on the £25 registration fee, thinks the sum of £300 is a tidy profit between two people for 3 months work, then quite frankly he needs his head examined!!!
I am sorry if I sound a bit aggressive, it is not my nature, but I feel very angry about these comments. These expeditions have proved to be an unbelievable amount of work for a tiny amount of money (you only need to ask my wife!)
The reason for all this work is that there is no precedent to copy or base anything on, no-one has ever done anything like this before, it is difficult for people to understand this because most people don't really understand what we are trying to achieve or how incredibly challenging it is! Everyone has heard of climbing Mount Everest, or walking to the South and North Pole, but no-one thinks walking along a coastline sounds very difficult or challenging at all.
Perhaps it is only when you have done this type of expedition that you can really appreciate what an unbelievable challenge it was, even for a very experienced Arctic and Antarctic explorer like Jason De Carteret.
Anyone hope this is enough information for you to answer this sort of comment.
Andrew.
Excellent answer in my opinion. However, it is a good question! How to define an Expedition?
I would very much like to have an opinion from you readers, no matter what you do for a living, on the subject, what constitutes a proper expedition?