What equipment do I need to bring on a trek in the far north this time of the year? Spring time when the nature is once again dressing up in colors after another sterile winter, birds do hour long symphonies and the air is optimally fresh and crisp? Any specific one´s since the environment is till snowy, relatively cold and rainy? These were questions I asked myself whilst packing this week for a two week hike in the Scandinavian mountains. A great hike I will tell you about later. So, I browsed through my old papers from my time living in the north and found this one, which I would like to share with my readers. It is based on the knowledge of flooded rivers, still deep snow at high altitude, possibly continuous rain, mist and difficult orienteering.
The list is based on two people sharing stove, tent, axe, saw and gas.
Backpack
Raincover for backpack
Garbage bag plus 2 spare ones, to pack all things in and tucked in the backpack
Tent (3 season)
3 season sleeping bag
Therma Rest plus a traditional foam pad (Not the thickest)
2 layered Gore tex jacket with hood and trousers
Gaiters
Boots (we will go for boots and use gaiters and duck tape to keep the water out whilst crossing)
Trainers or type Teva sandels
Trousers (for hiking, I use Tekaware from TNF)
Long sleeved shirt (we use the underwear from Termo)
Vest (Termo)
Underwear (3 pairs, one long john and two shorties, we will wash along the trek, Termo)
Socks (Termo, 2 thin, 2 thick)
Tophat (Termo)
Baseball Cap American style or similar (light is strong on the mountain)
Gloves
Warmer style top hat
Towl (small one)
Toilettries (personal use ,e.g  small soap, tooth paste, toothbrush, 2 rolls of toilet paper)
Medical bag  (aspirin, bandaid, bandage, rennies, Compeed, tape for feet, mosquito repellent, Volcan knee cover)
Sun lotion, small tube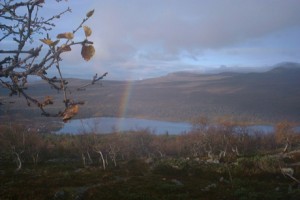 Lip balm
Sunglasses
Plastic cup, utensils ( I only bring a spoon)
Stove and gas
Lighter
Jukka stick
Leatherman tool
Food for ten days (You said you would bring your breakfast, I will get lunch and dinner. Pack breakfast for 12 days in good sturdy bags, 2 as backup, trip will be 10 days. On top of that, what do you want, coffee and/or tea? And also do 10 bags, one for each day of trail food, like chocolate, nuts and so on. I will get bread here with some stuff to stick on. 2 slices per day per person.)
Compass, preferably a Silva
Map (I will get one each and send one to you soon)
Mapcover in plastic
Headlamp (even though we have 24 hours of daylight almost, but a simple back up)
Camera (remember the weight)
Binoculor
Mobile phone (yours won´t work, I might bring the satellite phone)
Dry bags to carry these items in
A book
Axe
Saw
Walking pole
Snowshoes
2 12 kg dumbbells each
And there´s no doubt that light weight makes a difference. So leave those dumbbells at home.