Antarctica, the South Pole, I doubt that any other two names have such an extreme appeal on most humans within geographical exploration and adventure. The race to reach the South Pole is continuously re-examined and re-written. But there´s so many other stories, which are kind of fallen into the darkness, which are at least as interesting, adventurous and thrilling. We have been thrilled by Long Rider President CuChullaine O´Reilly´s new evidence of meat eating horses and their time on the continent. And now, Glenn M. Stein will tell us another intriguing story, in three parts! This is the last part.
The first article was published here and the second here!
The other letter was undated and announced the medal's approval:
NAVY DEPARTMENT
OFFICE OF THE CHIEF OF NAVAL OPERATIONS
WASHINGTON 25, D.C.
From:  OINC, United States Antarctic
Service Expedition 1939-1941.
Your part in the 1939-1941 Antarctic Service Expedition
has at last been rewarded.  By special Act of Congress
a medal has been bestowed upon you.  It is thus the
expression of the appreciation of the American people
for your work in the Polar regions.
As Commanding Officer of this Expedition I desire to
congratulate you and to express my gratitude for your
part in helping to make this undertaking successful.
With this letter I send you my sincere good wishes for
your continued success and well being throughout your life.
I shall always be interested in your welfare.
[signed] R E Byrd
Richard E. Byrd
R. Adm.  USN (Rtd.)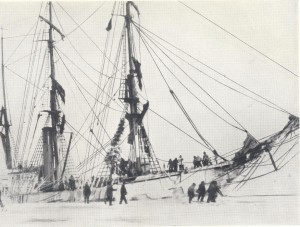 But that wasn't all. Not wishing to leave anything to chance, the author gently removed the lining of the case, and spied a pristine length of spare ribbon, whose colors invited the touch of its durable, tight weave.  Robert Colombo marveled at these discoveries, as he had no idea the items slumbered undisturbed all these decades.
According to the Papers of Admiral Richard E. Byrd, held at The Ohio State Univesity Archives, Colombo received his medal from the commanding general of the 9th Infantry Division, at Fort Dix, New Jersey (but does not indicate a date).  However, the front page of Fifth Corps' newspaper, The Guardian, sounded off on January 8, 1954:  "Navy Decorates Cold Weather Expert."  An accompanying photograph showed Master Sergeant Louis Colombo (373rd Armored Infantry Battalion, Wildflecken, West Germany), having the medal pinned on him by the battalion commander, Lieutenant Colonel William N. Colyer.  Between the newspaper report and the 1950s-era plastic award case containing the medal, the 1954 presentation has solid support.   Perhaps an intended Fort Dix presentation was never carried out?
The years after Colombo returned from the frozen continent for the last time were still filled with cold and ice – at the other end of the world.  He embarked on a Army career, and with his polar experience known to the higher ups:  Colombo was sent to a secret weather and radio outpost on Baffin Island (in the Canadian Arctic archipelago), taught cold weather survival, served on Greenland's icecap, and was then ordered to Belgium as a rescue unit specialist during the Battle of the Bulge, but the fighting had run its course by the time he arrived.
The spirit of Jack Frost never left Dog Driver Louis Colombo. During the 1928-1930 expedition, the flight over Marie Byrd Land brought into view a mountain in the Edsel Ford Ranges (76º31'S, 144º44'W), and a decade later, Colombo and his dogs roamed the area with a United States Antarctic Service's biological party.  On New Year's Day 1947, that mountain officially became Mount Colombo.
Footnotes
1 The Dr. Arthur B. King Collection (Morton & Eden, Oct. 3, 2003, lot 620) featured a gold issue to a seaman and fireman aboard the S.S. Eleanor Bolling, which is named:  CARROLL B. FOSTER JR.
2 As chilly as this temperature is, it doesn't hold a candle to the record lowest temperature ever recorded on Earth:  -129 °F.  This on July 21, 1983, at Russia's Antarctic Vostok Station.
Note:  This article first appeared in the Journal of the Orders and Medals Society of America (January-February 2011, Vol. 62, No. 1)

Acknowledgements
A special note of thanks is due Ms. Laura J. Kissel, Polar Curator, Byrd Polar Research Center Archival Program, for her professionalism and generous assistance.
Mr. Joseph Colombo
Mr. Robert L. Colombo
Mr. Robert P. Colombo Jr.
Ms. Leilani Henry
Dr. Alton A. Lindsey
Ms. Elizabeth S. Lindsey
Ms. Louise W. Lindsey, JD
Dr. Hal Vogel
References
Adams, Harry. Beyond the Barrier With Byrd: An Authentic Story of the Byrd Antarctic Exploring Expedition. New York: M.A. Donohue & Company, 1932.
"Alton A. Lindsey, 92, Dies; Ecologist Left Global Imprint."                                                                                               The New York Times, Dec. 23, 1999.
Byrd, Richard E. Discovery: The Story of The Second Byrd Antarctic Expedition.                                                   New York: G.P. Putnam's Sons, 1935.
Correspondence and Conversations with the Colombo Family.
Correspondence and Conversations with the Lindsey Family.
The Honours and Awards Presented to Admiral Richard E. Byrd.                                                                             London: Sotheby's, Nov. 10, 1988.
Kroulik Jr., Alfred R. "Polar Awards of the United States: The Byrd Antarctic Expedition Medal, 1928-1930," Journal of the Orders and Medals Society of America 40 (January/February 1989): 5-10.
__________________ "Polar Awards of the United States:  The Second Byrd Antarctic Expedition Medal, 1933-1935," Journal of the Orders and Medals Society of America 40 (March 1989): 5-11.
__________________ "Polar Awards of the United States: U.S. Antarctic Expedition Medal, 1939-1941," Journal of the Orders and Medals Society of America 40 (April 1989): 6-11.
Louis P. Colombo Papers (held by family).
"Navy Decorates Cold Weather Expert: Dog Sleds and Pemmican Recalled by Arctic Explorer." The Guardian, Jan. 8, 1954.
The Ohio State University Archives, Papers of Admiral Richard E. Byrd, Record Group 56.1, folder numbers 635, 4808, 7304.
Reader's Digest. Antarctica: The Extraordinary History of Man's Conquest of the Frozen Continent. Surry Hills: Reader's Digest, 1990.
Stewart, John. Antarctic: An Encyclopedia (2 volumes)                                                                                          Jefferson, NC: McFarland & Company, Inc., 1990.
Strandberg, John E. & Bender, Roger James. The Call of Duty: Military Awards and Decorations of the United States of America. San Jose: R. James Bender Publishing, 1994.
United States Board on Geographic Names (United States Department of the Interior),
http://geonames.usgs.gov.
Copyright 2009, Glenn M. Stein, FRGS
To reproduce or distribute, visit: gmsteinfrgs.icopyright.com
updated Aug. 4, 2011
GLENN "MARTY" STEIN, FRGS, is a polar and maritime historian who was born in Miami, Florida, and raised on a barrier island south of Cape Kennedy.  He has conducted research since 1975, and earned a bachelor's degree in Public Relations and minor in History from the University of Florida.
Glenn's writings regularly appear in journals and magazines, having published over 50 articles to date, and he has been acknowledged in several works on polar and maritime history, and medals. He is a Life Member of the American Polar Society, Fellow of the Royal Geographical Society (FRGS), and member of the International Exploration Society, Orders and Medals Research Society (UK) and Life Saving Awards Research Society (UK).
In 2006, Glenn was asked to be the website polar historian for the International Polar Year 2007-2008.  The invitation came as a result of applying to curate the exhibit, "The Lady Franklin Bay Arctic Expedition (1881-84) and the First International Polar Year" at the University of Central Florida, Orlando.  In acknowledgement of his contributions, he received the Certificate of Appreciation from the World Meteorological Organization (Switzerland) and The International Council of Science (France). Glenn is also the designer and a recipient of the 2009 Antarctic Treaty Summit Medal.
After several years of in-depth research on HMS Investigator and her crew, Glenn is currently writing a book about the 1850-54 expedition.  In 2008, his two-part article, "The Voyage of HMS Investigator (1850-54):  Solving the Mysteries of the Arctic Meritorious Service and Gallantry Medals," was published in the Orders and Medals Research Society's Journal.  The following year, Glenn was awarded the Journal Prize for this "thorough and important research into two little-known and rare Arctic awards".
In 2011, Glenn began working with Parks Canada on its HMS Investigator/McClure's Cache Project, contributing research and writings to the website as the project progresses.