Yesterday I received news that over 200 people had frozen to death in Russia due to the extremely cold winter over there. At the same time I received a request from a magazine in the USA to put together a list of the most invaluable items of equipment I would bring on a modern, hard working Arctic (which for me incorporates taiga!) Expedition. Finding the right equipment for extreme cold isn´t easy. It all depends on what you are going to do. For those poor people freezing to death, a full kit of fur would definitely help, but I am sure, the lack of food and proper housing is behind those Russian deaths. But if you are a relatively wealthy adventurer doing any kind of adventure in extreme cold, modern polar gear is to be preferred. After a bit of thought, evaluating the issue of fur versus modern gear, I picked these 10 basically based on my 1 year experience  skiing and canoeing down the Kolyma river but also from last years short visit to Oymyakon: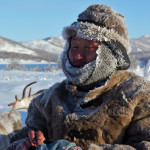 1. Thermal underwear, since it keeps your warm even when damp. Incredibly important to pick the right one's! Probably the most important item for such an Expedition! Termo Original of Sweden produce the best of all thermal underwear that I've tried throughout 20 years of exploring. They don´t itch, they're very durable, comfortable and they keep you warm. Even in Siberia!
2. Axe. Since fuel like petrol just doesn't work at all when temperatures continuously stay below -50 degrees Celsius, which they do 24 hours a day during Mid-Winter, an axe to supply firewood is essential. Fuel will work, if you sleep with the petrol bottle inside the sleeping bag all night!
3. Matches/petrol. Lighters don't work at all, matches and petrol needed to get a fire going quickly. There's no time for mistakes.
4. Boots. We brought three varieties on our Siberian journey 2004-05. And we didn't pick up one single frostbite on our feet! Mainly because we never stood still, but also due to the right choice of equipment. Our ski boots were handmade by Crispi and named Top Expedition. When staying in settlements we used great boots from Baffin. In the tent we used Russian felt boots called valenkis. Uncomfortable for walking, but very warm and worked well as camp boots.
5. Down jacket. We used Mountain Hardwear´s Absolute Parka on the same Expedition. It did the work, but needs to be far bettered. For example, far too small pockets, and biggest size to small. We did have the biggest size they had, but when extremely cold, your movements are slow, clumsy and fingers are normally incredibly stiff, so everything has to be bigger and simpler.
6. Down sleeping bag. We used The North Face Inferno Endurance, their top of the line bag, but comfort temperature is only -40 degrees Celsius, so we also brought a TNF Snowshoe and both worked good enough together. During Mid-Winter our sweat froze on our backs, under armpits and so on and it took 8-10 hours to thaw up in the sack.
7. A compass/maps. I've used Silvas Expedition 25 compass for years and it never fails and it worked very well in the extreme cold.  Good maps are essential.
 8. Good head gear and the same applies to balaclava and facemask. Our major problem. We used wool balaclavas, the TNF balaclavas and Top Hats and we had a facemask made by Taiga, but none of them worked properly. The best was the facemask. Since this trip I have tried all facemasks on the market and have found no better for extreme cold. In combination with each other, relatively good, but not perfect. But the hood on the down Jacket and the Gore-Tex Jacket from the Mountain Hardwear,was sufficient during rest.
9. Working outfit. We had the perfect combination here. And the recommended choice is a 3-layered Goretex Jacket and good skiing pants and this combo never failed us!
10. An assortment of good gloves. We had a variety of gloves. Everything from thin fleece gloves, wool gloves to heavy down mittens, but they didn't last the full winter.
It should be said, it isn´t easy finding modern material which can handle extreme cold below -50 degrees Celsius. But, I would say modern gear is to prefer ahead of fur, if doing hard physical work. If not, there´s nothing like fur!
See these photos as regards to modern kit versus fur.
I did this little clip below as reagards to thermal underwear: