This  is an invitation to participate in creating a new concept, a concept that in the best case scenario might have the potential to spread as rings in the water and lead to better living conditions for people in need all over the world.
It is a request and an encouragement for you, to use your positions, network and skills for the sake of a greater case. It is an offer to let you feel the unique satisfaction and inner peace that comes to the one who knows he has done a difference in changing or even saving the lives of other human beings. 
The water supply
The foundation of the thoughts of this project started back in June 2013. I had been living in a Tanzanian Maasai village for half a year working on another project. The village, Lengasti, didn't have electricity and most of the time the water supply system was dysfunctional. At the moment the village water supply has been down for more than 8 months.
For the poorest people in the village this means that they have to walk about 19 kilometres forth and back to collect clean water for drinking and washing. The people who does not have the time for that uses the dirty water from the mud pits where the cows drink, bathe and shits, and they suffer from the obvious consequences this has on their weakened bodies.
As I left the village I made a promise that I would try to figure out how to optimize the water supply system from Denmark.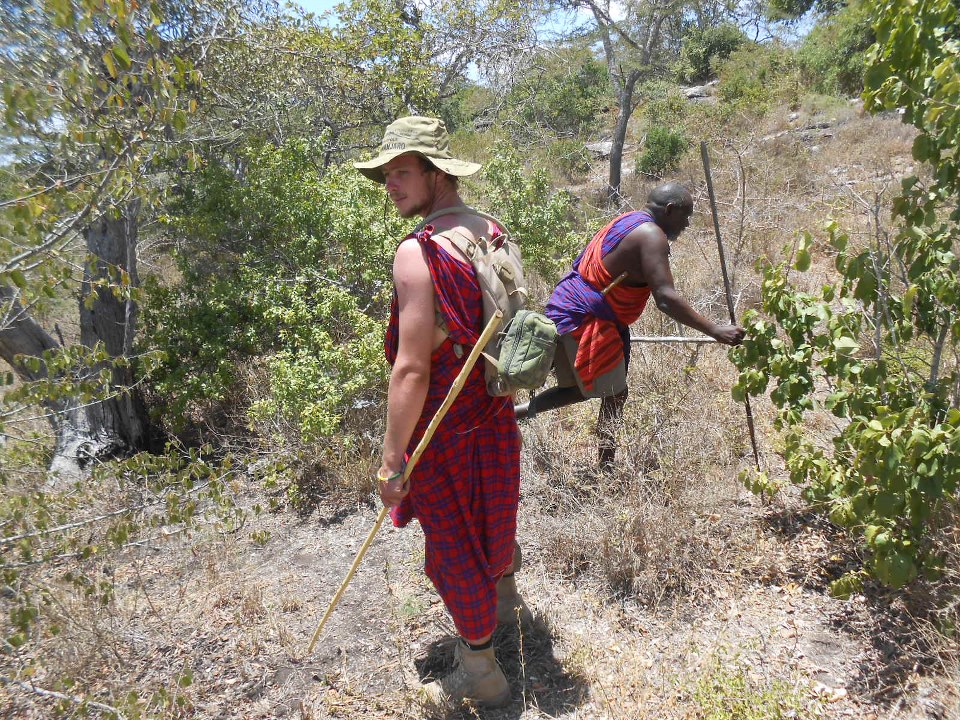 To put it short, the problem is that the two diesel-generators attached to the water pumps for the supply system is old and breaks down all the time. When this happens the water supply system can be down for several months because spare parts can't be bought in the country and nobody actually has the responsibility of the maintenance. All in all it is an unreliable and worn out system which is also expensive and bad for the environment even when working.
In association with BridgIT Water Foundation and Projects Abroad, we have worked out a technical report about the situation and there are a number of different solution opportunities. However my original plan, to exchange the two diesel-generated pumps with one electricity-driven pump, is extremely expensive and unreliable according to the BridgIT Engineers.
At the moment we are having a look an alternative solution, driven by Solar-Power. If this turns out to work, the project will be an pioneer example of how to bring water to a lot of villages in the same situation, in a cheap, sustainable way that is easy to maintain.
Either way, we will find a solution for this particular village in one way or another.
The Pilgrimage 
To attract a sponsor for the water-supply, my plan is to let a TV-channel cover the journey through Europe and Africa as I am walking from Denmark through Western Europe, around the West African coast, through the mid of the continent, ending in Tanzania in Eat Africa. This journey will be about 18.000 kilometers (25 km/day)
On the journey I will visit a lot of different countries and make a documentary of my experiences on the road.
The route has to be very carefully planned and for that, I will need some qualified help from experienced travelers and adventures, so if you know someone who you think might be able to help with advises or networking, please introduce me.
The whole concept about a long physical and spiritual journey for the sake of something divine, gives associations to the pilgrimages religious people has committed for centuries, walking thousands of miles to come to Jerusalem or Mecca etc. to show dedication to a higher spiritual power. I like the fact that the idea of this journey beside being original draws parallels to this religious phenomenon, it is the modern man doing something physical to help his foreign brothers and sisters to a life-standard closer to his own. Who knows, maybe if we handle it the right way it could turn out to become a whole new way of travelling and people from all over the world would make their own philanthropic pilgrimages. 
The procedure
By now I am at a place where I am sure this is what I want. I have consulted my close ones and have started my training and planned preparation trips. I have started to make a team of dedicated people who can help me organize the details. I still need experts on different subjects though. I need adventurers and ambassadors to help me plan my route, and get me the tools and contacts needed to pass hostile areas like countries with civil or armed unrest, or great dessert areas etc. I need contacts to TV-channels or showbiz people who knows how to make this journey worth watching. I need people with good networks to help me spread the word about the concept and finally I need a big company to sponsor the project, make a difference and benefit from the Coporate Social Responsebility.
I hope it has become clear that I cannot do this without help. So if you can and will help me in any way, please do not hesitate to contact me.
Together we can make a difference
Best regards
Charlie Uldahl Christensen