We returned from our great journey to the Kyzylarai mountains in a fog of vodka drinking the past Sunday. A week later that fog is still there, early Sunday morning. The girls are still sleeping after we all returned after midnight after a farewell party at some friends house near the center. Seldom have I enjoyed parties as much as in Kazakhstan! I just feels…the right thing to do! The discussions are great the jokes many and the characters plentiful. This fact also applies to people seen at the Shaktar Stadium! I have to say it was a remarkable experience. Shaktar Karagandy beat Celtic last year in the Champions League qualifying rounds, 2-0 at the stadium in Astana, but pretty much the same team as we saw playing a team from Astana, and I am stunned of the quality. Sure, it was a really cold today, the pitch looked muddy and wet and maybe they weren´t that focused on this game, but, well, no passion, some of the players wouldn´t even get a place in my nephew´s team in Sweden, Dala-Järna IK. Number 45, Roman Murtazaev, managed to not get one single pass right, which is exceptional since the tempo was low. Still, it was great to see, though the stadium was empty. Lots of riot police there, i have no idea why, But this was Dana, Eva and my wife´s first football game ever and they didn´t complain once!
The heating in our building was turned on the 1st of October and we could undress. Just like in Moss Side, Manchester last year, we had all been dressed like being outdoors almost. What a relief, what a joy! Naturally we all went down with a flu which has persisted up until today, when we all went to the big outdoor market near the railway station and bought shoes and ate some great shashliki. I bought my trainers for 5000 tenge (less than 20 pounds) but when I came to the gym near our house, Empire Gym, they wanted 22500 tenge, like a 100 pounds a month…I am still upset! This is such a ripoff. I pay 9 pounds a month for a pro gym back home!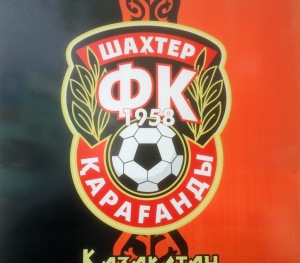 Still, life is relatively cheap here, slightly lower than the UK on the food, travel cheap, but Western stuff like a gym, outrageous! Except this little problem, we don´t need anything else. Fruit, vegetables and food is superb and I am amazed that we Swedes actually don´t understand the difference between gen manipulated food and real food. The taste of the plums here, not looking that nice on the outside, is just incredible. they´re so sweat and tasty. in Sweden they look polished and tasty, but there´s absolutely no taste in comparison. Another reason for moving to Kazakhstan!
Markets in general are great places for observing people from the most amazing places. As in the Middle East, most shoe stores are run by men. Even if they predominately sell high heels boots and shoes for females. But the atmosphere, the smell, the conglomerate of people, amazing and never ever boring!