By
Leon McCarron
I don't make a habit of seeking out apparently dangerous places to visit, but last year I spent five weeks exploring rural Iran – a country where the Irish government recommends travellers should 'exercise caution' (and the British FCO flatly advises against 'all but essential travel.') I went because I had an inkling that exploring in Iran would not be the hazardous affair the official line implies – I've met a few intrepid tourists who have passed through, and almost all attest to it being not just safe, but one of the friendliest countries in the world. That's quite a claim. I wondered whether, like the Middle East in general, Iran is suffering from a severely unfair image problem.  When my friend Tom asked if I'd like to join him on an expedition there, the chance to see for myself was too good to pass up.
Tom wanted to trace the longest river in Iran, the Karun, from its mountainous source all the way down to the sea where it empties into the Persian Gulf. We figured on travelling mostly by foot and packraft – ingeniously portable inflatable boats that, for the most part, replicate a kayak in even serious whitewater.
Finding detailed maps of Iranian mountains was hard work, but we figured the unknowns could all be part of the adventure. We established roughly where the source would be, procured a visa (not that difficult, just expensive – we had to use a company called The Visa Machine to sort the tricky documents) and booked a flight to Tehran for early February.
From the capital we headed southwest by bus into the largest mountain range in the country – the Zagros.  Iran is absolutely vast, boasting the second largest landmass in the Middle East, and inevitably there is huge diversity in climate and landscape. As our vehicle climbed above 3000 metres, the temperature dropped to the minus teens.  Soon we were surrounded on all sides by towering peaks, jagged edges softened by the deep ubiquitous snowfall. At times it looked like the Alps, occasionally the Antarctic.
The road ended in a six-foot snowdrift, and we marched (heroically) off the tarmac towards a trickle of water that we hoped was our river. Within ten seconds Tom fell over, face first into the snow, and broke his brand-new trekking pole. The Karun was just a few metres wide, barricaded in by walls of snow, and for the rest of our inauspicious first day we followed it carefully upstream towards the source, travelling painstaking slowly in cold, tricky conditions. That evening we pitched our tent inside the pillars of an isolated mountain tomb and dined extravagantly on Iranian-brand instant noodles. A hefty blizzard and the all-too-close howling of wolves during the night proved almost as unpleasant as the aftertaste of the noodles.
The next day we established a position as close to any definitive 'source' as we were going to get (the river begins life via a series of mountain springs in the area) and so we turned south to trudge slowly back along the riverbank, then onto paved roads through the villages that flank the Karun. The expedition had begun.
Locals came to greet us, and always offered cups of hot black tea. Tough-looking men with leathery faces would quiz us on our plans; while I have all the linguistic skills of a brick, Tom is more gifted and speaks near-fluent Farsi. "Are you two Chinese?" asked one man. "No," said Tom, "English and Irish." "Ah Ireland!" the man replied, "home of the famous Bobby Sands!"
 It quickly became clear that the most enjoyable aspect of this trip would be the people. I agree, without hesitation, with all those who call this the most hospitable country in the world. Almost every night we received unsolicited and genuine offers to come and stay in family homes. Accommodation was accompanied by enormous dinners and hearty breakfasts and the more time we spent there, the more of a tragedy it seemed that Iran is viewed so negatively abroad. The issue bothers Iranians, too – a sadly common question asked of us was 'Do people in your country think we are terrorists?'
After a couple of hundred miles of trekking we figured the river was deep and fast enough to try the boats. I am a novice paddler, but the liberating feeling that comes from floating down a stunning waterway is universal. The packrafts gave a totally different perspective on the river, and my body and mind relished adapting to these new horizons.
The river meandered through wide valleys for a few days, gradually picking up volume from adjoining creeks. Soon it began to cut through deep-set gorges; at times, two and a half vertical kilometres separated our boats from the peaks above. In one of these sections I misjudged the current when veering around a rock and within seconds my boat was swamped. I capsized and floundered upside down (heroically) for a few seconds before swimming to the nearest bank and grabbing onto dry land. I chased down my boat and caught it by some rocks, but the paddle was gone.
Tom reported that he caught sight of it being sucked into a whirlpool, and remarked that a good paddler never lets go of his paddle. It's best I don't repeat my reply; priorities change when you're upside down in an Iranian river gorge. We packed up and spent the rest of the day hiking over switch-backed mountains until we found a path to the main road.
Luckily, in Iran there's no such thing as a problem – certainly not an insurmountable one. In the nearest town, it was only minutes before a local taxi driver had made some calls, contacted the local sports centre and driven us to meet the manager. Before the day was out I had a new paddle and the following morning we hitchhiked back to rejoin the river.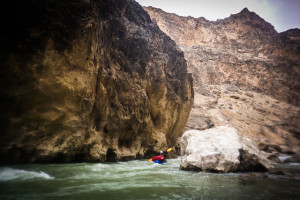 We followed it south for another week before hitting flat-water backed up from the huge industrial dams that characterize the middle section of the Karun. There are now five of these in place, one of which is reputedly the largest in the Middle East. Packrafting was no longer viable. We retreated briefly to the city of Esfahan to renew our visas, and hit on the idea of buying some cheap bicycles for the next leg. Within 24 hours we found an even better offer; a complete stranger offered to lend us two touring bikes when he heard about our plan. 'Good luck, bring them back when you can!" were his parting words. Iranian generosity knows no bounds.
Back in the mountains we maximised our newfound speed, powering up endlessly steep climbs before screaming our way down switchbacks on the far side. Sporadically we'd spot our river too, now bloated into a series of vast lakes far below the road. The Zagros finally spat us out from a plateau where an epic winding descent was carved into the landscape. Below was green as far as the eye could see – flat, irrigated fields of rice and wheat.
I unfortunately picked up food poisoning, and prescribed a remedy of chocolate milk plus 130 miles of cycling in two days. Neither were a good idea but we nonetheless reached Ahvaz, a thriving, modern Iranian city, and the point at which the Karun becomes navigable by ships from the Gulf.
Fancying another change of pace, we hoisted small packs with raincoats and cameras onto our shoulders and reverted to walking for the final stretch to the city of Abadan. Reaching it took three days along a dull, flat road, only catching an occasional glimpse of the now unrecognizably wide, busy river. We trekked forty miles that last day before collapsing exhausted in a cheap, dingy hotel room.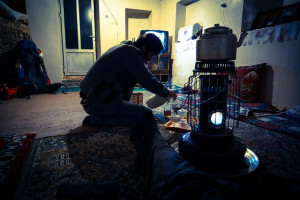 The Karun was now just a few miles from the Persian Gulf and, in the next town along, by a memorial to the Iran-Iraq war that devastated this region, we arrived on the river bank beside a decommissioned anti-aircraft gun. South of the memorial was a military zone and the river here constituted the international border with Iraq, so we were allowed to go no further. Our trip was at an end.
On this journey we charted the path of a river, moving slowly and watching life being supported by its waters in a series of different ways from the ancient mountains to the bustling cities. We moved from winter to spring; from desperate cold to clinging heat. Most of all, however, we moved through a section of Iran and really got a feel for the country. For me, there is no better way to explore than by human power. It's a great means to stay fit and healthy, but it is also a way to make a connection with the landscapes and people around us. I feel very privileged to have seen Iran in this way. It is a desperately misunderstood country, and having been treated to such a wonderful (if madcap) experience there, I feel a responsibility to share our story with the world. Stay tuned for a film coming very soon…

In fact, there is already a short film from the journey. Visit www.karunfilm.com to watch the 15 minute cut. Enjoy!
Tom and I are also in the process of crowdfunding a budget to make the feature length film. We need quite a substantial amount of money, and the only way that we will be successful is by getting the word spread to as many people as possible. Visit our Kickstarter campaign here to read more. Please do pledge support if you can, and of course, share the link with everyone you can!
KICKSTARTER CAMPAIGN LINK – https://www.kickstarter.com/projects/1107425124/a-tale-of-two-rivers-journeys-on-the-karun-and-san