Antarctica, the South Pole, I doubt that any other two names have such an extreme appeal on most humans within geographical exploration and adventure. The race to reach the South Pole is continuously re-examined and re-written. But there´s so many other stories, which are kind of fallen into the darkness, which are at least as interesting, adventurous and thrilling. We have been thrilled by Long Rider President CuChullaine O´Reilly´s new evidence of meat eating horses and their time on the continent. And now, Glenn M. Stein will tell us another intriguing story, in three parts! This is the first part.
Three for Three:  Receiving America's Early Antarctic Medals
by Glenn M. Stein, FRGS
Opening Antarctica's Portal
In July 1895, the International Geographical Congress met in London, and after hundreds of years of attention being focused on its northern counterpart, it was decided that Antarctica would become the primary focus of new exploration.  Indeed, the southernmost continent is the only such land mass in our world where man has ventured and not found man.
Up until this time, no one had explored the hinterland of the Frozen Continent, and even the vast majority of its coastline was still unknown.  The meeting touched off a flurry of activity, and soon thereafter, national expeditions from Britain, Germany and Sweden, as well as private ventures, started organizing.  The Heroic Age of Antarctic exploration had begun.
Well after a British-dominated Heroic Age, Richard Byrd carried the Stars and Stripes into the Southern Ocean, first reaching the Ross Ice Shelf, near the end of the third decade of the 20th century.  Two more expeditions followed, earning Byrd a place in Antarctic history for his systematic development of using aircraft and aerial photography, two-way radio communication with the outside world, and the successful use of motorized tracked vehicles.
Though the Americans were at the forefront of what came to be called Antarctica's Mechanized Age, trusty canines were still the locomotive mainstay for Antarctic explorers and remained so for many, many years to follow.  Revealed here are seldom seen glimpses of how early American Antarctic medals made their way to recipients.  All carried with them the spirit of pre-World War II polar exploration; but beneath their metallic shells lay something much more:  with each successive expedition, from whatever nation, the question of Antarctica's future loomed ever larger, as territorial claims increasingly swirled like blizzards in the human mind.
Byrd Antarctic Expedition Medal, 1928-1930
Some men are wedded to the sea, and Harry Adams was one such individual.  The New York City native was born in the centennial year of the United States, his Scotch-English heritage crowded with oceangoing kin.
Adams chose to serve in the Navy and enlisted in its ranks; thereafter, working his way up to become an officer, and retiring as a lieutenant after more than 30 years in uniform.  In the process, Adams roamed the globe, saw active service in the Spanish-American War and World War I, and became an accomplished deep sea diver.
Though his life was inured to the ways of the sea, Harry Adams had "a creative turn of mind and [was] the holder of twenty-seven patents, the most of them being electrical devices.  Several radio sets and a number of valuable contributions to electrical fire control apparatus stand to his inventive credit."
Having served on both Byrd expedition ships Eleanor Bolling and City of New York, Adams was one of the chief officers and navigators, and a member of the winter party.  When the expedition departed its Little America base to return home, Byrd knew he would be back, for he came away with more questions than answers from the frozen continent.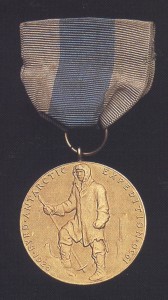 The first Byrd Antarctic Expedition Medal, like the one to follow, was extraordinary in that it officially commemorated ventures which were solely backed by popular subscriptions and donations.  Congress enacted the medal on May 23, 1930, and three levels were created:  gold (10k gold filled (plated) over copper alloy, satin finished with burnished highlights; sterling silver (oxidized), relieved and satin finish; and bronze (red brass, oxidized dark gray, giving a pale greenish-gold color), relieved and satin finish.  According to the Sotheby's lot description of Byrd's medal (Nov. 10, 1988), he received a unique genuine gold issue (unmarked).  Each medal had the recipient's name impressed on its edge.1  Byrd's medal was issued in a named case, and this may have been a standard practice.
Adams' medal was mailed to him on September 8, 1931, and its receipt acknowledged the following day.  The old sailor thought so much of the accompanying letter, he reproduced it in his book, Beyond the Barrier With Byrd:
West Tremont, Maine
1 September 1931
Mr. Harry Adams
1408 W. Union Blvd.
Bethleham, Penn.
Dear Harry Adams:
It is with great delight that I present to you this Congressional Medal.
You gave many months of your life towards making our expedition successful.  Now that a year has passed since we have returned home I want you to know that my gratitude to you is as firm as ever – that throughout our lives whatever may be our various fortunes you will find that my appreciation will not grow less.
The time that has elapsed has only increased the respect of our countrymen for our expedition.  May the years ahead have the same effect.
The expression of this respect is this medal which is knighthood that your grateful countrymen have conferred upon you – the highest honor within their gift.  This is a recognition that will carry your name on the pages of history.
On the face of the medal there is mention of the expedition's material accomplishments but what it represents in an even deeper sense is that which has been invisible, which cannot be described – the spirit of our expedition.
It is internal bitterness caused by fame, ambition, money and jealousy which, after the return home, has destroyed the spirit of most past expeditions.  You have not let these things touch you and so I congratulate you and am grateful to you in a double sense.  It is often more difficult to keep our sense of balance and proportion in civilization than in the polar regions.
It is my confident hope that this spirit will live as a bright page in history.
In conclusion, I want to say that whenever you come my way, you will receive a warm welcome and the hand of friendship.
Your friend,
RE Byrd
[signed]
Byrd poignantly addressed the "spirit of our expedition" and past destructiveness caused by the quest for personal satisfactions.  He also strikingly notes how navigating one's way in civilization often presents more challenges than it does in the polar regions.  This is perhaps due to the unforgiving nature of the frozen world being divided between life and death, with nothing in between.
GLENN "MARTY" STEIN, FRGS, is a polar and maritime historian who was born in Miami, Florida, and raised on a barrier island south of Cape Kennedy.  He has conducted research since 1975, and earned a bachelor's degree in Public Relations and minor in History from the University of Florida.
Glenn's writings regularly appear in journals and magazines, having published over 50 articles to date, and he has been acknowledged in several works on polar and maritime history, and medals. He is a Life Member of the American Polar Society, Fellow of the Royal Geographical Society (FRGS), and member of the International Exploration Society, Orders and Medals Research Society (UK) and Life Saving Awards Research Society (UK).
In 2006, Glenn was asked to be the website polar historian for the International Polar Year 2007-2008.  The invitation came as a result of applying to curate the exhibit, "The Lady Franklin Bay Arctic Expedition (1881-84) and the First International Polar Year" at the University of Central Florida, Orlando.  In acknowledgement of his contributions, he received the Certificate of Appreciation from the World Meteorological Organization (Switzerland) and The International Council of Science (France). Glenn is also the designer and a recipient of the 2009 Antarctic Treaty Summit Medal.
After several years of in-depth research on HMS Investigator and her crew, Glenn is currently writing a book about the 1850-54 expedition.  In 2008, his two-part article, "The Voyage of HMS Investigator (1850-54):  Solving the Mysteries of the Arctic Meritorious Service and Gallantry Medals," was published in the Orders and Medals Research Society's Journal.  The following year, Glenn was awarded the Journal Prize for this "thorough and important research into two little-known and rare Arctic awards".
In 2011, Glenn began working with Parks Canada on its HMS Investigator/McClure's Cache Project, contributing research and writings to the website as the project progresses.