My first visit to Siberia changed my life for good and bad. For sure forever. It was back in 2004 when I traveled down the Kolyma River, by canoe and skis together with Johan Ivarsson, and we spent almost a year falling in love with its nature and most of all its people. Since than I have pretty much made a living on my journey down the Kolyma and to a certain degree, become some sort of an ambassador for this area through articles, a documentary and most of all lectures to many corners of our globe. I returned for a brief visit to Yakutsk in the summer 2006, but that was so close to the trip itself, so I have almost forgotten about it. So, I feel like I haven´t really had a real chance to return to Siberia to kind of try to sort out all my emotions. Was it as good as I have told people? Had all those years in between, which also involved plenty of tragedy and difficult times, changed my way to look at things? And, I have felt since my journey, that it had been quite difficult to move on with life. So, when a kind of a chance appeared, through a Facbook pal, Bolot Bochkarev, I would say the most well known global face and ambassador for Yakutia or as the locals call it in their tongue, Sakha, asked me if I wanted to come and lecture and do a seminar, I said yes without hesitation, even though I was still stuck in a war torn Yemen. And I begged for me being able to bring my family, who had heard so many stories about this part of the world and my wife kind of wondered what was true or not. So, in February, we boarded a Aeroflot plane in Copenhagen, all three of us, carrying big winter down jackets, dressed in thick thermals from Termo Original and fur hats. Ready to face temperatures possibly below minus 50!
We had a one days stop over in Moscow and we got picked up by a nice, serious guy named Sasha at Sheremetjevo Airport and it took us 2 hours of heavy traffic to reach the hotel which was set up for us, an old style Soviet construction with expensive food and no service and extremely warm rooms. Temperature was below 30, so it was a good start for us. Next morning we took the Metro into the Red Square and the Kreml, just so my wife could see this navel of power. It was windy and freezing cold, but good to see again. Somebody tried to sell us old Soviet style fur hats, but we said we are going to Yakutsk! This was also my 50th birthday and I was happy to avoid any kind of celebration, but my brother called whilst we were taking photos and he congratulated me for staying alive so long! And I guess that was exactly the right thing to say. When we hung up I thought about the dictator Josef Stalin who murdered so many people, so many innocent one´s, hiding behind the walls of Kremlin. Yes, I felt very lucky to still be alive!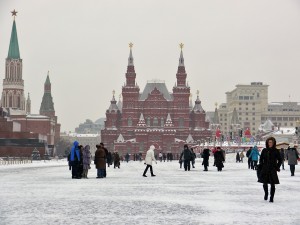 The ten hour time difference made us arrive early in the morning in Yakutsk. I wondered what my wife and our 18 months old daughter would think about this extremely cold part of the world, but still so full of warmth, as I remembered it. I looked out of the window of the plane, it I knew it was at least below minus 40, because the smoke from houses and factories stood as a straight pillar up in the sky and this ever eternal dark, thick mist of cold hung over it all. Of course the arrival hall was under renovation, so we had to walk pretty much until an outdoor welcoming gate, I remember whilst walking I saw barbed wire, a sign with the hammer and sickle hidden behind some rubbish and there, waiting for us was a very serious looking bloke, tall and dressed in a Canadian parka and a local fur hat. It was Bolot Bochkarev, my Facebook friend!
"Jegor is very worried, so we have to do this perfect" , Bolot pretty much started the conversation, whilst Eva and Pamela waited in a car and we two went to a different building, like a big shed, to pick up all the luggage.; "He has invested a lot of money in you coming and want it to be perfect. He wants to meet you directly."
At first I thought I would come to lecture, but whilst travelling in Yemen and South-America it slowly turned into a 2 day seminar how to develop tourism in Yakutia. Bolot and myself had emailed back an forth and due to this and all my experience within tourism -as a producer of trips, guide, market person, having had my own business in northern Scandinavia dealing with tourists and companies- I pretty much had an idea how to do it, but needed to see who would turn up, before I knew whether it would be a success or not. But first we headed off to meet the person who had invited me on Bolot´s suggestion, Jegor Makarov, who I had learned was a very good photographer and fighter for the rights of native people, but also an extremely successful business man. On the way to his restaurant we stopped at a block of new apartments, where we dropped off Eva and Pam. It was a great apartment with Internet and as always, extreme warmth! I felt very happy to be back in this kind of an atmosphere, more thrilled than in years!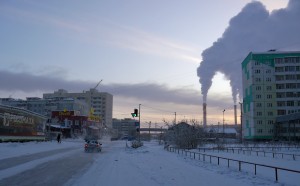 As quick as I met Jegor Makarov I knew he would become a very good friend. Serious like Bolot, well, I just remembered that most Yakuts initially and quite generally are serious and low key people, but he was the same age as me, grey hair, solid and as all Yakuts very generous and courteous. He spelled out immediately what he wanted out of the seminar and I like that a lot! And than he asked me through Bolot, who would be everybody´s translator throughout the visit, this:
"I doubt that you had temperatures as below as -58 when you travelled down the Kolyma, it isn´t that cold."
Jegor had traveled extensively in this the coldest inhabited region in the world and he knew the Kolyma. But I told him that this was information the local people gave us and that it was during the November to January block and that we had a thermometer, which stopped at 50, and we often saw the red line continuing below this. He than asked if I had good enough clothes for the big trip with reindeer, which we would embark on together, once the seminar was over.
"I think so" , I said; "Maybe the boots ain´t good enough. But, don´t worry, I am used to freezing."
I don´t think Jegor believed me. My year along the Kolyma didn´t impress him at all. In his eyes I was a beginner. Which is probably right. I had also realized talking about Kolyma wasn´t a hit with Bolot either, he told me at one stage;
"We don´t want to hear about the Kolyma here. It is more to Yakutia than the Kolyma. Talk about Yakutia."
I realized Bolot spoke Russian to his kids and to Jegor. And Jegor spoke Yakut to most of his employees, most of them beautiful Yakut women, so I asked Bolot how old he was and he said:
"35!"
Bolot grew up when sakha, the language the Yakuts speak, as other native tongues were forbidden. So did Jegor, but the village he came from they still spoke their tongue of Turkic origin. And Bolot was born and bred in Yakutsk and was very much a split image of any computer wizard his age on earth! And without him and his superb analytical mind and command of English, the seminar would have been a disaster!
So after meeting Jegor and once again eating stroganina and all these Siberian delicacies I have missed for such a long time, I returned back to the flat and spent all night doing the details and before the girls woke up, I was off to the seminar. One thing I have always loved about this part of the world, is that everything is really down to earth and extremely relaxed. It was a mixture of people, with a wide variety of ideas how they wanted to lure tourist to this part of the world. before I left for Yakutia I had talk to one of my best friends, Jeff Willner, CEO at Kensington Tours and he had done a long list of how things should be looked upon today and the best way to develop an isolated area like Yakutia, which for most people were unknown, and if known, was synonymous with extreme cold and enormous distances.
After two exciting days at the seminar, I was impressed with everyone´s ideas and Bolot´s work rate, and Yakutia is really a very accessible part of this world and for me who, after all have been to 121 countries, I am a guide to some of the most spectacular areas in the world, I can say that Yakutia is really a gem and unique.  It is a place which will change your perception of life to the better. It is still very untouched by tourism and can offer the richest of experiences that most people have no idea exists. The main attractions are of course this wide variety of native people and cultures and their extra ordinary kindness and generosity. And the wild, untamed nature. But it can all be done under great comfort. this is a part most people doesn´t know. Yakutsk, the capital of Sakha, is very modern and lacks nothing. The infra structure is getting better by the day and to all you tourists and human beings who think you have seen most things and places, you have no idea what you have missed if you haven´t been to this part of the world. I don´t know of any long time traveler who has been here and haven´t had their lives turned upside down and fallen in love with the region and its people.
For sure is this statement, if somebody asks me, which place would I recommend for the most fantastic, eye opening trip of their life as a normal tourist who likes a certain degree of comfort, I would without hesitation say:
Yakutia any time of the year!
And yes, the seminar was a success! (Thanks Bolot and Jegor, the true ambassadors of Yakutia/Sakha!)