A fairy tale! 
Almost!
It is 4.30 in the morning, I am back in a warm, fresh aired and springy Malmö and I am suffering badly from jet lag. But I am happy. Very happy. I feel like I really have returned from a fairy tale Expedition. And that feeling always comes over me when I return home, even though in reality the Expedition might not have been that easy.  Like this time. But it is this ability to let the overwhelmingly positive impressions dominate my mind, which makes me continue this extra ordinary life. I am very fortunate and I feel I have amassed this wealth of knowledge I need to share!
The Expedition could have ended in disaster! 
On paper, the time to prepare was to short. I have spent the last three years being involved with the Arab World and in particular Yemen. Most of the time, a very hot country. And to prepare for a journey in the coldest inhabited area of the world, Sakha, you need ample time to prepare body and mind. I had two months to prepare, instead of two years, which I think is needed. As I had before making the 2004 Kolyma expedition. But this was too great an opportunity to miss, producing a documentary for OutWildTV, so I just figured that my experience of doing this for 27 years would help me.
In two months, I did a two year job. I did all the research, all the possible training and physical preparations. At the same time I was editing the Yemen documentary. And being a dad of two infants, Eva 2 years old and Sardana (as we call her now) two months old and we had all agreed that this was an adventure for the whole family. But I was also aware of my deficiencies like my body being badly worn down after the Yemen Expedition back in May and June the same year, so I knew I had to take two days off per week for rest. So being a family father that meant the weekends. So I did my normal body building routine three days a week and than some aerobics twice a week (in hind sight, it should have been the other way around, this time I was badly missing the heart pump!), but my big worry was how would I stand temperatures -60 below Celsius, when my skin and body was used to the extreme heat of the Al Mahra desert of Yemen?
As always I started eating like mad, putting on weight in an extremely unnatural way. I drank 6 cl of olive oil every morning and ate enormous portions of food like kebab, garlic sauce and chips and in a mere 2 months I was able to put on 13 kg:s of extra weight. Once in Sakha-Yakutia, in two weeks another 5 kg:s. Pure over eating in a dangerous way, my cholesterol levels where frightening! And, once again in hindsight, it was too much fat in too short a time and I was far too heavy and I had problems keeping up when needed. But, having said that, I was there to make a documentary and I made it to the end and lost all but 5 kg:s that i put on in those 50 days of a great adventure! And was it worth putting on those extra kilos? Well, maybe not all of them, but my idea was to be my strongest at the end and not get ill during the trip, and I guess that did work out. I didn´t get ill and I made it too the end and I returned to Sweden with happiness. It was a tough trip, especially the first ten days of extreme cold and it was hard on all of us. Including our Eveny members who all had a touch of the flu those days and medicated with antibiotics to free themselves of serious consequences. And our most inexperienced member went down in pure exhaustion with a sore throat and fever and also had to resort to antibiotics. So, yes, the fat did its job!
Acclimatizing is really, really important. Especially when it comes to extremely low temperatures. I needed at least a month in Yakutsk to slowly prepare my body, skin and myself for the cold. I only got a week. Far too little. As quick as I got out of the airport with all the gear and my family, I could feel that my weak cheekbones, which both picked up frostbites during the Kolyma expedition, hurt and burned. Sure it was -48 degrees below Zero, but that quick! That fact worried me badly and I realized the importance of wearing the face mask properly. And did I have the right equipment?
One of the main ideas on this trip was to due a proper test between modern polar equipment and traditional fur. I realized as soon as I saw the fur kit from Andrushkino along the Kolyma, a Yukagir and Chuckchi job, that I would be even heavier than I thought on this trip! The fur kit, including boots, gloves, hat, trousers and jacket was really heavy, a bit on the stiff side (which I learned later from Egor was due to the fact that he kept them inside his house, not outside where all fur should be) and they felt uncomfortable compared to the kit from Mountain Hardware. I also noticed that a vital piece was missing for the neck, which was uncovered if using the fur kit and the gloves seemed to short. And, as it would turn out as quick as we met the Eveny´s who would join us, the fur kit was totally wrong. This was a kit made for the tundra, where a traveler does spend a lot of time in a treeless environment dominated by heavy winds and where one most of the time sit still and don´t move too much. In the taiga, with its deep snow, dense set of trees and very seldom any killing winds, this was totally wrong. For example, the boot was to short and stopped just above the ankle  when it should have gone all the way to the knee, so that meant every time I went into deep snow, which was often, the boot filled up with snow. Which of course is no good. On top of that, the fur covered sole was done for the tundra, but in the taiga, walking with them was like skating! Very slippery! But, as it turned out they were much better than the Baffin Boots I had brought from the contemporary world, which claimed to stand up to -100 degrees. Complete bull of course. Of all the fur kit, the reindeer boots were the only part of the fur kit I used all the time.
This was also the first time in my life that I was more of a producer of a documentary than a do-it-all-by-myself as I have always done before with the help of one or two very trusted people. In fact, this time, the whole Expedition had been organized by my friend Egor Petrovich Makarov who would join me and to be able to do this documentary and journey, I also needed a camera man and a translator. I knew both from the year before, Yura Stepanovich, who would eventually turn out a brilliant success as a photographer and become one of my very best friends, and as a translator Bolot Bochkarev, a Facebook friend who had persuaded Egor to bring me over as an expert on tourist development the year before and who had never been on an Expedition before. They were all Sakha (or Yakut as is the Russian name for this amazing group of people) and I knew from earlier experience with the Sakha, that in itself would be a challenge culturally, especially since only Bolot spoke English. On top of that, the two Eveny reindeer herders that originally were thought to come with us, Misja and Kesja from Uchugay, couldn´t come due to the wolf proplem. And as it turns out, only four herders were willing to do this Expedition, because they needed the money and came from the poor Chabarovsk Kral, a region were the herders got no government support for their unique life style. But, as it turned out, that was the best thing which could have happened!
I knew by research that the Eveny historically saw the Yakut as colonialists if not as much as the Russians, but I realized this could mean some problems. Plus that I came from the West after years in the Arab World. A receipt of interesting cultural misunderstandings! So, in almost -60 degrees Celsius, three different cultures set off on a journey heading south with 35 reindeer and 16 sleds. And almost a ton of food and equipment. In the coldest inhabited region in the world. It turned out one of the most fantastic journey´s I have ever done!
The first 10 days were extremely demanding. It was all dominated by the extremely low temperatures always around -50. It turns out the wood stove and the tent we four non-Eveny´s had was far too cold. The tent fabrics were to thin and the Chinese stove too weak. This meant we initially had to keep the stove going all night. Sleep was poor initially. And putting up camp in these low temperatures in the Siberian way, which means doing new tent poles every night, cleaning an area of snow, felling trees, chopping firewood, collecting branches to make a floor to keep the cold at bay, this is really hard work and always took a couple of hours. At times in complete darkness. And on top of this fact, since we were all new too each other, irritation was in the air all the time, before we got used to it all. For me it meant keeping a very low profile, concentrating on my film and mainly being an observing passenger. The four Eveny´s got us all on the right track all the time. They were a real joy. But even for them, this was a cold, demanding time and they went down with a sore throat and fever.
It was terribly cold at the back of a sled pulled by two reindeers, followed by two reindeers pulling another sled. It is almost impossible to describe the pain involved in freezing like this. Especially the feet. I was well aware initially how ill prepared for the cold I was. But my gear was sufficient and we only traveled 2-5 hours each day and spent most time after breakfast waiting  for the Eveny to catch and prepare the reindeer and sleds for travelling up until 1 p.m, when we normally set off again. Due to the good food and warming up each day in the tent belonging to the Eveny´s, traveling was no problem until the final hour, when the cold at times became unbearable. But, the scenery was so spectacular, that one easily forgot about the cold and pain involved!
During my 27 years of exploring and traveling I have never ever come across this kind of a winter landscape with deep snow and ice crystals littering about, all enhanced by this extreme cold. Every meter of our journey up until we crossed a mountain pass into the Chabarovsk Kral, where suddenly all deep snow disappeared due to a warmer climate, was like a fantasy. On and off we came across local people, herders and wolf hunters, all big personalities in a hostile environment for most, but not for the Eveny. Our four Eveny members kept us all warm and alive with their joy, laughter and extremely generous hard work.
Once we crossed into the Chabarovsk Kral, the home region for Slava, Tolya, Vika and Yura Grigorovich we had all adapted to the circumstances in a better way. Mainly due to that it was warmer and for this reason, sleep and relaxing was easier. Scenery was still spectacular and being part of this nomadic life still felt more unique by the day. We spent some time with Vika´s father, Piotr Andreyev, in one of his temporary camps and a few days at a hunting village called Chirpolay. And I started to realize what an extra ordinary journey this was. Due to the poor preparations and this amazing amount of new insights into a for me unknown life topped of with some irritations within the group, made me very tired. And the language barrier was bigger than ever and at times I felt lonelier than ever. And there was so much happening that I didn´t understand! But I did by the hour understand what a fantastic privilege this journey was!
Imagine experiencing a life style which is possibly around 2500 years old, the life style of nomadic reindeer herders. Travelling in a way which is most likely around 1400 years old, when the Eveny and Evenk used their domesticated reindeer to pull sleds. Sure, there´s a modern influence of radios, tools and once a year they go into Arkah to…well, recharge their batteies and head out again. Living a life style they prefer, but a way of living which is under threat. From the mining industry and oil pipelines to education. It is like a catch 22. They want education, but prefer to live in the taiga. The few which are left, like Tolya, Vika, Slava and Yura Grigorovich. But it is a way of life most of us will never see or experience. It is that unique. And this feeling came with me through the last two weeks, when we traveled back to Arkah, their village.
These two weeks where dominated by the big dangerous crossings of ice and open water. A constant worry that we would go through. We did, but only where water was an inch deep, but enough to scare us. During this time we shot through the dense taiga in high speed and the reindeer, not used to this kind of hard work, got tired and we all worried for them. It was a very demanding time in another way.We kind of all wanted to get to Arkah for our own reasons. Mine, I needed to communicate my feelings in every way.
Arkah was a pleasant time. Beforehand I worried that the negative sides of the indigenous life of Siberia, drinking, would be a problem, but it wasn´t We met some great people and the generosity is just amazing and we ate better than ever! We atyed a few days, said goodbye to our friends, who I will miss a lot, and we returned to Yakutsk. It was great to see the girls and my wife again, who had as many stories to tell.It had been a great journey for all of us. And during the following three weeks I got deeper into the Eveny an Sakha culture by meeting different people, like shamans. And I want to return immediately!
A journey of a life time, no doubt! I feel very, very rich and I am so happy I have had this opportunity to experience all this, even though midway, I felt lonelier than ever and had gut feelings of profound sadness. But such is a real journey! One has to touch all emotions on the ladder to realize the meaning of what life is like. And that is why I love Siberia. Now more than ever. Because everyone you meet here, has a life style dominated by a roller coaster of joy and tragedy in one. Siberia is never, ever boring.
Siberia, you have done again, bewitched me totally. But not only me, but my whole family!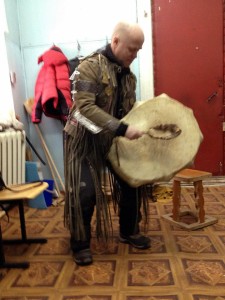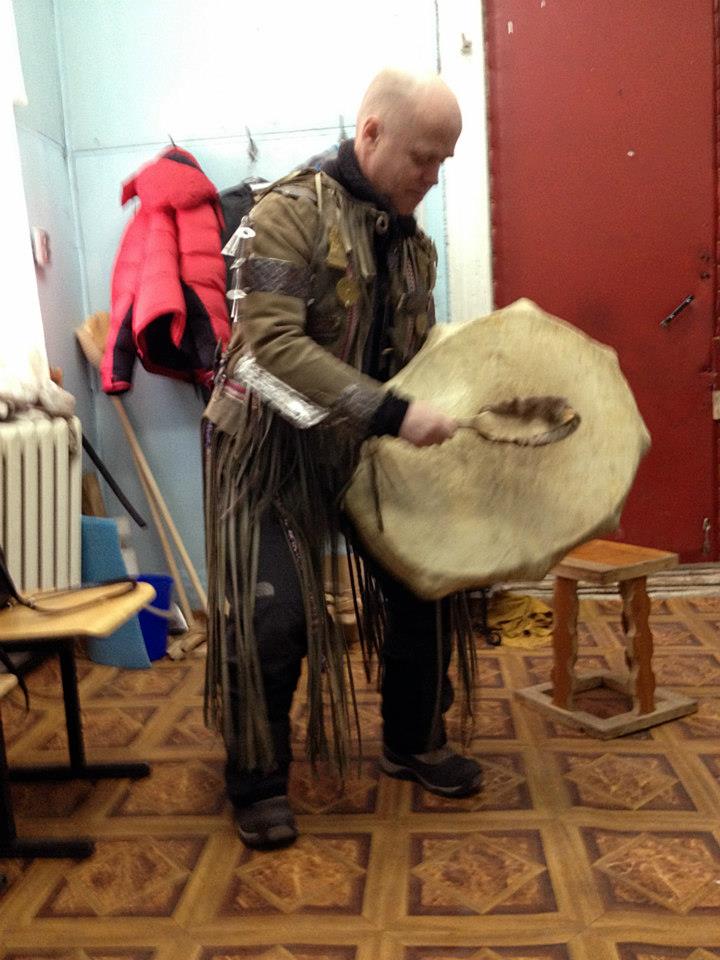 Finally I want to say that Egor Petrovich Makarov, one of the most generous and kind humans I have met, organized this Expedition perfectly! He knew exactly what I wanted, and delivered like the postman. And he also took care of my family whilst we were away. This means all to me. But such is the Siberian and in this case, Sakha character, always helpful and generous!
And thanks to all members of the team who gave me so much help making this idea of mine into a fantastic reality!
From Siberia with love!